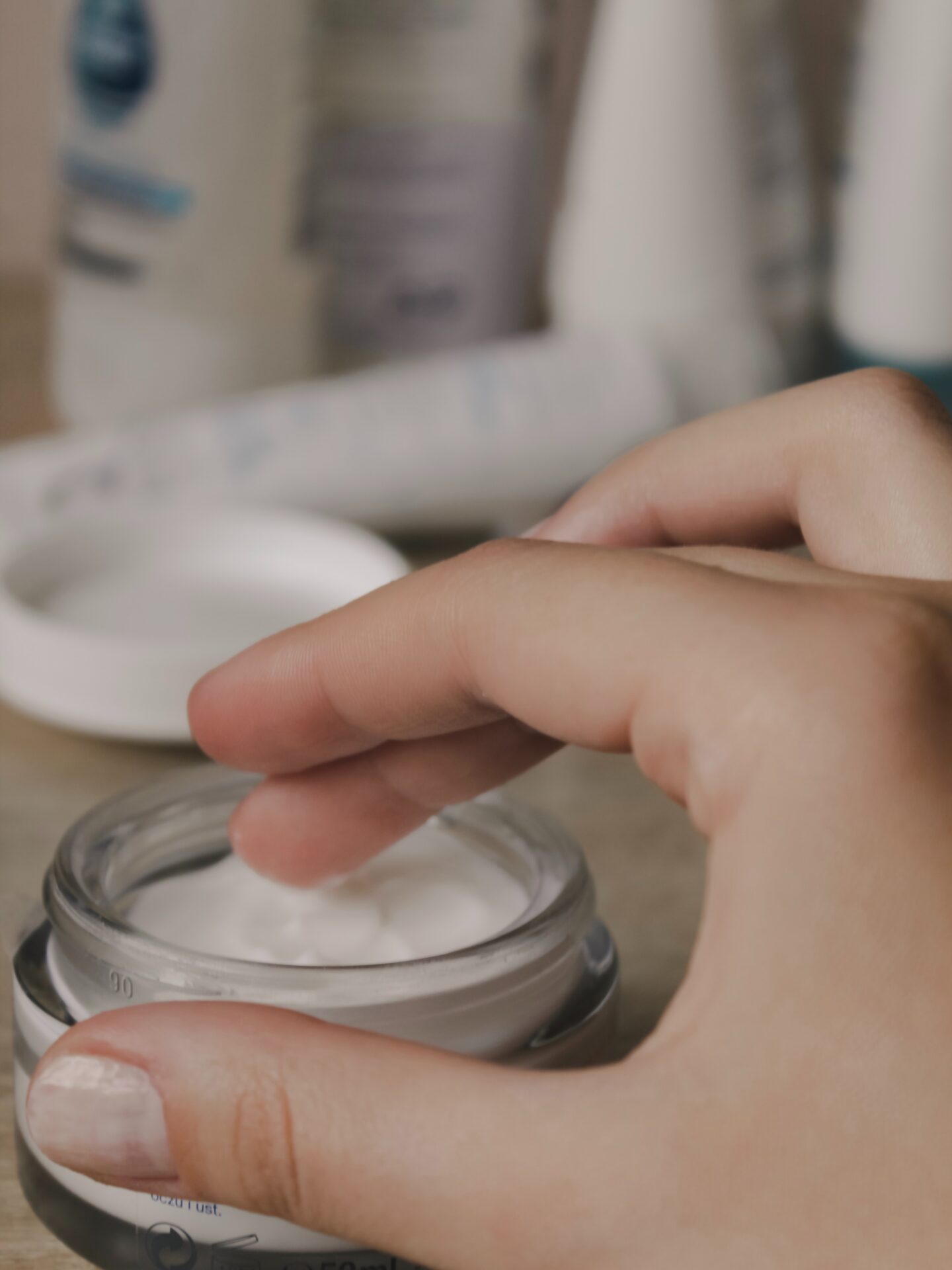 Discovering a skincare routine that works for you can be frustrating. Finding the products that make significant improvements for problematic complexions requires a lot of trial and error. However, I have done the trial and encountered many errors, so that you don't have to. Find my full Non-Comedogenic skincare routine detailed below.
Before I jump straight into my skincare routine, I feel I should introduce you to my skin.
It is a temperamental b*gger that seems to do what it wants, regardless of how nice I am to it.
I have mild Rosacea that is currently under control, sensitive, and combination skin. So basically, the majority of skin types and concerns reside on my face.
Therefore I need to follow a strict skincare routine that avoids all the nasties and welcomes all the good stuff.
Whilst everyone's skin is different and everything I use may not work for someone else. I wanted to show you that even if you do have sensitive or problematic skin, you can still enjoy a varied, targeted skincare routine.
Ok, let's get into the good stuff ……..
Cleansers.
I use two different cleansers. Both of them amazing, but for very different reasons.
IS Clinical Cleansing Complex:
I only started using this cleanser around two months ago, and now I wonder how I ever managed without it.
The cleansing complex is a gentle, clear gel, that contains a multitude of skin-benefiting ingredients. Including AHA's and BHA's to remove dead skin cells and additional nutrients and antioxidants to protect our delicate skin barrier.
It does a brilliant job of removing makeup and cleaning deep into my pores. It washes away without leaving any residue (which is a must for me) and leaves my skin feeling clean, soft, and smooth. Never tight or stripped of its moisture.
However, I do not use this twice a day due to the acids. I do not want to over-exfoliate.
Therefore, I alternate between the IS Clinical Cleansing Complex and:
Another Gel cleanser that is again, gentle and perfect for all skin types.
This cleanser contains Hyaluronic acid to hydrate and Ceramides to aid in the skin barrier function.
In addition, this is another cleanser that does not dry out or strip the skin of its natural moisture.
Serums.
This is the part of my routine that I find the most enjoyable. It is also where I spend most of my money.
The serum stage is our 'treatment' stage. This is where we want to use specific active ingredients to target our personal skin concerns.
I have several serums in rotation. I am not suggesting that everyone needs to use this many. I am just a bit obsessive.
I won't go into massive detail on this one as I have a whole post dedicated to it which you can find here.
The SkinCeuticals Serum 10 is a vitamin C serum that evens skin tone, reduces pigmentation and boosts collagen production.
This particular Vitamin C serum is specifically formulated for sensitive skin and since introducing it into my skincare routine it has transformed my complexion.
I am aware that many people 'claim' that one skincare product alone has transformed their skin and when I personally read something like that, I am often found doing a bit of an eye-roll.
Therefore, let me explain.
After continually using the Serum 10, every day for 6 weeks, the once very noticeable pigmentation around my mouth, is hardly visible.
In addition, I had a rather large age spot, just above my cheek.
I no longer have this age spot. It has completely disapeared.
If that isn't skin transforming, I do not know what is!
Another serum I have already created a full review on, which you can find here.
This serum is sold more as a skin enhancer/illuminator. Whilst it does a fantastic job illuminating, that is not the reason why I will forever have it in my skincare arsenal.
Dr. Barbara Sturm has her own magical formulation called, Purslane. Whilst I do not know what ingredients make up this formulation, I do know that it includes some pretty impressive stuff. Such as Vitamins, Minerals, Nutrients, even some anti-inflammatories and not to forget the hyaluronic acid too.
It is quite literally a skincare powerhouse.
As someone that suffers with mild Rosacea, I still experience the Rosacea red cheeks. The Dr. Sturm glow drops pretty much remove any redness whilst calming and soothing my skin.
In addition, the glow drops give me a smooth and healthy complexion. I just do not like the way my skin looks or feels without it.
I have a love/hate relationship with this one.
I absolutely love how brightening it is. It literally does what it says on the tin.
However, I hate the consistency. It is sticky. I do not enjoy having a sticky face. It's like my face becomes velcro, randomly attaching itself to anything it comes into contact with.
Ok, I may be exaggerating slightly but you get my drift.
That said, I still use it because it really does brighten and smooth my skin. I just look more alive, which is a task in itself most days as I rarely get a lot of sleep.
The Neostrata serum contains Glycerin to moisturise, NeoGlucosamine to exfoliate, and Niacinamide which has many anti-aging uses.
My Hyaluronic acid serum of choice.
I love the majority of the Medik8 Skincare line and the brand ethos in general.
Medik8 is a British, science-based skincare brand that puts its budget into creating fantastic products, not into big, fancy marketing campaigns.
I have trialed many Hyaluronic serums and have enjoyed most, however, I prefer this one above all.
The Hydr8 serum contains multiple sized molecules of Hyaluronic acid to hydrate deep down into the surface of the skin.
In addition to the Hyaluronic acid, Vitamin B5 is included to provide even more moisture. It is a big fat bath for your skin.
The texture of the serum is lightweight, gliding easily across the skin and sinks in almost straight away. No sticky residue in sight.
In addition, I use Drunk Elephant Framboos Glycolic night serum twice a week as an overnight exfoliating treatment.
Moisturiser.
I only use one moisturiser as nothing compares to this one.
The Ordinary Natural Moisturising Factors + HA:
This moisturiser, in my opinion, is the star player in the Ordinary skincare line. To be honest I am not that fussed with most of the range (controversial I know). However, the NMF moisturiser is an exceptional moisturiser.
The consistency is perfect. Not too heavy, yet has enough substance to it so that it still feels hydrating.
In addition, it does not leave any form of greasy Sheen or layer on the skin's surface.
I have used so many different moisturisers over the years and yet this is the one I reach for over and over again.
And it costs less than a fiver!?
What more could a girl want?
Eye Cream.
I only have the one favorite when it comes to eye cream and I cannot see myself straying.
The Dr. Barbara Sturm eye cream, with an extortionately high price tag, stole my heart and took my eye bags with it.
I desperately didn't want to like it. Who spends that much money on eye cream?
Me. It is me that spends that much money on an eye cream.
However, I can absolutely justify this purchase.
I pop it on before I go to bed and when I wake in the morning, my eyes actually look awake. They look like they actually got some sleep. My eye area is plump and smooth.
No other eye cream has given me these results and believe me, I have tried a lot.
Therefore I can absolutely justify the cost and I will absolutely be purchasing again.
I have a full review on this dream cream here if you are interested.
SPF.
SPF is the most crucial part of any skincare routine and the one step you should never ever miss.
My SPF of choice is,
Glossier Invisible Shield Daily Sunscreen SPF30:
All I want from my sunscreen is for it to protect my skin from the sun and play nice with my other products.
The Glossier Invisible Shield does just that.
It has a clear gel consistency that glides into the skin without a trace. No white cast, no pilling.
Sold!
The Extra's.
So that's the main routine however, there are a few extra bits:
IS Clinical Copper Firming Face Mist:
After cleansing, our skin needs replenishing with hydration asap. This is when I like to use a face mist. I then apply my serums on top.
Therefore, creating a 'hydration sandwich' on my face. I am going to copyright this term. I like it!
Anyway, I digress….
There are many Non-Comedogenic face mist's on the market, so why this one?
Because it is amazing of course. Can IS Clinical do no wrong?
This particular face mist contains Copper which helps with collagen production (pushing 40 I need all the help I can get).
In addition, it boosts skin's radiance, brightness, and clarity and helps to balance our complexion.
All I know, is that it seriously hydrates and plumps my skin.
You can also use it as a setting spray or as a hydrating top up throughout the day.
I love a multi-tasker.
Foreo UFO Smart Mask Treatment:
A few times a week I like to use my Foreo UFO.
For those that have not heard of this contraption before, let me explain.
It is a super fancy smart mask treatment. You purchase the sheet masks separately which you attach to the device. There is a range of different sheet masks available, however, not all of them are Non-Comedogenic.
The sheet masks I use are either the H2Overdose (hydrating sheet mask) or the Glow Addict (brightening sheet mask). Both are Non-Comedogenic.
The Foreo UFO connects to the Foreo app on your phone (very fancy). It is this app that guides you through each 90-second treatment.
Each treatment combines the brilliant sheet mask ingredients with pulsing vibrations and LED light therapy.
It really is a sheet mask like no other. Whilst it is pricy, it saves you a tonne of money on facials.
I will be posting a full review of the Foreo UFO soon. You can sign up for my newsletter on the homepage to receive updates when I post anything new.
To Summarise.
My skincare routine is my form of self-care. A way of spending a bit of 'me-time' and doing something for myself. So whilst I do use rather a lot of products, it makes me feel good and therefore for me it is worth it.
In addition, I wanted to show you that just because you may have problematic skin, congested skin, sensitive skin, acne, or Rosacea, you can still enjoy a wide variety of products, actives, and ingredients. Our skincare routine doesn't have to be restrictive.
I hope this post has been helpful. If you would like any more detail, advice or just a friendly ear, you can email me at [email protected]
If you would like to find out more about Non-Comedogenic ingredients I have a really useful post here.
**All products mentioned in this post have been purchased with my own cash money**