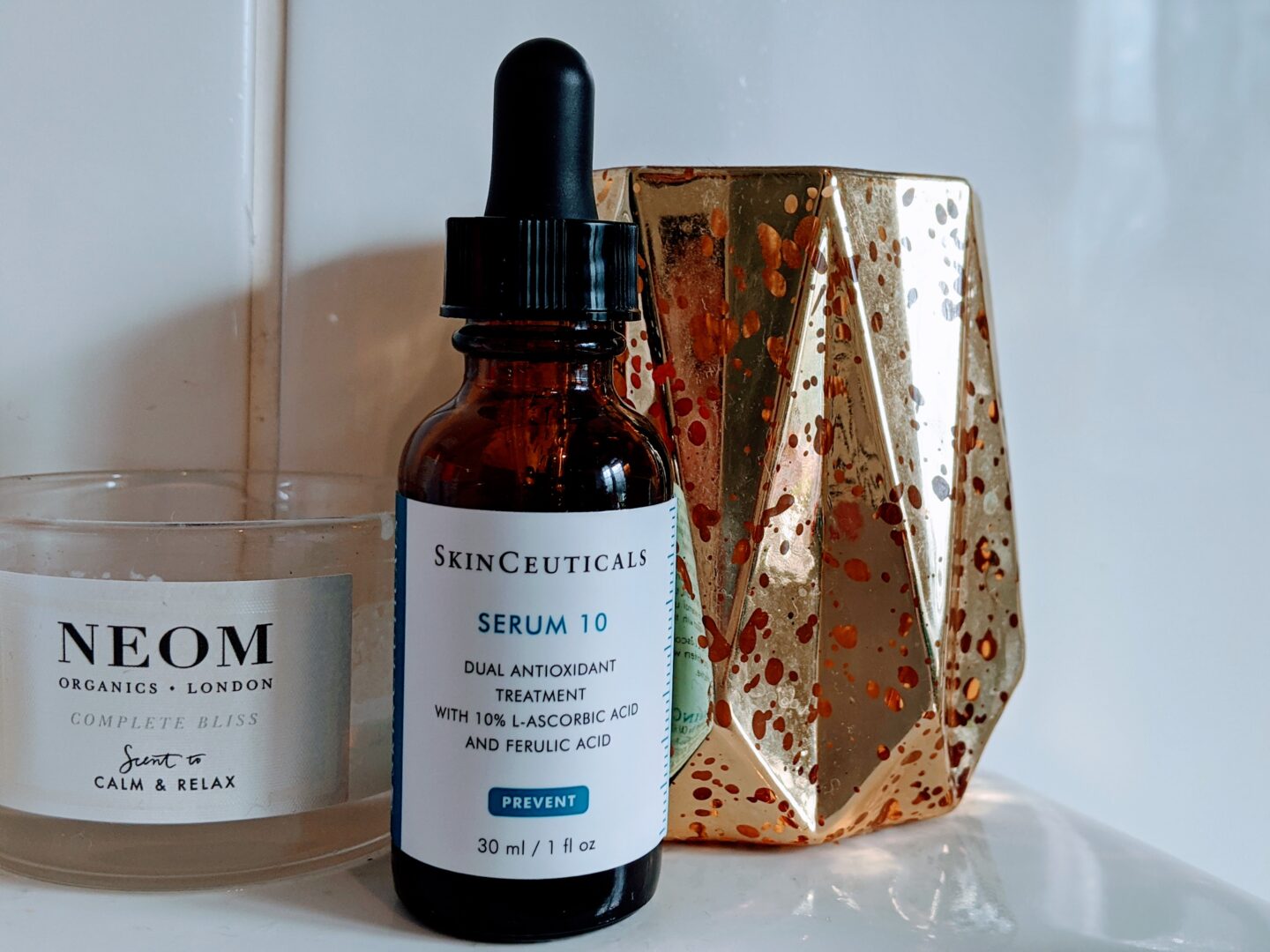 Just because we have sensitive skin should not mean that we can only use basic skincare products and ingredients. Vitamin C is a hero skincare ingredient providing even skin tone, brightening, anti-aging, and more. However, Vitamin C is a known irritant. Therefore as someone with sensitive skin, we should steer clear right? Wrong! We can still use the best skincare ingredients. The SkinCeuticals Serum 10 is a prime example.
As a huge skincare enthusiast, why on earth would I be given sensitive skin?
I want to be able to use the latest must-have skincare and beauty products. Yet whilst avoiding irritants and causing my skin to react.
For those of you that also suffer from sensitive skin, you will know that a skin reaction can take a lot of time and some tears, to correct.
However, I refuse to accept that my skincare routine can only consist of products like CeraVe and the La Roche Posay Toleriane range like so many websites seem to suggest.
Whilst I do not have a problem with CeraVe or La Roche Posay, they are in fact fantastic brands for sensitive skin sufferers, but for me, I became very bored, very quickly.
I didn't want a basic routine for fear of a skin reaction or flare-up. I wanted more. I wanted to be able to use anti-aging ingredients. I wanted a bright and even skin tone.
I wanted what all women want. I wanted healthy, bright, smooth, and glowy skin of course. Is that too much to ask?
Why is everyone so obsessed with Vitamin C?
We all know that taking a vitamin C supplement has an array of benefits for our bodies on the inside, however, using a Topical vitamin C has an array of benefits for our bodies on the outside too.
A Vitamin C serum can help with the following:
First and foremost, it is a superb antioxidant. Protecting our skin from harmful external aggressors such as damaging sun rays and pollutants. (it should never replace an SPF, but used alongside for additional protection).
It increases collagen production to reduce those pesky fine lines.
It is an excellent anti-inflammatory, helping to prevent redness and inflammation. A necessity for my rosacea red cheeks.
It helps to reduce pigmentation.
Evens skin tone
The benefits this one single ingredient can provide is pretty impressive. I have seen some unbelievable complexion transformations when a vitamin C serum was introduced. My own complexion being one of them.
Can you really use Vitamin C if you have sensitive skin?
There are A LOT of Vitamin C Skincare products to choose from. All of them 'claim' to do all kinds of wonderful things to our dulling complexions.
In addition, most Vitamin C serum brands seem to be in competition on how high a percentage of Vitamin C they can provide. Who can get the most potent, concentrated Vitamin C on the market?
We are lead to believe, the higher the concentration, the more dramatic the results.
This is absolutely not the case.
In fact, it has been proven that a level of 5% or above will provide results.
No wonder so many people experience irritation when a lot of brands are adding 15-20% Vitamin C into their products.
Ever heard of the saying, less is more?
Well this is how I approach my skincare ingredients and actives.
We do not need high strength ingredients to notice a difference or see an improvement. We can get the best of both worlds, have our cake and eat it.
Big budget marketing campaigns would like us to believe otherwise, but lower strength actives and ingredients can provide us with results. Without the reaction.
How does little old me know this you ask? Because I found SkinCeuticals Serum 10 and it quite literally transformed my skin.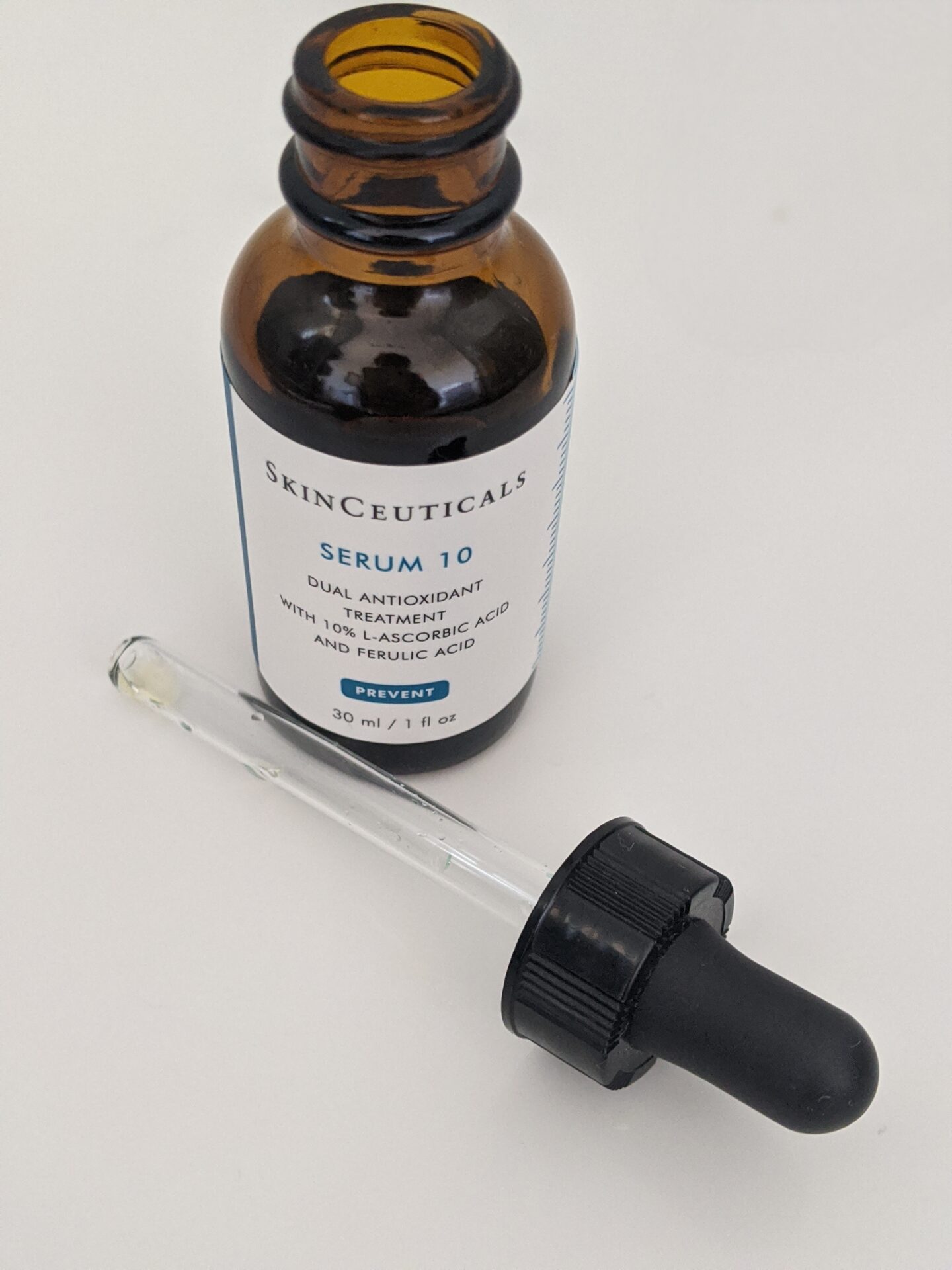 SkinCeuticals Serum 10 Review.
I am sure you have all heard of the SkinCeuticals CE Ferulic. It is the most popular product from the brand. You will usually find it in the top spot on any vitamin C serum review. It is a hero skincare product and almost everyone loves it.
However, it is way too potent for my sensitive skin with a 15% strength.
Therefore I decided to opt for the less popular Serum 10. It contained the exact same ingredients as it's more popular sister product, the CE Ferulic, however at the lower strength of 10%.
Here is what the SkinCeuticals website has to say:

"SERUM 10 HELPS TO REINFORCE THE SKIN'S NATURAL PROTECTION AGAINST FREE RADICALS, WHILST HELPING TO REDUCE THE APPEARANCE OF PREMATURE SIGNS OF SKIN AGEING."
"It is ideal for sensitive skin types or new users of SkinCeuticals Vitamin C serums. This topical antioxidant serum also helps to restore a healthy-looking complexion."
Combines 10% L-ascorbic acid (vitamin C) with ferulic acid
Reinforces skin's natural protection against free radicals
Helps reduce the appearance of premature signs of aging
Suitable for all skin types, including sensitive
Fast absorbing serum
Here is what I know:
It may sound dramatic when I say that this serum changed my life, but it really did.
Not only does this product seriously perform (which I will get to shortly) but it was the beginning of something much bigger for me.
It was this unassuming serum that made me realise I could have the best of both worlds.
The SkinCeuticals Serum 10 is not backed by big-budget marketing campaigns. It has not been sent out to hundreds of influencers to persuade you that you need it.
What it is backed by, is science. The budget it seems went into the research and performance of the formula. And it shows.
The Formula:
The serum itself has a watery consistency that absorbs almost immediately upon application. It is easy to blend, unlike other serums I have tried in the past that just seem to stick to the skin. The Serum 10 is viscus enough for ease of spreadability.
It has an almost 'earthy' scent to it. Which is not a great scent, but not an offensive scent either. I do not want irritating fragrances in my skincare products, so for me personally, I welcome the earthy scent.
I use around 5 drops for my whole face, neck, and decollate. Therefore this serum will last a good 6 months of daily use. Which is exactly how long the SkinCeuticals peeps recommend the 30ml bottle should last. They really know their stuff!
Results:
However, I did not get that instant gratification you can get with some skincare products. There was not an immediate transformation. This one is a grower. It took a week or two to wow me.
I applied the Serum 10 every morning. I loved the texture straight away. Light and not in the slightest bit, sticky. I do not enjoy having a sticky face!
After a week of continued use, I started to notice that my skin looked brighter. A welcome addition to my dull, Ruddy complexion.
Another week went by and not only did my complexion look brighter, but my skin tone also started to look more even.
This is a huge accomplishment for me. I have pigmentation around my mouth, the tell-tale rosacea cheeks, and some little under the skin veins. Two weeks of continued use of the serum 10 and my rosacea flush had reduced somewhat. In addition, the pigmentation around my mouth was significantly better.
I have tried hundreds of skincare products and never has my skin tone been this even. Not one other product has given me these results.
I have been using the SkinCeuticals Serum 10 every morning (and some evenings) for over 6 weeks now. I will not write a review on a product or brand unless I have been using the product consistently for at least 6 weeks. Therefore, I know that the information I am providing you in my reviews has been achieved through a thorough trial.
Over 6 weeks in and I know for absolute certainty that the Serum 10 is the serum I will never be able to live without.
I am over the moon with the difference in my uneven skin tone. In addition, my skin looks so much more healthy, bright, and youthful.
Priced at £85.00 for a 30ml bottle, you can get yours here.
To Summarise.
In my search for a Vitamin C serum that performed but did not irritate my sensitive skin, I trialed a wide variety of products. Many of which 'claimed' to be ideal for sensitive skin types. Most were not and caused a reaction. In addition, some just did not actually provide any skincare benefits either.
The SkinCeuticals Serum 10 gave me everything I wanted from a vitamin C serum. It has dramatically improved my skin and does not irritate or cause any form of reaction.
It is, in my opinion, the best serum on the market for sensitive skin.
However, if you are one of the lucky ones, and do not suffer from sensitive skin, I still wholeheartedly recommend this serum. It is always wise to start with a lower percentage of active skincare ingredients regardless if you have sensitive skin. As we discussed earlier in this post, a vitamin C serum at a strength of 5% or more will provide you with skincare benefits.
I honestly cannot see how increasing the strength of vitamin C above the 10% you get in the SkinCeuticals serum 10, will give you any more results or improvements.
If you buy one serum this year, make it this one. You will not be disappointed.
If you would like to see more reviews on great products for sensitive skin, I have a review of Dr. Barbara Sturm's skincare products here.
Alternatively, I have a great post kicking off my Skin Savvy series where I discuss the pros and cons of natural and chemical skincare ingredients here.
For more reviews and skincare tips please sign up for my newsletter to receive an update when I publish anything new.
If you would like any advice or have any questions please feel free to email me at [email protected]
**Products mentioned in this review were purchased with my own cash money**