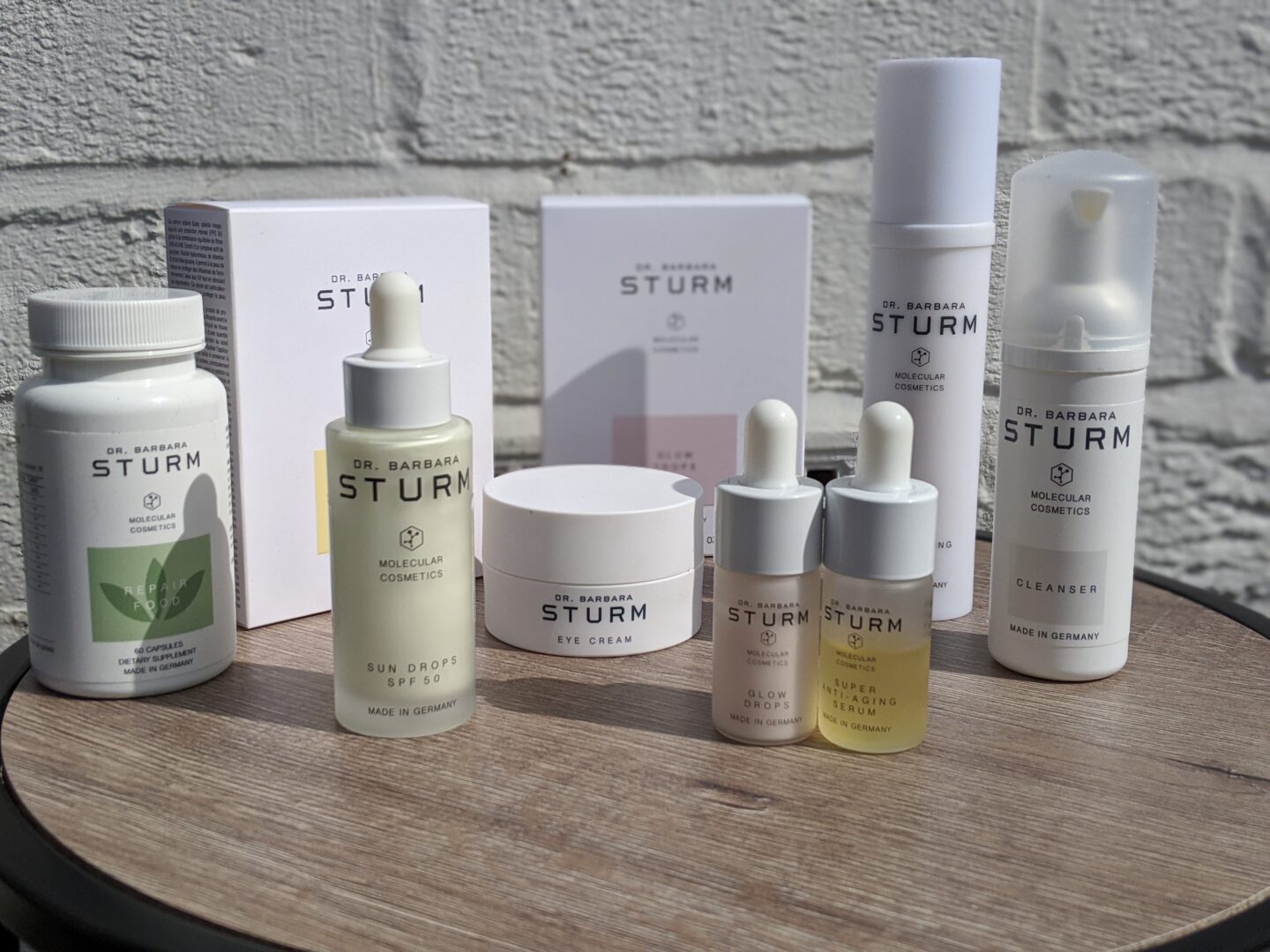 Dr. Barbara Sturm: "We are exiting an era of marketing-based skincare and entering the era of performance-based skincare. Skincare needs to embrace the individuality and diverse Skincare needs of every consumer".
This statement holds a lot of weight with me.
I am so tired of all the exaggerated marketing claims that come with skincare products. I am not interested in Instagram worthy packaging or nice smelling, highly skin irritating, fragrances.
I want products that do what they say. Skincare ingredients that perform, that do not irritate and that actively repair and protect my delicate complexion. Is that too much to ask!?
Not when it comes to the Dr Barbara Sturm's skincare line it seems.
Dr Barbara Sturm – Overview.
Dr. Barbara Sturm is currently an aesthetics doctor based in Germany however aesthetics is not where Dr. Sturm began her career.
The reason Dr. Sturm is so knowledgeable when it comes to anti-inflammatory and healing ingredients is due to the fact that she started out in orthopedics. Whilst there, she worked as part of a team looking into treatments for anti-inflammatory conditions. It is this work that Dr. Sturm used to create her skincare line.
The skincare line ranges from cleansers to all kinds of serums and moisturisers. However, you will not find any AHA's, BHA's, or Retinol. Dr. Sturm believes (due to scientific research conducted) that these chemicals can seriously damage your skin barrier (the skin's protective shield). Therefore aging the skin and creating more problems later on in life.
I am not sure if I am ready to give up my love of acids just yet but I do wonder if she is actually onto something.
Regardless, there are many things I love about Dr. Barbara Sturm's skincare line.
Why choose Dr Barbara Sturm Products?
Dr. Barbara Sturm does not include any form of toxic, harmful, or harsh ingredients in her skincare products. A lot of them are Non-Comedogenic and contain fantastic anti-inflammatory ingredients.
Her secret ingredient Purslane is the star player across the product line. Whilst we do not know the exact compounds housed in Purslane (It wouldn't be a secret then would it!?) We do know that it includes a multitude of vitamins, minerals, and nutrients. All of which have amazing regenerative properties.
Dr. Sturm does not use massive marketing campaigns throwing 'claims' here, there, and everywhere. She lets the products do the talking, and my God they are chatterboxes.
These products have been created based on scientific research. They have been developed to help the skin. To provide anti-aging results without causing any damage. To manage skin conditions and improve skin concerns. The bottom line? They perform.
Is it worth the price?
Just before we get into my top picks from the line, let's discuss the price tag.
It is hefty!
Dr. Barbara Sturm's skincare is an investment. It is not the type of product you can grab with a spare few quid, from your local Superdrug.
There are other options on the market at a much lower price point.
For example, the cleansers are great but I have used better at a fraction of the cost. So no, not ALL of the range is worth it.
However, there are some products within the Dr. Barbara Sturm skincare line that are worth every single penny. I'd sell my kids if I needed to. They are just that good.
For me personally, it took over a year and a lot of research before I finally took the plunge and purchased my first Barbara Sturm product.
In addition, there are a few different ways you can try the range without having to remortgage your house (or sell your children) which I have mentioned further down the post.
Regardless of how much a skincare product costs, I would always suggest that you do your research first. Read reviews and wait a week or two before you purchase. That way, it is not an impulse buy but a considered purchase decision.
Ok, let's get to the fun stuff with my top 3 picks!
Dr. Barbara Sturm Eye Cream £110.00
Here is the overview from Dr Sturms website:
"Dr. Barbara Sturm's hydrating EYE CREAM has been specially developed to target the dark shadows, bags, and puffiness around the delicate eye area."
"Purslane with the special complex of Golden Root, Sugar Beet and Yeast provides a soothing 'de-puffing' effect. While active omega lipids help the skin to retain moisture for a more youthful appearance."
Here is my review:
One of the main things I have struggled with over the years is to find a good eye cream. I have used some 'okay' eye creams but I have never been wowed.
Well that was until the day I tried the Dr. Barbara Sturm eye cream.
That day I got the wow factor!
The first thing I noticed was the 'bouncy' consistency. It was super light and yet seriously hydrating. It did not 'pill' and sits beautifully under makeup.
In addition, I only needed to use the tiniest amount. A little really does go a long way. Something I have noticed with all the Sturm products I have tried which is definitely beneficial considering the price tag.
A few minutes after I applied the eye cream I felt what I can only describe as a tightening effect. Maybe this was thanks to those de-puffing properties, I have no idea but I liked it!
The following morning I literally did a double-take in the mirror. My eye area just looked so much better.
No puffiness in sight and more smoother, brighter and youthful.
I do not know what wizardry is contained in the Dr. Barbara Sturm's eye cream but it definitely works.
The eye cream is Non-Comedogenic and costs £110.00 for 15ml. I have been using mine for 3 months now and have only used around a third of the pot.
If you fancy investing you can grab yours here.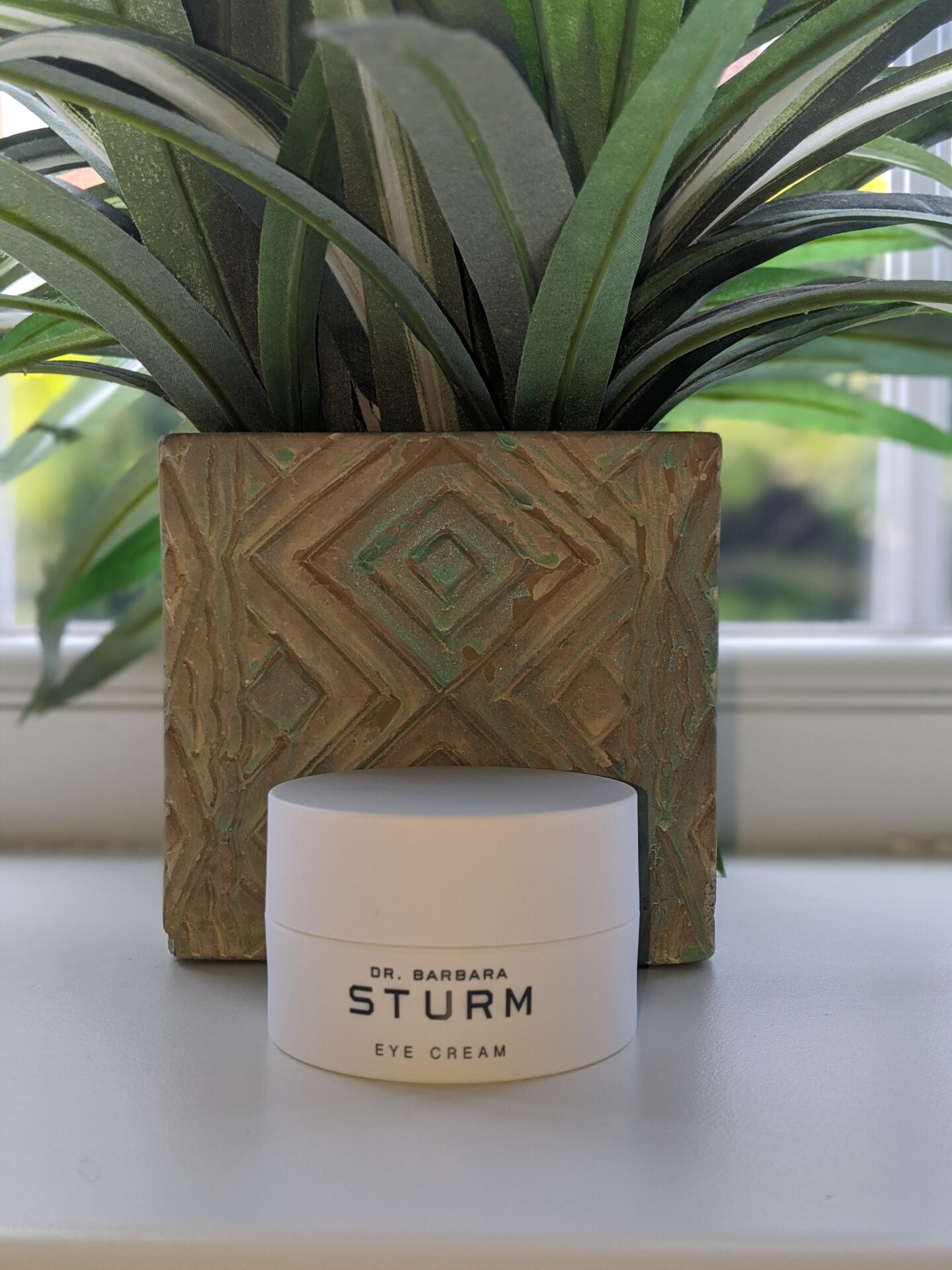 Dr. Barbara Sturm Glow Drops £110.00
Here is what it says on the website:
"GLOW DROPS revitalize tired, dull skin and restore radiance leaving you with a natural, healthy #STURMGLOW whenever you need it."
"The active ingredient Polygonum Bistorta Root is a potent anti-aging ingredient, optimizing skin tone, while Wild Rose Extract refines pores giving the complexion a more even appearance. Purslane, whose chemistry boasts high Vitamin levels and Omega 3 Fatty Acids, reduces the visible signs of irritation, while Dr. Sturm's proprietary blended formulation of low and high weighted Hyaluronic Acid molecules binds moisture and replenishes internal molecular levels, providing a hydrating and plumping effect while supporting the skin's natural barrier function. Optical Pigments give an instant shimmer to the skin."
This is what I think:
Holy Moly, can I please just state that never in my life will I be able to manage without this bottle of glowing happiness.
This is not a makeup product. Well, it is in the sense that it uses optical pigments to illuminate. However, it is so much more than illuminating drops.
This is a fantastic skincare product. A potent serum. Packed full of fatty acids, vitamins, and anti-aging ingredients. It really has got it all.
Housed in a chic and simple glass bottle the serum has a milky, runny consistency. Again, you only need to use a very small amount and it blends perfectly. It works fantastic under or over makeup and gives your skin such a healthy 'real' glow instead of a bit of a glittery disco ball look you can sometimes get with illuminating products.
Since using this serum my skin has improved dramatically. I use it morning and night under my moisturiser. I wake to glowy, smoother, and healthier skin. My signature red Rosacea cheeks have diminished considerably, making my complexion look much more even.
The Dr. Barbara Sturm Glow Drops are Non-Comedogenic and cost £110.00 for a 30ml bottle.
If you are ready to take the plunge you can grab yours here.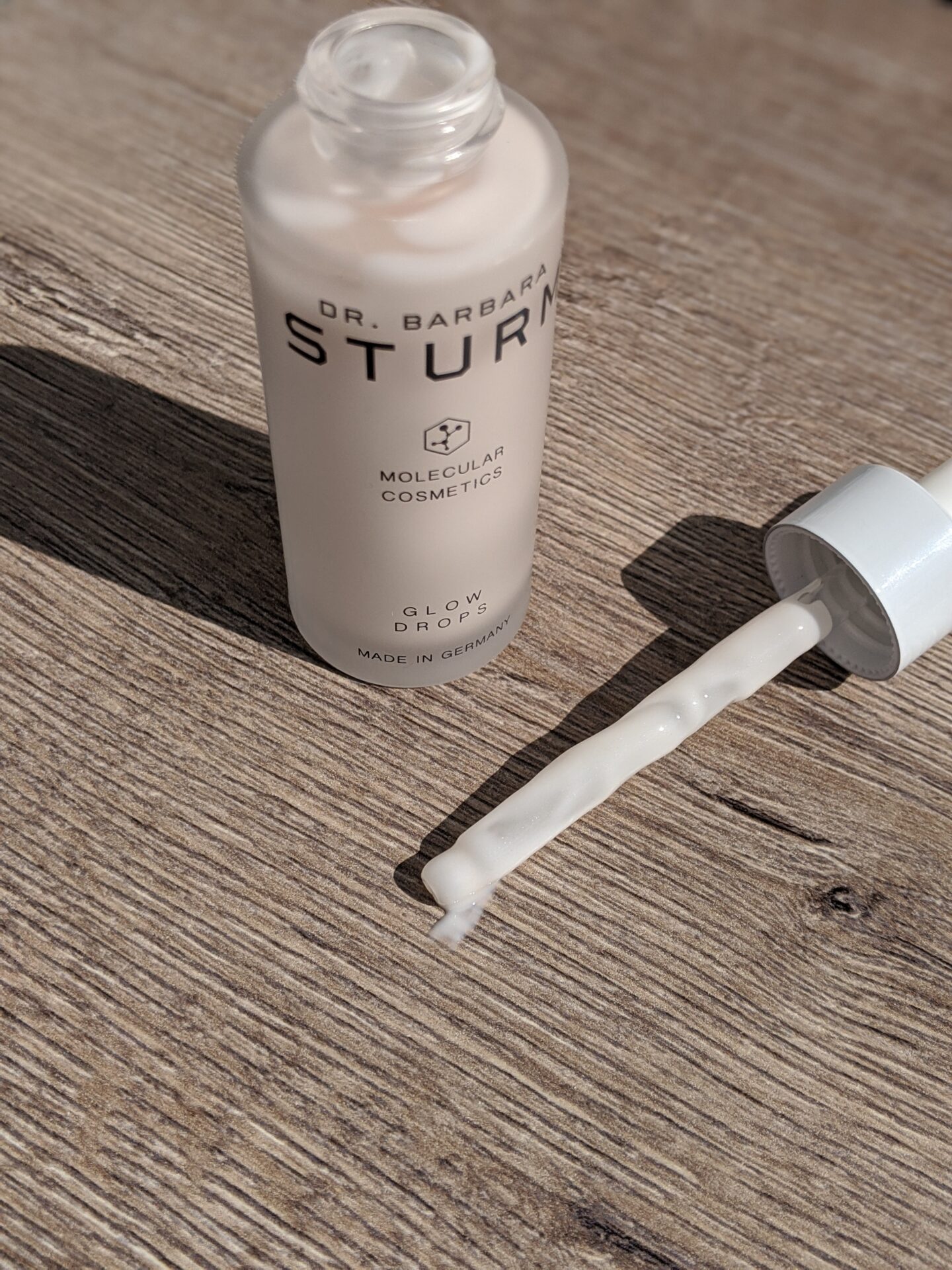 Dr. Barbara Sturm Face Cream Light £130.00
Here is the brief from the website:
"FACE CREAM LIGHT was developed as a lighter formula moisturizer suitable for warmer climates or those with normal to oily skin types. Its satin texture is easily absorbed while providing needed moisture."
" This cream is formulated with effective skin-loving anti-aging ingredients that are also great for sensitive skin types, delivering a powerful dose of non-greasy hydration, as well as soothing and antioxidative compounds."
" An active ingredient combination of Ginger, Bisabolol, and Panthenol moisturizes and calms irritated areas of skin, while vegetable lipids boost regeneration, so the skin retains its vitality and youthful radiance. Purslane an anti-aging powerhouse helps calm the skin and reduce the visible signs of irritation."
My thoughts on the face cream light:
This is a wonderfully light and hydrating moisturiser.
It is packed full of some fantastic ingredients again including a cocktail of calming and soothing properties which is wonderful for anyone with sensitive skin.
In addition, it hydrates, smooths and brightens.
What I love about it, is that it feels so soothing when applied. I can literally feel it calming down my skin.
The face cream light is just that, light. It isn't heavy or greasy and sinks into the skin without leaving any film or residue. Sitting perfectly under makeup.
It is so difficult finding a moisturiser that is hydrating, but not heavy. That includes skin-benefiting ingredients but does not irritate. This moisturiser ticks all of my boxes.
Dr. Barbara Sturm face cream light is again non-comedogenic and costs £130.00 for 50ml.
If you fancy some 'light' relief, grab yours here.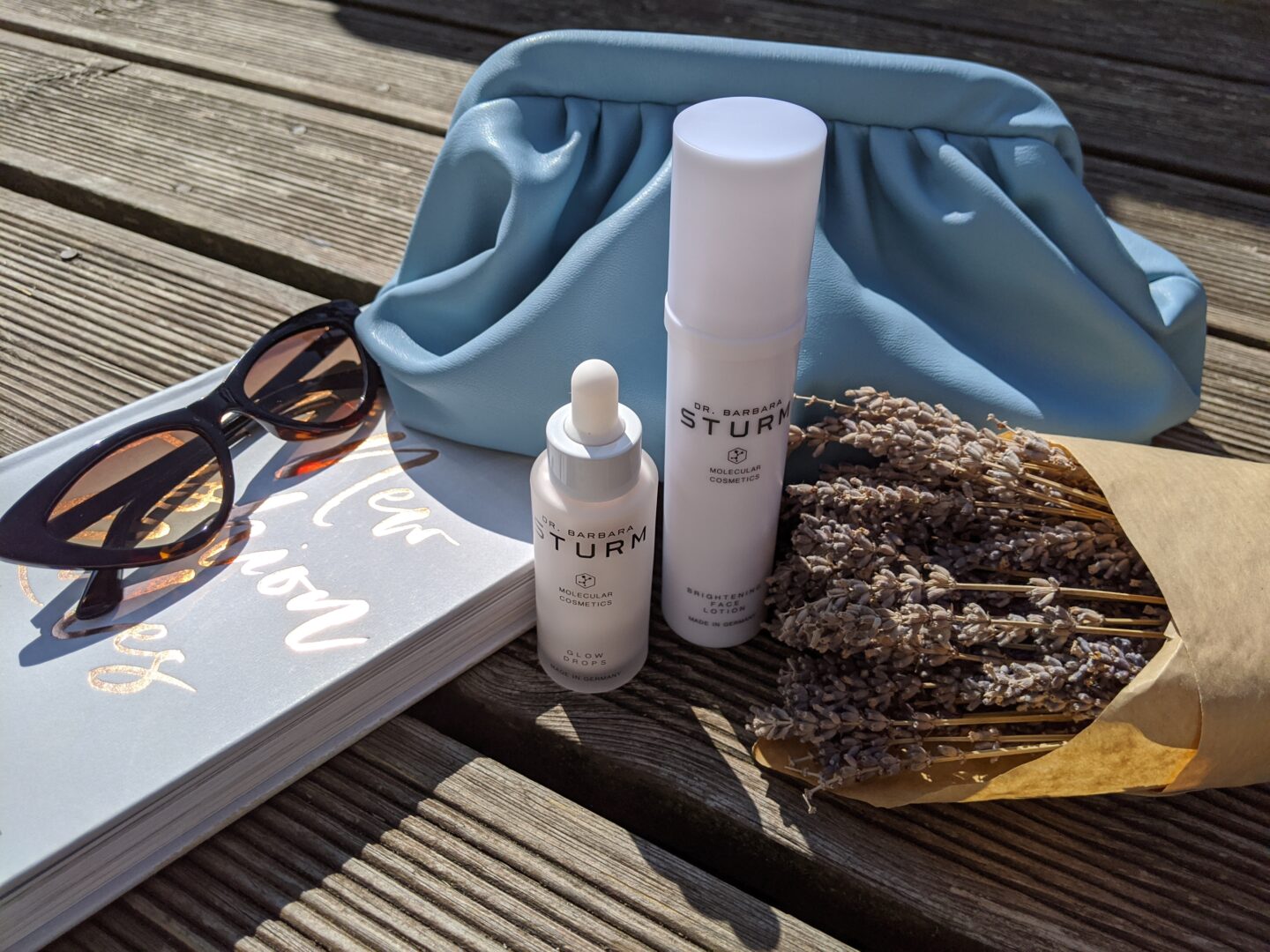 To Summarise.
Dr. Barbara Sturms's skincare collection is extremely expensive. With high-grade, good quality, science-backed ingredients and formulas, creating products like this is not cheap.
However, to most normal folk, some of the price points are unrealistic.
For example, Dr. Sturms Super Anti-Aging serum costs an eye-watering £270.00 for 30ml.
This price point is just not acheivable for most of us.
However, Dr. Sturm does have a couple of discovery kits. Whilst these kits are still not cheap they do give you the opportunity to try a range of products from the line and include generous sized mini's, with some lasting me around two months.
The standard discovery set is priced at £90.00 and includes a selection of 7 different basic skincare routine essentials. You can take a look here.
Alternatively, the Glow set (my personal favorite) priced slightly higher at £130.00. Focusing on glowing and illuminating it features a selection of 6 different skincare products including two 10ml serums (one of them being the glow drops the other being the super expensive, super anti-aging serum)! More information here.
**Some products within the kits are not non-comedogenic**
After that, I personally decided to purchase the Glow Drops. I feel this serum is the best value for money as you are getting all of the science and skin performing ingredients at a lower price point, compared to the rest of the range. Plus I just love how the Glow Drops make my skin look and feel.
You can see how I slot them into my skincare routine here.
Whilst I would love to use the whole range in my daily skincare routine, I am not a millionaire. Therefore, I will happily stick with my glow drops and continue to reap the amazing skincare benefits the glow drops have to offer.
**This post does not contain any affiliate links or ads. These are my own honest thoughts and opinions**
If you are in the market for a Vitamin C serum I have an in-depth review on the SkinCeuticals Serum 10 here.
Alternatively, if you would like to know more about Non-Comedogenic skincare you can get more information here.
Please sign up for my newsletter to receive an update when I published something new.
If you have any questions or need some advice, feel free to email me at [email protected]