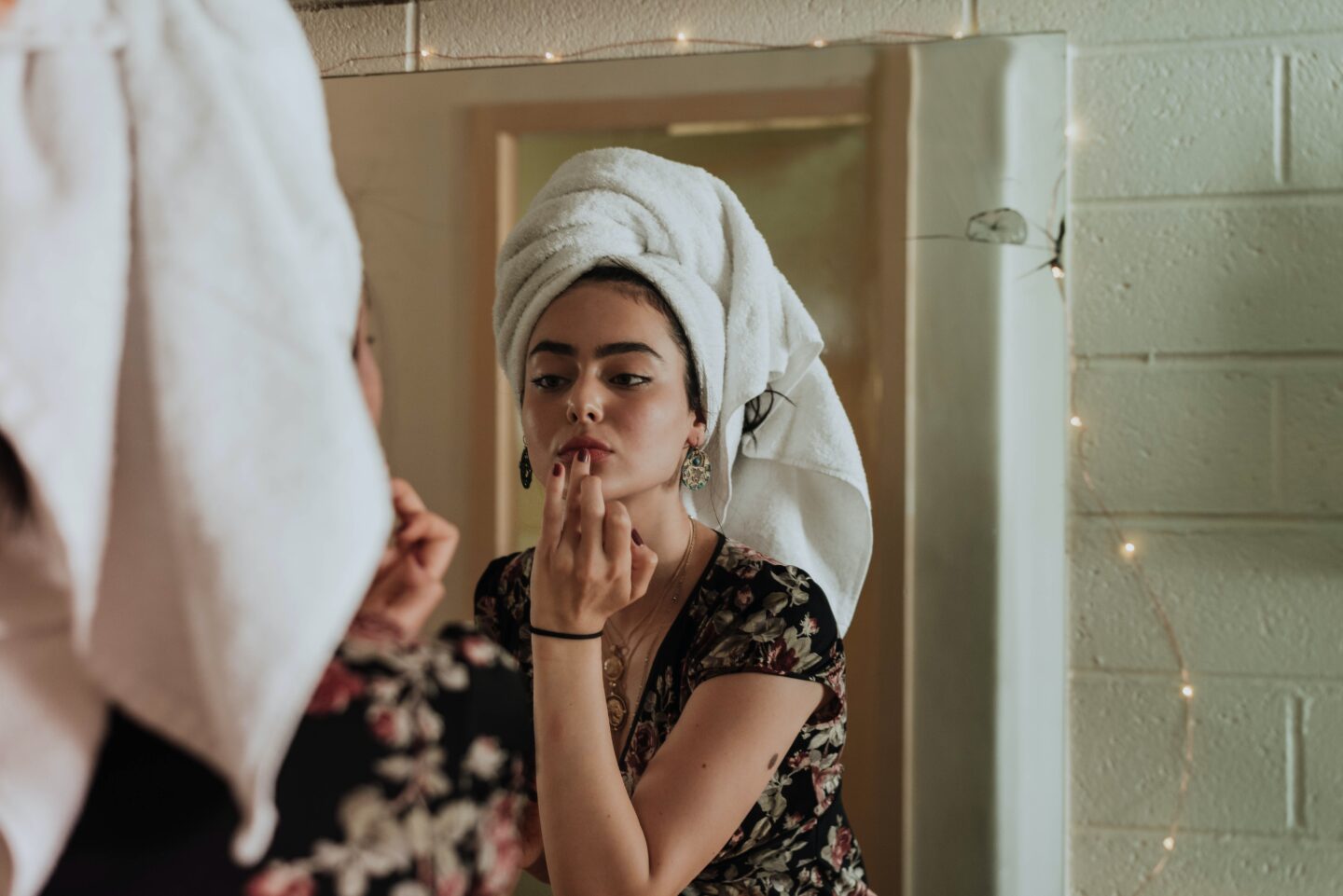 Are you drinking enough water to drown yourself from the inside out and still your skin looks as dry as the Sahara? Fear not, my Barron friends, I have the perfect skincare routine for you including a firm favorite of mine, the SkinCeuticals HA Intensifier!
Dry skin can happen to us at any age, in varying degrees. Regardless of our age, it is seriously annoying.
However, as we age, dry skin brings us even more problems.
The emphasis it puts on our aging complexion just isn't funny. We may as well have neon signs pointing to our fine lines. Those wrinkles are literally screaming at people when we are suffering a dry patch. Excuse the pun.
So if you too are in a dry spell, what can you do to bring some life back to that complexion of yours?
Before we get into the skincare product hero's let's look at a few changes we can make first:
Drink lots of water – I know, I hate myself for leading with this. Drinking water is just boring. However, if I do commit to drinking 2 litres of water a day, I do notice a massive improvement in my skin. This is the first big step you can take towards a more plump and hydrated complexion.
Don't over-do it with the Acids and Retinol – But the Acids make our skin so smooth and shiny!? Not if we overdo it! Acids can be super drying. In addition, Retinol may be an anti-aging powerhouse but is also extremely irritating and can actually emphasise those fine lines and wrinkles. A vicious circle I believe this would be called!
Don't cleanse your face in the morning – Yes you read that right. Cleansing is a huge part of keeping our skin hydrated however, save that cleansing for your evening skincare routine. Throughout the night, whilst we sleep, our skin produces its own natural oils. The last thing we want to do when tackling dry skin is to remove those oils by cleansing in the morning. Just splash your face with some lukewarm water and move onto the next step in your skincare routine.
Apply your serums to wet skin – Immediately after cleansing, apply your serum whilst your face is still wet. This way you are locking all that lovely moisture in. It makes a huge difference!
Ok, enough of me rambling on. Let's get into the hydrating skincare routine.
Cleanser.
Elemis Pro Collagen Rose Cleansing Balm £44.00
This is the perfect cleansing balm for dry skin. Removing all impurities and makeup whilst leaving the skin hydrated, plump, and smooth. (It also smells rather gorgeous too)
CeraVe Hydrating cleanser £9.50
A basic but beautiful, gel-like cleanser. Suitable for the most sensitive skins full of Hyaluronic acid and Ceramides for a truly hydrated cleanse. There is a good reason this cleanser is recommended time and time again.
The Ordinary Squalane Cleanser £5.50
Squalane is a super hydrating ingredient which is why the clever people at The Ordinary have chosen to use it as the main ingredient for this cleanser. It feels so much more luxurious than the price would suggest.
Glossier Milky Jelly Cleanser £15.00
This is one of my favourites. This gel to milk cleanser is both soothing and nourishing. Generally a treat to use and an easily accessible brand even for us UK folk.
Serum.
SkinCeuticals HA Hyaluronic Acid Intensifier £90.00
Definitely not cheap. However, with this particular product, you get what you pay for. Not only does this serum seriously hydrate the skin, but it also includes some other magic ingredients (Proxylane, Liquorice root and Purple rice!) which help tone and smooth the appearance. I am all for hydration and toning. Can't get enough of the stuff.
The Inkey List Hyaluronic Serum £5.98
At a fraction of the SkinCeuticals price point, the Inkey List offering is not to be dismissed. In fact, it is one of my all-time favorites which I have repurchased time and time again. The closest dupe I have found to the SkinCeuticals HA Intensifier. It does what it says. It hydrates the skin. Nothing more, nothing less, and I for one love this no-nonsense approach.
Still coming in at a reasonable price point, this hydrating and plumping booster not only gives your skin a well-needed drink, in addition, it also protects your delicate skin barrier from pollutants and other such nasties. Another one you can find in my bathroom cabinet. (You can never have too many serums right?)
Tan Luxe Super Glow Hyaluronic Self Tan Serum £35.00
I cannot tell you how much I love this serum. Not only is it a fantastic, hydrating Hyaluronic serum in its own right, it also gives you a flawless natural glow too. Get that sun-kissed glow with a dewy finish. Did I mention it is foolproof? I am a fool and I have no issues using it.
Moisturiser.
Kiehls Ultra Facial Cream SPF30 £26.00
This is the first moisturiser I reach for when my skin is feeling parched. It promises to keep the skin hydrated for a full 24 hours (I can attest to its efficiency in this area) whilst providing you with SPF 30 to protect your skin from all the aging UV rays. The perfect daily moisturiser.
Charlotte Tilbury Magic Cream £75.00
Everyone has heard of this cream and whilst I absolutely hate to buy into the hype, this product is one of the good ones. Whilst it is rather pricey, it is the ultimate comfort cream. Packed full of nourishing and hydrating ingredients, it is definitely one to consider for anyone suffering from dry skin. Think of it like a cashmere jumper for your face.
This is a bloody bargain and a superhero product for dry skin sufferers. This is a seriously thick, nourishing, and hydrating treatment that provides you with a lovely healthy glow. If it is good enough for Katie Jane Hughes, it is good enough for me.
Murad Nutrient-Charged Water Gel £50.00
This is a new find for me and a welcomed discovery. I love Murad in general and this cream does not disappoint. For anyone who craves hydration but dislikes thick, heavy creams this one is for you. It claims to 'increase moisture retention for up to 5 days'. I cannot confirm this as yet however, I have found it to be super hydrating. Not only does it include Hyaluronic acid, but it also contains lots of fatty acids, ceramides, and glycerin. A super hydrating cocktail!
In Conclusion.
There are some cracking products listed above which will bring your dry, dehydrated skin back to life. In addition, if you follow my hydration tips, you will be plump and dewy in no time.
The SkinCeuticals Hyaluronic Acid is by far my favorite hydrating product. The formulation is unbeatable in my opinion. However, the Inkey List Hyaluronic Acid serum is a very close contender and the best budget option on the market.
Please sign up for my newsletter for more skincare tips, dupes, and reviews. Alternatively, you can follow me on Instagram, Pinterest, or on my dedicated Facebook page.
I hope you have a lovely day. If you would like to know a bit more about the blog I have a 2 minutes read for you here.