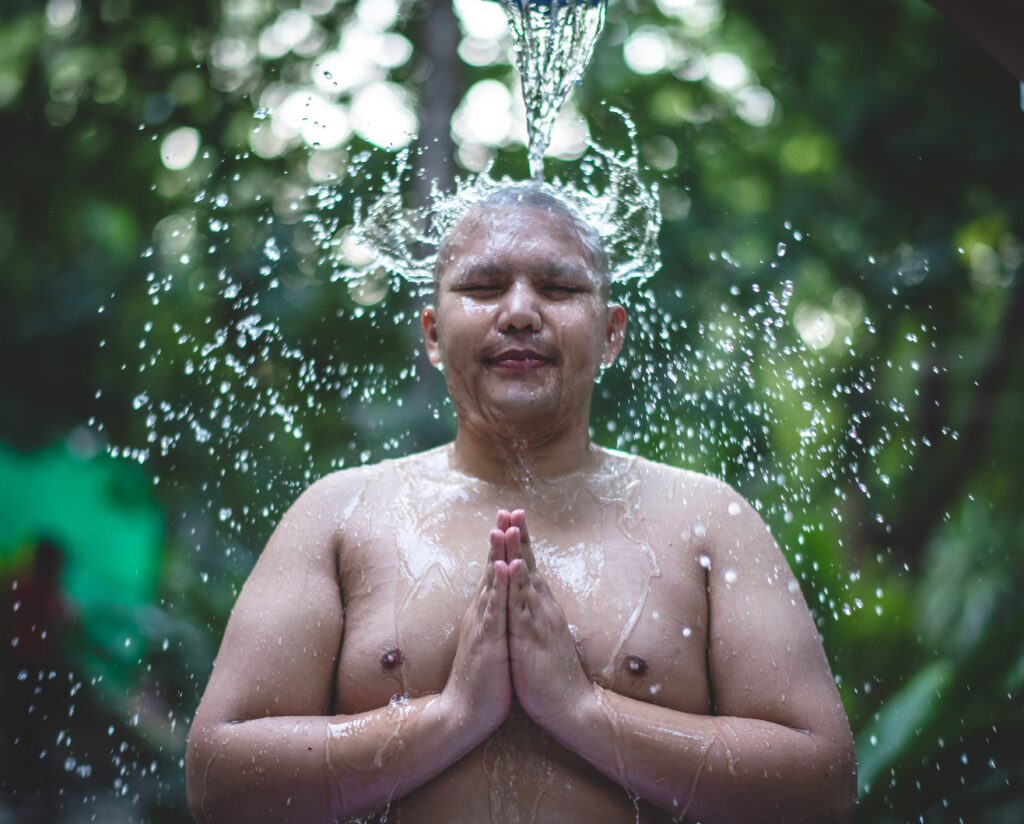 I recently published a post on how to streamline your skincare routine, which you can find here.
I promised a view of my own personal routine, and I always keep my promises.
However, before we get into it there are a couple of things you should know. The products that I use, work for me because they are specifically for my skin type. My skincare routine will not work for everyone. Therefore, you need to first start by understanding what your own skin types is.
My skin type is dry and sensitive. Not a great combination. Therefore I look for hydrating products that contain a limited amount of ingredients to avoid the risk of irritation. In addition, I like to include some active ingredients within my skincare routine. Vitamin C for brightening and retinol for those pesky lines. Finding active ingredients that are gentle enough for sensitive skin is a minefield and has taken A LOT of trial and error.
Finally, before we get into the good stuff, our skin changes. It can be affected by the weather, hormones, stress, a whole host of things. Similarly, our skin is clever. It can 'get used to' things. Therefore it's always useful to mix things up every once in a while.
Now let's get into my skincare routine ………………………
Cleanse.
Cleansing is super important. A face wipe is just not going to cut it. My friends can attest to how passionate I am about this subject.
We need to give our face a good scrub. Especially at the end of the day to remove all the makeup and grime that has collected there. If not, we will wake up with gross skin in the morning. Fact.
I am currently trialing the medik8 range and I am enjoying the Calmwise soothing cleanser in particular. This is an ultra-mild foaming cleanser that helps to prevent the appearance of redness and sensitivity. I find it gives my face a really good clean without stripping it. My skin feels super smooth and clear after use.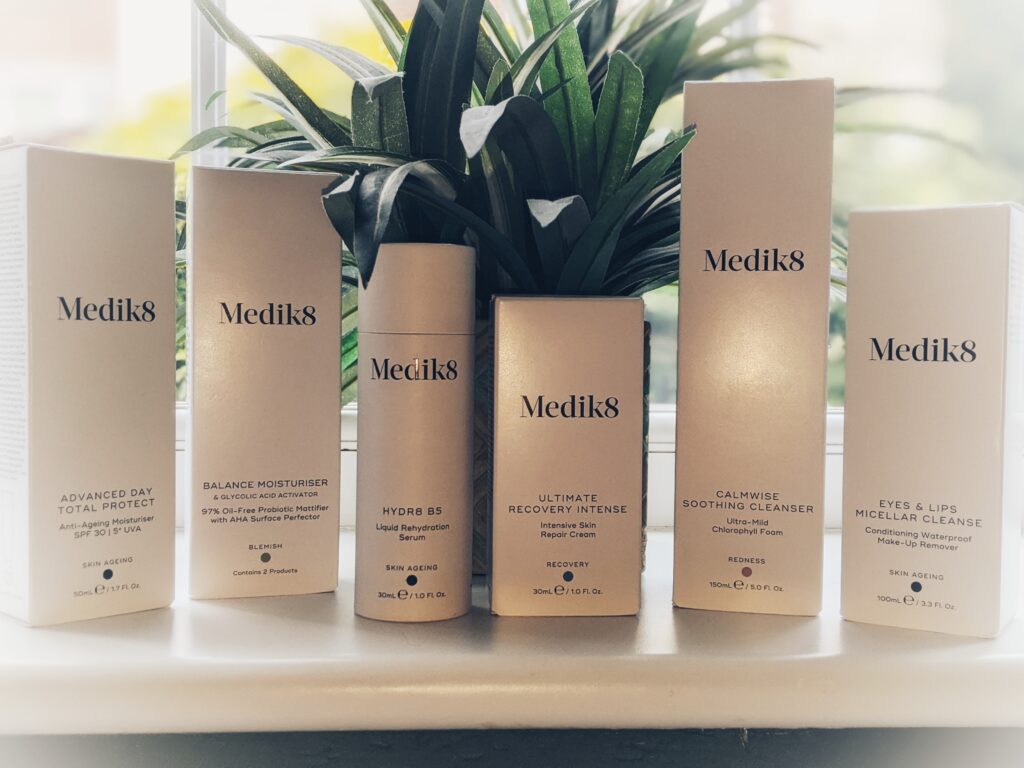 This would be a great option for anyone with oily, combination or sensitive skin. You can get yours here. Similarly, if you too have sensitive skin, I would recommend taking a look at the whole range here.
An alternative, if you would like something a bit richer, would be the Oskia Renaissance cleansing gel. This is super luxurious, removed all signs of dirt and grime, and is suitable for all skin types. You can find it here.
Serum.
As I have stated gazillions of times, the serum is where the magic is. Don't believe me? Go have a nosey on Caroline Hirons blog here.
Caroline is the skincare Yoda and backs up my magic claims!
Your serum is packed full of superpower ingredients in a much higher quantity than your average cleanser or moisturiser. This is why serums tend to be a bit more expensive. The serum you choose to spend your money on is completely dependant on your own skin concerns.
Vitamin C
I want a couple of things. Brightness to liven up my complexion as once you start to age (sigh) your skin can take on an almost Grey hue. This is where vitamin C fits into my skincare routine. However, my skin does not like most vitamin C which has caused me quite a few bad skin days unfortunately.
Step forward Clinique fresh pressed vitamin C. Clinique, in general, is a fantastic brand for anyone who suffers from sensitive skin. (If you would like to know what my top picks from the range would be, let me know in the comments below or come say hi on my Pinterest.)
I digress, this vitamin C does not irritate my skin. It provides me with a more healthy-looking complexion and has a super brightening effect. In addition, Vitamin C is a great antioxidant that works to protect your skin from external aggressors such as pollution, etc. I would use this in the morning once I have cleansed.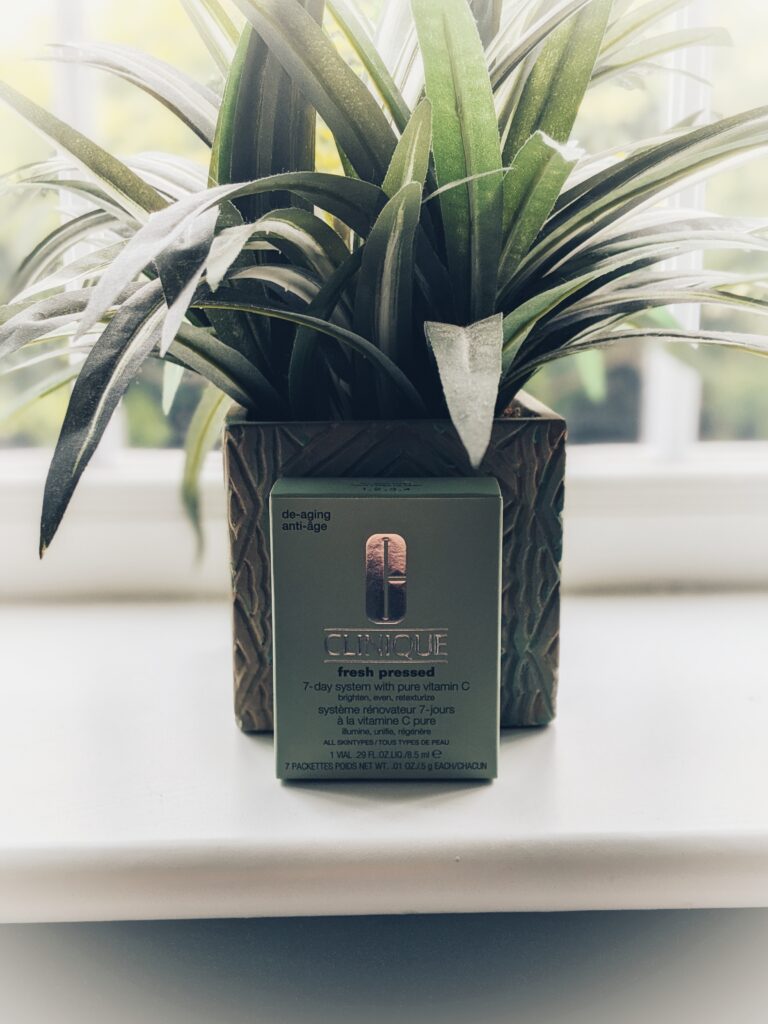 Retinol.
For those that have not heard of Retinol, it is the anti-aging God in the skincare world. It can literally turn back the hands of time on your face. It just works.
You can buy a variety of Retinol serums over-the-counter. A few of my personal favorites are as follows:
Peter Thomas Roth retinol fusion PM which you can get here. This is a great choice for retinol beginners.
After that, Drunk elephant A-Passioni retinol cream is another fantastic option. Again Drunk Elephant is a brand suitable for sensitive skin types. This one is a little bit more hardcore though. Therefore, not for beginners. If you are ready to up your retinol game you can find it here.
If you prefer more of an oil consistency, the Sunday Riley Luna sleeping night oil is another great option. A little bit pricey but absolutely performs. You can get that here.
(I am currently trialing prescription-strength retinol and will get back to you soon on my full review. Sign up to my newsletter letter so that you don't miss it!)
Eye Cream.
My personal opinion is, that an additional product is needed for the eye area. The skin around your eyes is much more thin and sensitive and therefore requires skincare specific to that area. Again the skin around my eyes is highly sensitive and finding 'the one' when it comes to eye cream has taken me the longest amount of time. I only recently hit the jackpot but boy was it worth the wait!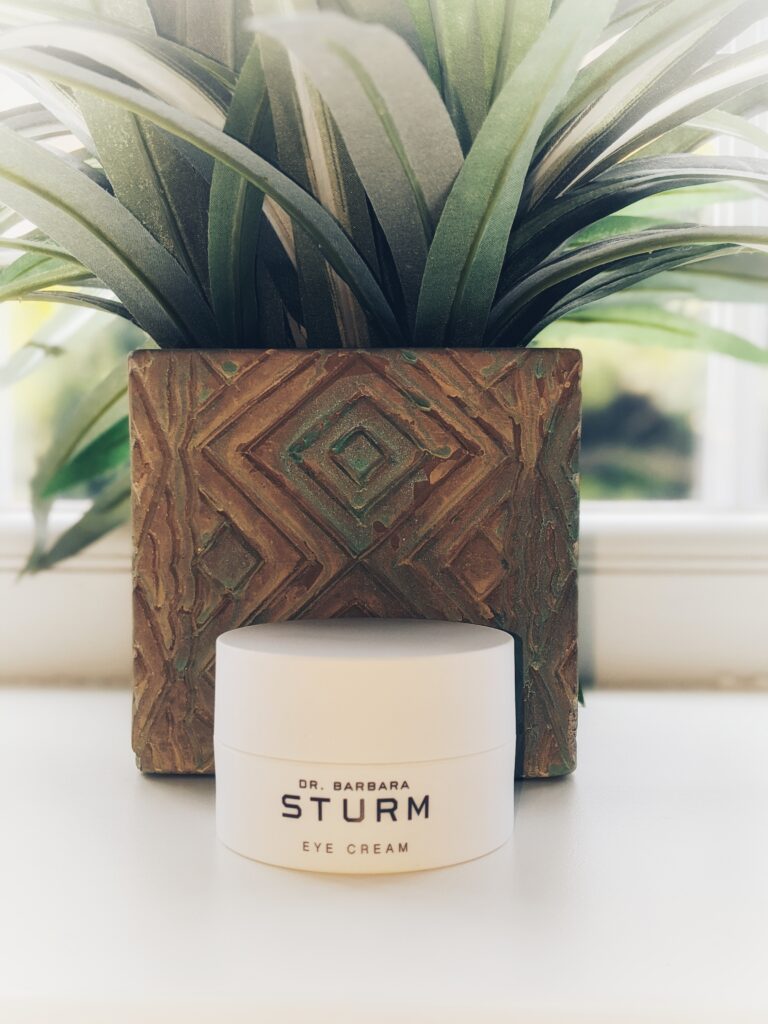 Enter Dr. Barbara Sturm – Eye cream.
Prior to finding this beauty, I had been considering filler in my under eye area. (My filler journey will be uploaded soon) However, before committing I took a leap of faith, parted with a significant amount of cash and purchased myself what I can only describe as a miracle in a jar.
Yes this stuff is expensive (find it here.) However, it is much cheaper than filler. (this is how I justify it anyway!)
I cannot explain how amazing this little pot of anti-aging dreams is. This is what Dr. Barbara Sturm has to say:
This eye cream targets exhausted eyes, taking on swelling, bags and dark circles.
Exhausted eyes? Sold! My eyes are that exhausted they need a holiday.
It just works. After two weeks of use, my under eye darkness is much better. My fine lines have significantly improved. I look more awake, less tired than I actually feel. And a little really does go a long way.
WORTH.EVERY.PENNY.
Moisturiser.
For the final step in my skincare routine, I smear a moisturiser all over my face, neck and decollete, to lock in all of that goodness I applied with my serum.
I am not fussy when it comes to moisturiser. Any bog standard one will do. So long as it does not contain any skin-irritating ingredients that is.
I like to have a few in rotation and my current favorites are as follows:
Paula's choice water infusing electrolyte moisturiser. A great boost of hydration. Non-irritating and a lightweight texture. Get yours here.
La Roche-posay Toleriane ultra-fluid. Another great range for sensitive skin. This is really moisturising and calming. It does what it says on the tin. You can get yours here.
La Solution 10 De Chanel. Because who doesn't want a bit of Chanel? This beautiful, kind to the skin moisturiser only contains 10 ingredients (hence the name). It soothes and de-stresses unhappy skin whilst defending the skins barrier function. Get it here.
SPF.
Another necessity.
SPF is the only other proven anti-aging product (as is retinol)
I will not leave the house without it. I hate the really thick ones though that leaves your face looking seriously white. They look awful and do not play nice under makeup. I do however use a couple of great options:
Medik8 advanced day total protect SPF 30: A lovely lightweight option that works beautifully under makeup and does not leave a white cast! You can get yours here. In addition, I plan on doing a Medik8 review soon. Sign up to my newsletter so that you don't miss it.
La Roche-Posay Anthelios SPF 30: Another great option which I find to be slightly more moisturising and great for sensitive skin. You can get it here.
In Conclusion.
Phew. That took a while!
The above is just the basics. There are other treatments and extras I use throughout the week. I am currently working on compiling a list of everything and my thoughts. If you would like to hear more, signing up for my newsletter would be a great start. I do not spam! You will just receive new post updates.
In addition, Have you tried any of the above products? I would love to hear your thoughts on the comments.
Until next time folks.