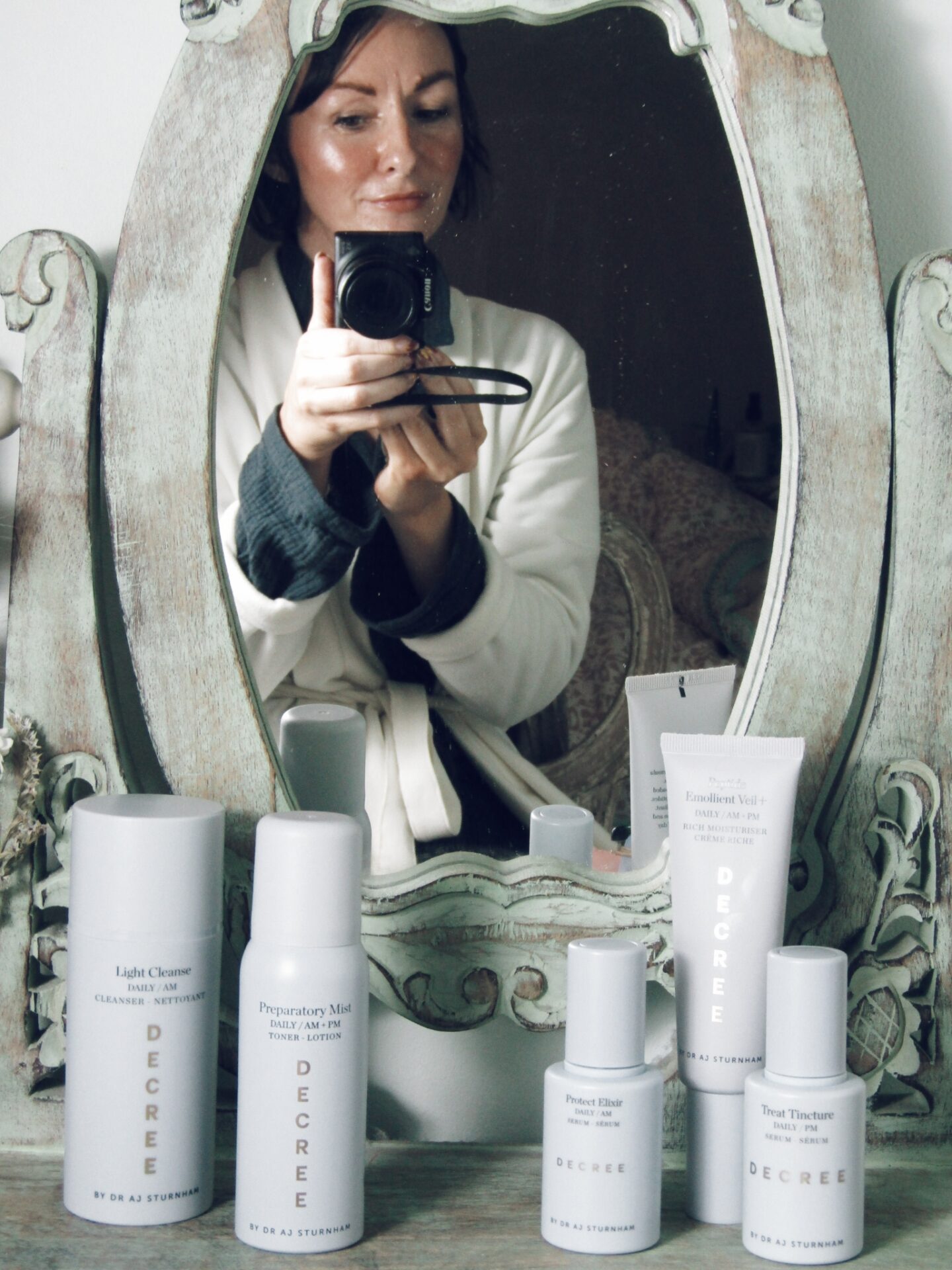 It is not very often I get excited about brand discoveries nowadays. There are so many good skincare brands out there, several absolutely rubbish ones, and very few great ones. So when I discover a 'great', it's like all of my Christmases have come at once. Dr. Sturnhams brand, Decree skincare, falls into that 'great' category. Find out below what makes a brand 'great', and why I have fallen head over heels in love with these beautifully packaged products.
** This article contains PR products. However, the love affair and opinions are very much my own **
What makes a 'Great'.
Before we delve into the brand Decree, I thought it would be a good idea to highlight what a brand or skincare product needs to provide, in order to achieve my 'greats' status.
There are literally thousands of products on the market. Thousands. Many of them provide some good results and are nice to use. However, when you have been trialing and testing skincare for as long as I have, 'nice' and 'good' just doesn't cut it anymore. I want to be wowed. Bowled over, blown away.
I want the whole package. Well thought out formulations. Sophisticated ingredients. Visible, and noticeable results.
The brand Decree provides a curated selection of 9 products, three of which have made my 'greats' category.
Brand Overview.
I cannot talk about Decree without first referencing the wonderful Dr. A Sturnham.
Now I need to point out right here, I am a bit of a fangirl when it comes to Dr. Surnham. I find her an absolute inspiration. With 15 years specialising in Dermatology and aesthetics, she absolutely knows what she is doing when it comes to skin.
In addition, Dr. Sturnaham has worked with several huge beauty brands on the formulation of their own skincare lines.
I was lucky enough to spend some time with Dr. Sturnham (via zoom obviously) and it became very apparent, very quickly, that this brand is everything to her. Her passion and knowledge left me in awe.
Dr. Sturnham Launched Decree in September 2019, just months before the world was hit with a global pandemic, and not long before discovering she was pregnant. Dr. Sturnham has worked tirelessly on making her brand a success, whilst being heavily pregnant and facing so many restrictions due to the pandemic. See, she is practically superwoman.
And a success Decree has become. With a simplified and curated approach to our skincare routine, Decree provides us with exceptional formulations, whilst reducing the number of steps needed in our routine. Therefore saving us time every morning and evening, and a whole load of headache trying to figure out which ingredients you can use with what.
However, whilst this line has a simplified approach, the formulations are anything but simple. Every single ingredient contained, is there to work hard for your skin. The formulas are so unbelievably well thought out.
Dr. Sturnham noticed that the majority of skin complaints she viewed with clients, were in fact, self-inflicted. Therefore started focusing on the skincare routine of her clients, before addressing any treatment options. From here, the brand Decree was born.
I have spent the last several months trialing some of the range, and have three clear favorites. (Although I have recently been sent more from the brand, so I will more than likely be adding to this list soon!)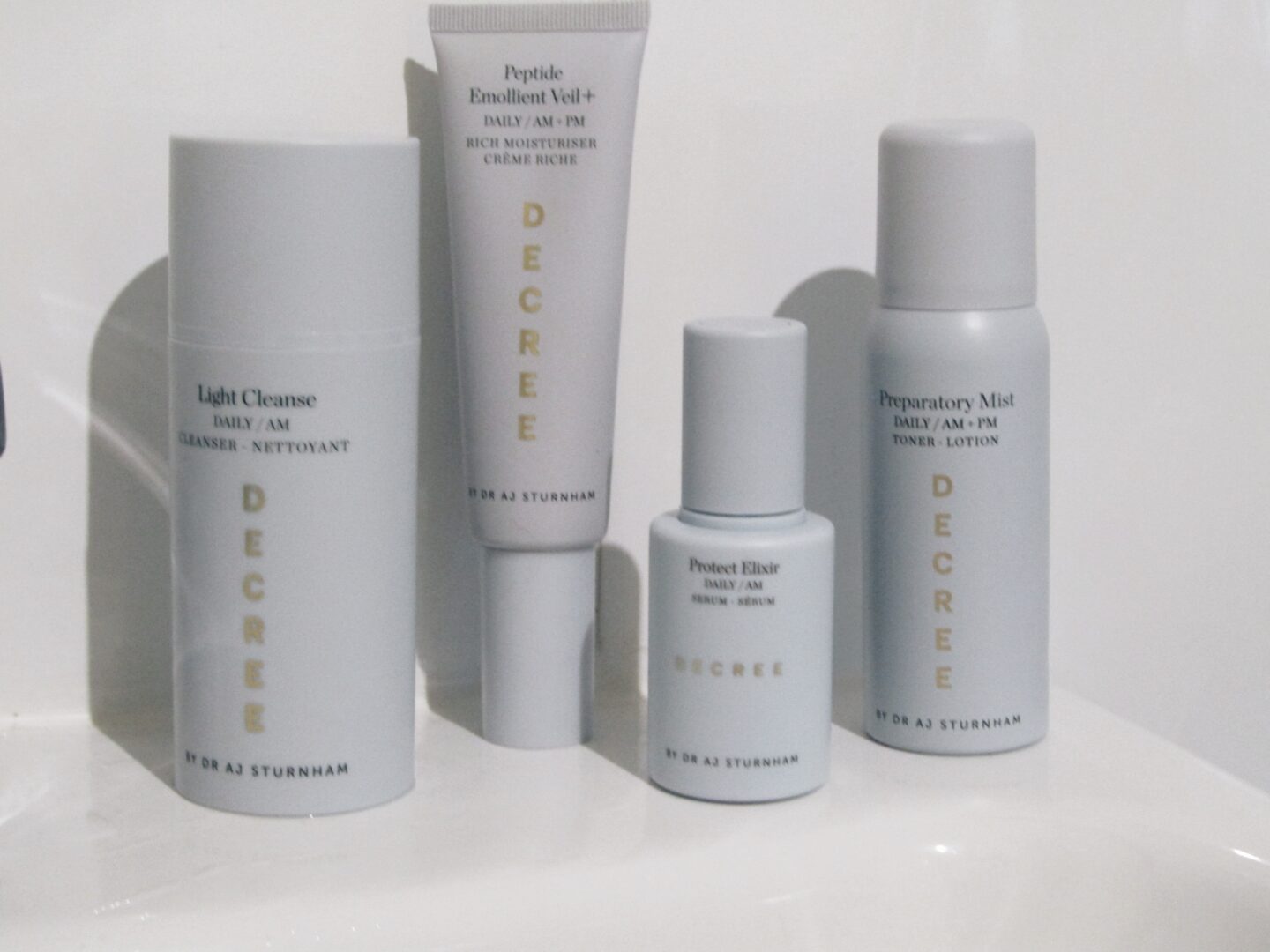 The Light Cleanse.
Now it may seem odd that I would get so excited over a cleanser, after all, it just cleans your face. However, this first step in your routine is vital.
The Light Cleanse is the perfect morning cleanser. It isn't harsh or stripping, so for us dry skin folks, it is an ideal option. Our morning cleanse should be gentle, removing any excess product from our evening skincare routine, that could potentially clog the pores, and any excess oils produced throughout the night.
With ingredients such as Rosewater, to soothe and hydrate. Chondrus Crispus blend, a conditioning antioxidant. Apple Amino acids to cleanse, and my favorite humectant, Glycerin. This is a beautiful formula.
I have been reaching for this cleanser every morning. Considering I have at least 20 cleansers currently in my stash, this speaks volumes.
It cleans my delicate complexion with a subtle scent of rose, cocooning my skin in a blanket of hydration and nourishment.
I cannot recommend the Decree Light Cleanse highly enough. You can grab yours HERE.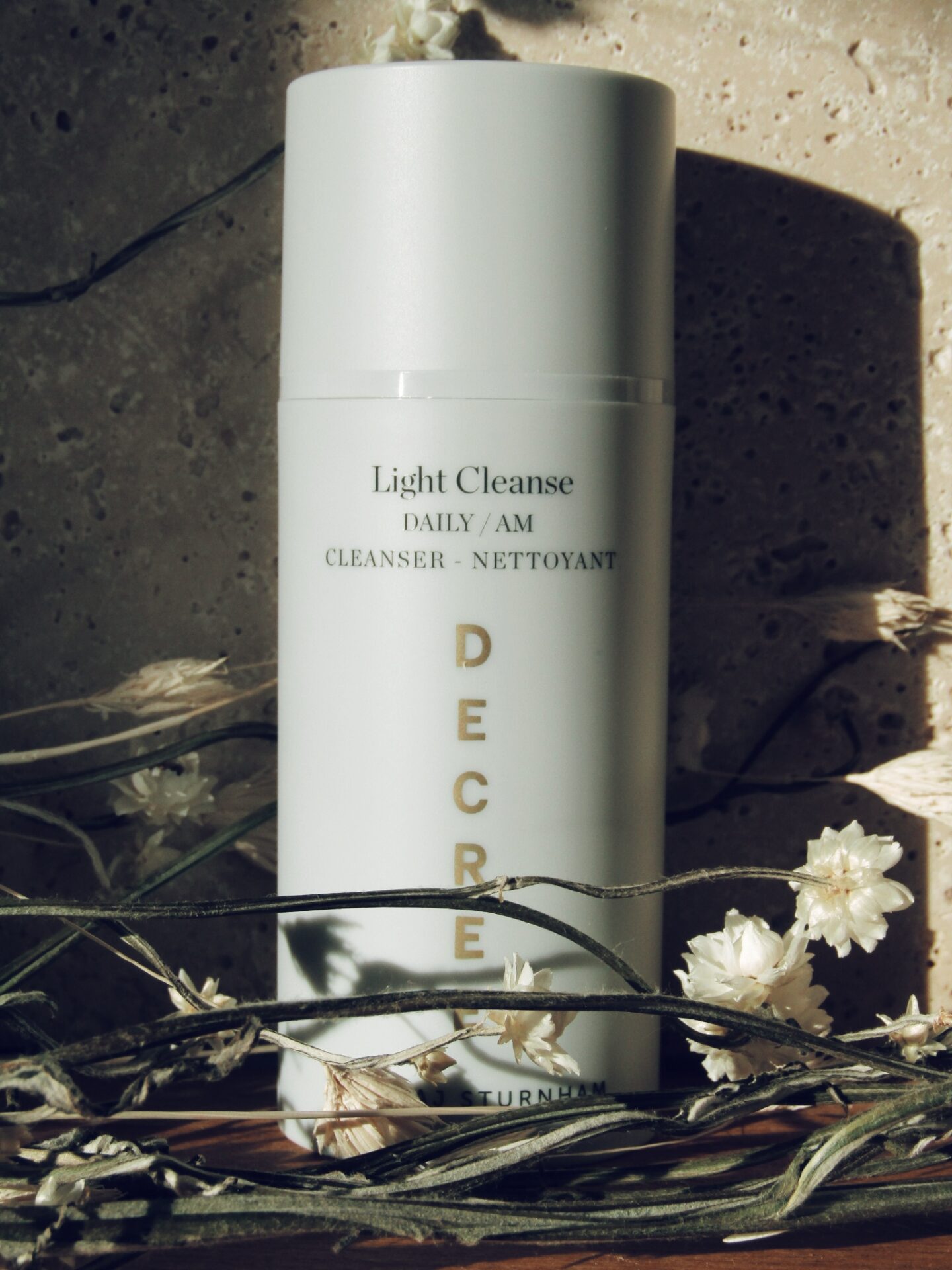 The Preparatory Mist.
The toner of the Decree skincare range, to be used directly after cleansing.
Another beautiful formula that has a 75% Rosewater base, Aloe Leaf juice for hydration, Antioxidants to protect, and a Hyaluronic acid complex to hydrate.
I used to think that toners and mists were an unnecessary step in my routine and a waste of my time, and money. How daft was I?
A mist/toner prepares the skin (hence the name) for the next steps in your routine. In addition, serums should be applied to damp skin to be given the best chance. Therefore a spritz of a mist prior to the application of additional products has become an absolute necessity in my skincare routine.
Like with all skincare, not all mists are made equal and the Decree Preparatory mist is an excellent example of just how great a toner can be, and how effective this additional step is.
I use it, as directed, after cleansing and sandwich it between my serums. The perfect way to add additional layers of hydration, which is something my skin is crying out for in these cold, winter months.
I find it cooling, soothing, and hydrating. Everything I want in a mist. When I recently got sent an additional bottle I let out a little squeal of joy. This is something I can no longer live without. You can grab yours HERE.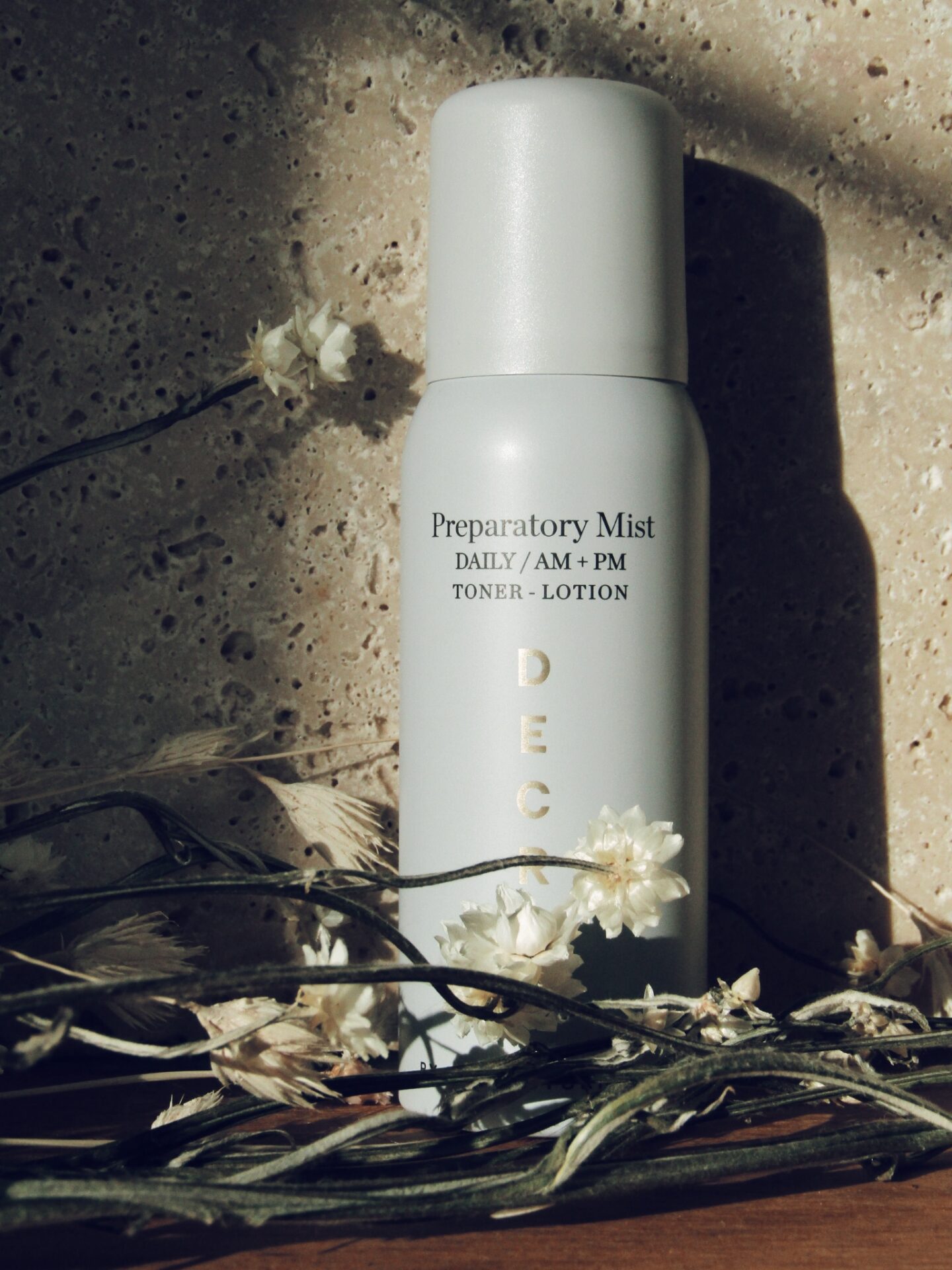 The Treat Tincture.
Where do I start?
The Treat tincture is your evening serum with THE MOST beautiful formula and ingredients. We have Granactive retinol for anti-aging, Alpha-Arbutin for pigmentation, Apple stem cells for additional anti-aging, and Hyaluronic acid, and squalene for hydration.
This serum is an absolute powerhouse. A powerhouse that has been formulated exceptionally. A retinol that is effective, but does not irritate or dry out the skin. A retinol I actually look forward to using, which is an achievement in itself.
The Decree Treat Tincture has become a permanent staple in my evening routine. One of the best serums that has ever graced my face.
Due to the fact that this is so hydrating, I do not need to buffer it with additional hydrating serums like I usually would do with typical retinol formulas. It is literally a one product does it all.
Do yourselves a favour and grab yours HERE.
To Summarise.
As you have probably gathered, I am a fan of Decree.
If you are looking for a streamlined, yet extremely effective approach to your skincare routine, I highly recommend the brand.
With clear ingredients listed, beautiful packaging, and an excellent formula, I guarantee you will not be disappointed.
If you would like to learn more about the brand, check out their Instagram. They are actually running a series of lives this week where we will be introduced to Dr. Sturnham and will contain a lot of useful information about caring for our skin, from both the inside and the outside.
That's enough fan girling from me, I will see you all again soon.
You can find more of my ramblings HERE.