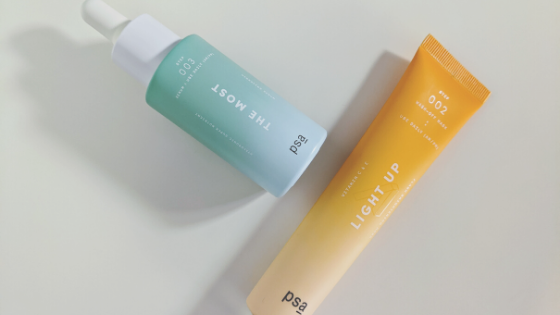 In our Brand Overview section, we focus on Brands that should be on your radar. The Brands that put their money into products and not massive marketing campaigns. Brands that go above and beyond when it comes to ingredients and performance. Brands and products that definitely warrant our cash. Including my personal top picks from the range.
About The Brand.
Remember my love affair with the Brand Allies of Skin? The incredible skincare brand who's Inci list makes my heart flutter.
Well PSA Skin is part of the Allies of Skin group.
Providing the same lust-worthy actives and formulas with one big difference. The price. Watch me swoon!
Whilst the price tag is significantly smaller, the brand values still stay the same.
With a back-to-basics attitude, the brand was created by Nicolas Travis, who suffering from his own problematic skin, found it extremely difficult to decipher all the jargon within the skincare industry.
Therefore, Nicolas decided to create his own simple line of products that would suit all skin types and break through the 'noise' surrounding the beauty industry.
By Noise, Nicolas is referring to all the conflicting advice out there. What we should be using, what we should be avoiding. What ingredients are good, what ingredients are harmful. It's a frustrating minefield!
So Nicolas just decided not to include any ingredients that were common triggers or irritants. He focused on making sure that each product had a clean but effective formula.
Many brands have tried this approach by creating one ingredient formulas in a bid to break through confusion. However, I do not want just one ingredient formulas as I am not up for applying 26 layers of skincare to my face every day.
This is where AOS (Allies of Skin) and now PSA Skin, get it absolutely right. Not only have they taken all the crap out, but they have put the seriously good stuff in.
In addition, this is a brand with integrity that vocalises equal rights and fights against Racism with real passion. They are as transparent as they come and show exactly how it should be done.
I could go on and on all day about the brand and why I love them but we don't have all day so let's get into the nitty-gritty.
What's To Like?
Oh, the Inci list again is what dreams are made of. You will not find any of the following ingredients:
Silicones
Sulphates
Drying Alcohols
Mineral Oil
Chemical Screens
Synthetic Dyes
Synthetic Fragrances
Essential Oils
The PSA Skin range is made in a way that it can be enjoyed by all skin types, with all skin concerns. It is all-inclusive in the best way.
What's Not to Like?
Nothing. Absolutely nothing!
My Must's.
PSA skin is only available in the UK at Beauty Bay who stocks four products from the line:
Light up – A daily Vitamin C and E mask
The Most – A Hyaluronic and Nutrient Serum
Heroine – A Mandelic Superfood Glow Toner
Midnight Courage – A Rosehip and Bakuchiol Retinol Night Oil.
Light Up Vitamin C & E Mask.
I got very excited about this one. Vitamin C does a wonderful job at brightening skin and this flash mask contains a whopping 11%.
In addition, you will find 2% Vitamin E which is fantastic for collagen and Grapeseed oil which helps to make skin softer and improves elasticity.
Hello!
It is a beautiful peach, gel texture which blends into the skin seamlessly.
I did not experience any irritation as I often can with Vitamin C *win* and more importantly my skin shone so bright I could light up Blackpool Tower.
The best bit? Priced at £31.00 for 50ml, I am practically robbing the PSA peeps.
The Most Hyaluronic and Nutrient Serum.
The Most is by far 'The Most' wonderful Hyaluronic serum (See what I did there!?)
Packed with not one, but multiple Hyaluronic molecules, it also includes:
Kombucha – which helps to not only hydrate the skin but to detoxify and improve elasticity.
Panthenol – A skin protectant with anti-inflammatory properties.
Organic Safflower Oil – High in Linoleic acid this helps to balance Sebum levels.
This serum does what it says on the tin. It hydrates and plumps my skin like no other.
Again, non-irritating, a beautiful creamy serum that soaks into the skin and does not leave the faintest sticky layer behind.
I also use this serum all around my eye area and this has been an absolute game-changer for me. Fine lines have reduced and my eyes have a more youthful appearance.
If you need more persuasion, this magic in a bottle is priced at £34.00.
We are literally robbing them blind.
Conclusion.
With gorgeous packaging and an Inci list at such an affordable price, I cannot tell you how excited I am about this brand.
They have won me over time and time again, which if you follow me on Instagram you will know, as I never shut up about them. It's getting a little embarrassing really. I feel like I have a schoolgirl crush!
Whilst there are more affordable products on the market, I guarantee they will not be a patch on the products listed above.
With such innovative formulas and beautiful textures at a realistic price point, I cannot rave about them enough.
If you are looking for a brand to invest your time and money in, I highly recommend PSA Skin.