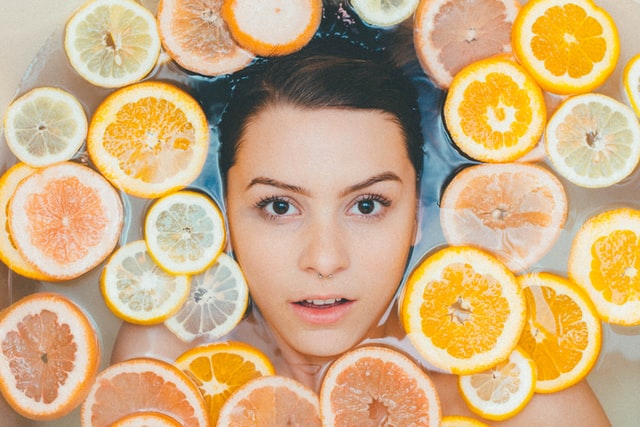 Vitamin C is not just great for our bodies. It is an amazing addition to our skincare routine too. Read on to find out why you absolutely need it and how to get your glow back.
Have you started to notice your skin is looking a bit meh? There is nothing majorly wrong with it, it's just a bit dull and flat.
It happens to the best of us I am afraid.
We have all been there and I find it gets so much worse as we age!
Therefore a Vitamin C serum is the first thing I reach for in the morning, once I have cleansed my face. Not only is it protecting my skin from the sunshine's harmful rays, but it is also providing a multitude of anti-aging benefits that I desperately need right now. In addition, it gives me the glow of my dreams!
Not everyone is perfect.
Topical Vitamin C is a temperamental bugger of an ingredient. Therefore it is somewhat difficult to formulate as it can degrade if it comes into contact with air, heat or light.
Therefore Vitamin C Serums can often be found in dark glass, airtight bottles to protect the temperamental ingredients.
In addition, Vitamin C is super potent, which is great unless you have sensitive skin (god damn it!) This can mean you may experience some irritation. Providing us with a bright red glow rather than the natural lit-from-within glow we were after.
However after years of trial and (major) error, I have found some fantastic options which suit ALL skin types!
Before we get into the good stuff, let's just take a look at why a vitamin C serum is so good and what it can do for our skin.
Vitamin C – The Science.
Ok here comes the science bit. However in normal speak so that we actually understand.
Vitamin C is a potent antioxidant, but what exactly do antioxidants do?
They aid natural cell regeneration (as we get older not only does our whole body slow down but so does our skin). Vitamin C helps boost our skin regenerating and therefore can help us stay looking slightly younger for longer!
In addition, it helps prevent damage from free radicals and environmentalist aggressors (aka, the sun, pollution, and other such nasties) which can break down our collagen and cause wrinkles and the dreaded sagging. (Doesn't just happen to our boobs you know).
However, Vitamin C is not a one-hit-wonder. It can do so much more. With continued use you can experience the following benefits:
It helps prevent dark spots from forming – win.
Reduces pigmentation – yes, please.
Increases collagen and elastin production – hello plump complexion.
Evens out skin tone – sold.
Enhances radiance – give me that glow.
Not all skincare products are made equal though. Some work ok, some don't work at all and then there are some true game-changing gems thrown in too.
Below is a list of the game-changers. You are welcome.
SkinCeuticals Serum 10 .
I am far too impatient to save the best till last. Therefore I am kicking off with my absolute favorite.
As I mentioned before, Topical vitamin C can irritate, especially if your skin is a temperamental bugger like my own. I need to be careful.
I am sure you have all heard of the SkinCeuticals C E Ferulic. You will not find a serum review without this Vitamin C serum included. However due to its potency my skin has issues with it.
Luckily the SkinCeuticals boffins created a milder version for dodgy skin type people like myself, in the form of Serum 10.
This may be milder but my goodness does it perform.
Here is what the SkinCeuticals peeps have to say:
It helps prevent free radical damage and promotes a radiant, healthier-looking complexion.
Serum 10 is a vitamin C serum formulated under the Duke Antioxidant patent. The Duke Antioxidant patent describes effective delivery of vitamin C to the skin. In order for a vitamin C serum to be effective, it must be formulated with pure l-ascorbic acid (vitamin C) at an acidic pH within the 2.0-3.5 pH range and have a concentration between 10-20%. SkinCeuticals is the only brand to formulate according to these parameters.
SkinCeuticals are without a doubt, market leaders when it comes to Vitamin C serums. Having used many, I can confidently say that this out-performs all of its competitors by a mile. Not only is the Serum 10 my favourite Vitamin C serum, it is my favourite serum full stop!
Priced at £85.00 for a 30ml bottle, it is not cheap but worth every single penny and lasts ages! You can get yours here.
Clinique – Fresh pressed renewing powder cleanser.
Clinique is what you would call an old school brand now. It's my mum's skincare brand of choice, as she too has sensitive skin. Clinique do a really good job of formulating products that are kind to all skin types.
Whilst I do not share my lovely mum's passion for the brand, there are a few Clinique products that are recommendation worthy. The Fresh Pressed renewing powder cleanser being one of them.
Here is what Clinique have to say:
What It Is
Water-activated powder cleanser with fresh Vitamin C to purify, brighten, retexturize.
What It Is Formulated To Do
Ultrafine powder activates with water for an exhilarating cleansing experience that delivers visible benefits. Instantly skin is awakened, purified, with a refined texture and brighter look. Non-drying, non-stripping formula is gentle enough for use each morning and preps skin for treatment with Clinique Fresh Pressed™ Daily Booster with Pure Vitamin C 10%.
What Else You Need to Know
Fresh means powerful. Pure Vitamin C naturally degrades when exposed to oxygen, so it's most powerful when fresh. Stay-fresh packaging isolates the pure Vitamin C until activation, maintaining its freshness and full power for maximum results.
This is a fun product to use. You basically add a bit of water to the powder and work into a lather, then wash your face. It is another fantastic option for sensitive skin types and my skin is left bright and even after use.
Priced at £25.00 for a 1 month supply and definitely worth a try. Get yours here.
Elizabeth Arden – Vitamin C Ceramide Capsules.
Can we just take a moment to appreciate how cute these little Capsules are. They are just a joy to use.
However I have not included them here because of their great packaging. The contents of these little Capsules are also rather good too.
Here is what the Elizabeth Arden team have to say:
Encapsulated for freshness, formulated for maximum potency. This luxurious, lightweight dry oil serum combines two powerhouse ingredients in one capsule: Vitamin C for its brightening superpowers, and ceramides to help prevent moisture loss.
Dual-action brightening technology visibly diminishes dullness and fights hyper-pigmentation, perking up tired-looking skin and balancing tone. Instant brightening power in every dose.
The formula is beautiful and feels very luxurious on the skin. Not only does the Vitamin C brighten, but I also love the addition of Ceramides. The Ceramides help to protect the skin from moisture loss whilst also prolonging that glow.
Who doesn't want a prolonged glow!?
Priced at £42.00 for a 30 piece pot, it isn't cheap however, it is not extortionate either and a great option for all skin types. Grab yours here.
Garden of Wisdom Vitamin C Serum 23% + Ferulic Acid.
I stumbled across this product a few years ago and I am so glad that I did.
I believe it is an excellent dupe for the SkinCeuticals Vitamin C E Ferulic serum mentioned previously.
Whilst the ingredients are not formulated in the same way, therefore making the performance overall somewhat inferior to the SkinCeuticals, it is still a fantastic product. Much more effective than many other, more expensive Vitamin C serums on the market.
Here is what the team at Garden Of Wisdom have to say:
Garden of Wisdom Vitamin C 23% + Ferulic Acid Serum provides high strength pure L-ascorbic acid to brighten and even out skin tone whilst Ferulic acid helps protect skin against free radical damage.
All Garden of Wisdom products are cruelty-free, suitable for vegetarians and free from alcohol and silicones. Garden of Wisdom uses as few ingredients as possible to allow the actives to reach the deeper layers of skin to improve the appearance of skin.
Whilst I do not have this product in my stash, I whole-heartedly recommend this for anyone who is on a strict skincare budget. It will cost you only £10 English pounds for a 30ml bottle. You can grab yours here.
In Conclusion….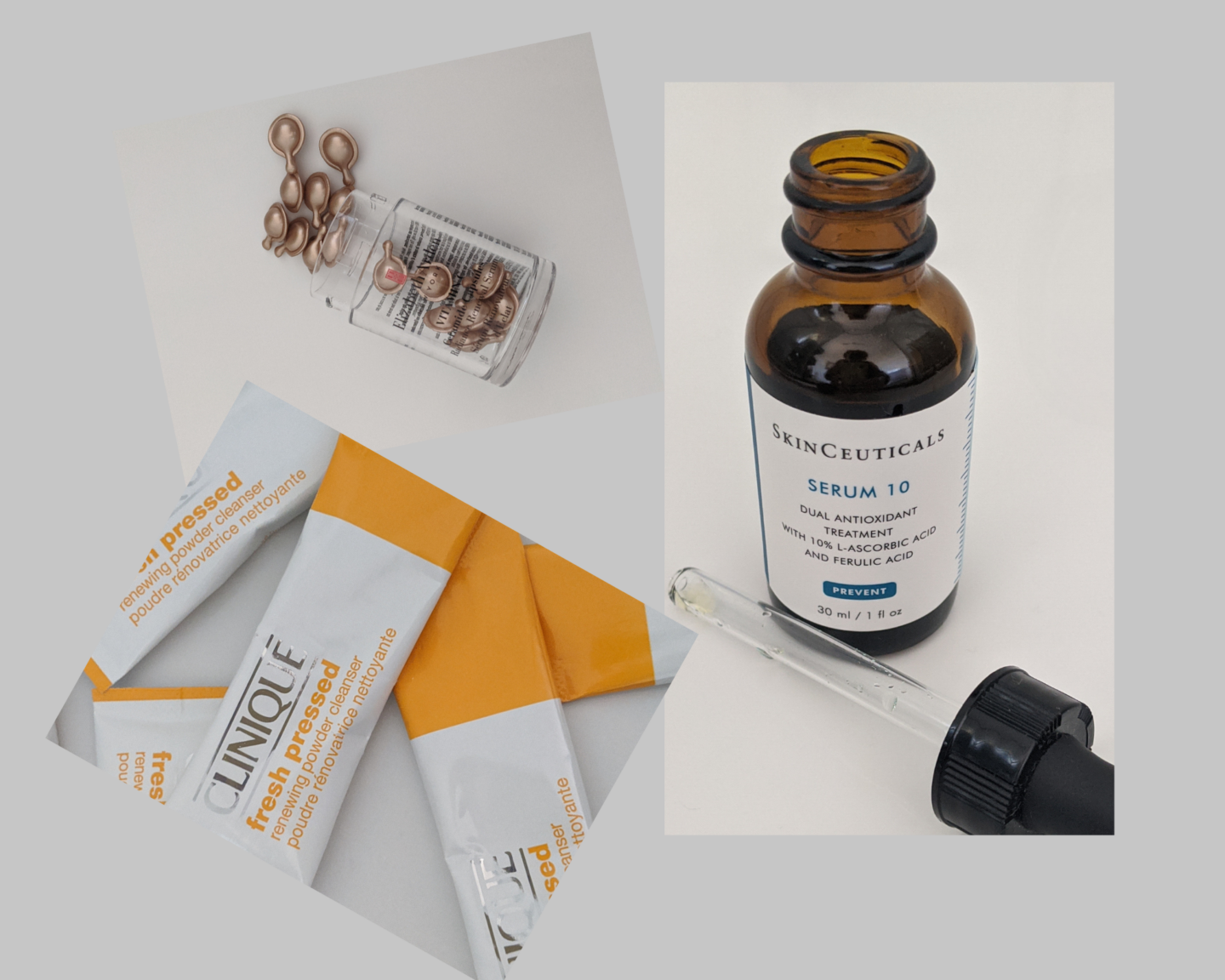 I hope you have found the this post useful. I absolutely believe a Vitamin C serum is a vital part of your skincare routine.
Sometimes we can be blinded by the 'hype' and 'cult skincare products' and therefore do not realise that there are so many other options on the market.
Be an individual. Don't follow the crowd. Find a skincare product that works for you, not a skincare product that works for somebody else.
Please sign up for my newsletter so that we can keep in touch. You can do so at the top of every post. You will receive an update when I add a new post to the blog. No spam, I do not have the time or the energy!
If you are interested in learning more about the blog/me take a look at my post here.
**I am not an influencer. I am an advisor. I am not receiving compensation for this post. I purchased all products mentioned with my own cash money. The reviews are my honest opinions.**