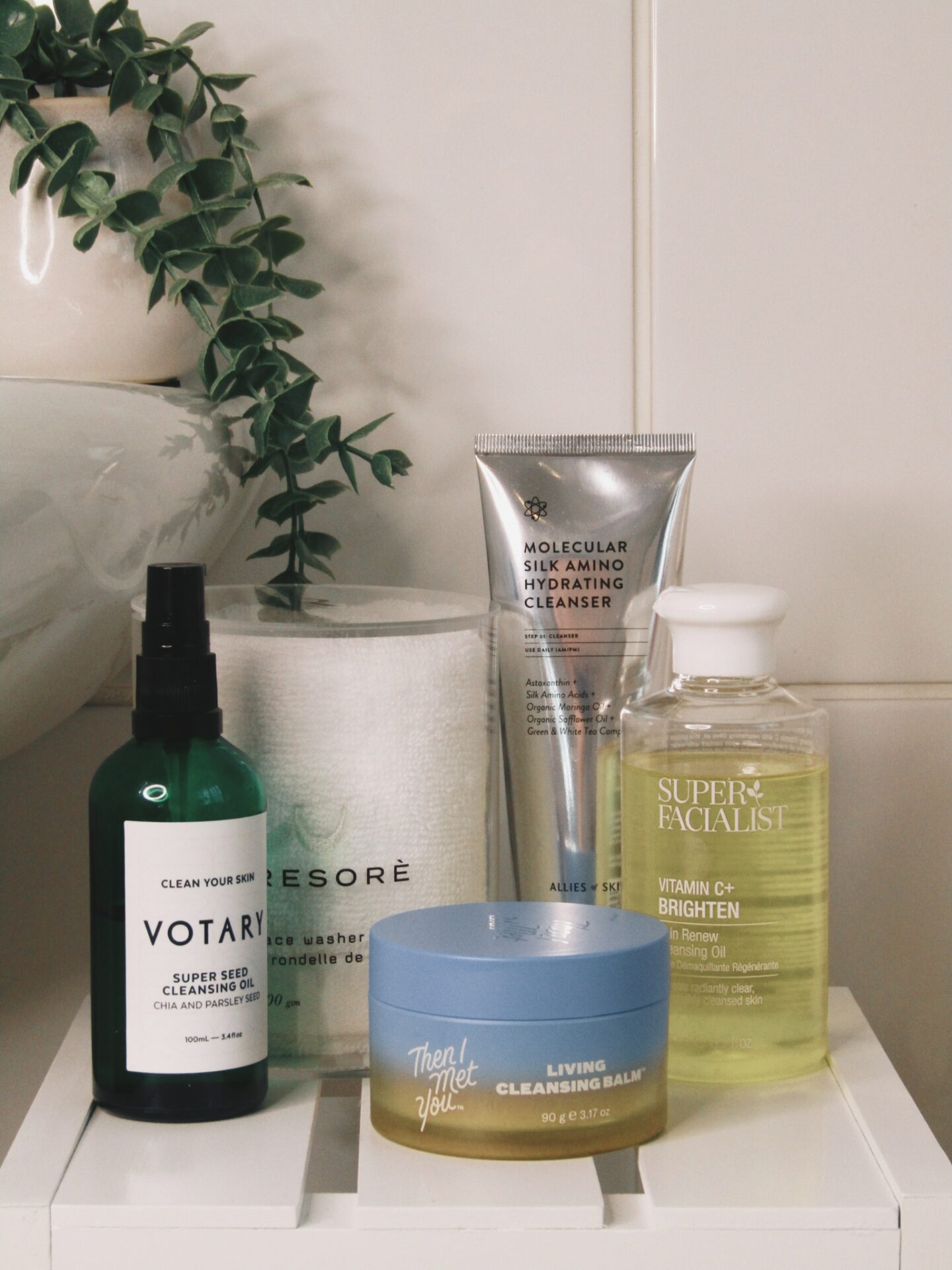 Cleansing is of course a vital part of our daily skincare routine, but what cleanser we use doesn't matter right? So long as it actually cleans our face. Wrong! Well kind of. Yes, our cleanser needs to clean our face, but the right cleanser can do so much more!
(Ad – This blog post includes some gifted products and affiliate links which I have marked where appropriate)
I have got a confession to make. Years ago, in my shady past, I used wipes to clean my face. I know, I am an absolute fraud! How can I possibly be a beauty blogger after admitting such a sin!?
The thing is, wipes are quick and easy. I could literally remove my makeup whilst laid in bed. Who doesn't want an easy life, and at least I was actually removing my makeup. Well, so I thought.
It turns out, smearing a wipe across my mush doesn't actually constitute a cleansed complexion, and it certainly does not remove makeup and cleanse the skin. Once I realised I was doing my poor dull, irritated skin a disservice, I swiftly moved on to a fully-fledged cleansing routine, and I have never looked back!
Now initially I believed that a cleanser is just a cleanser. It doesn't really matter which one I choose, so long as it cleans my skin. I believed this for several years in fact.
We are told that it is the more active steps of our skincare routine that make the difference to our skin, and therefore that's where we should focus our efforts. However, once I started to explore this cleansing step, and trialing different formulations, I was amazed at what a simple cleanser could actually do for my skin.
Over the last several years I have sampled a plethora of options. Some good, some not so great, and a few downright awful! However, the following 5 cleansers made it onto my, 'greats' list. These cleansers did so much more than just clean my skin. Read on for my top 5 cleansers and get ready to seriously up your cleansing game!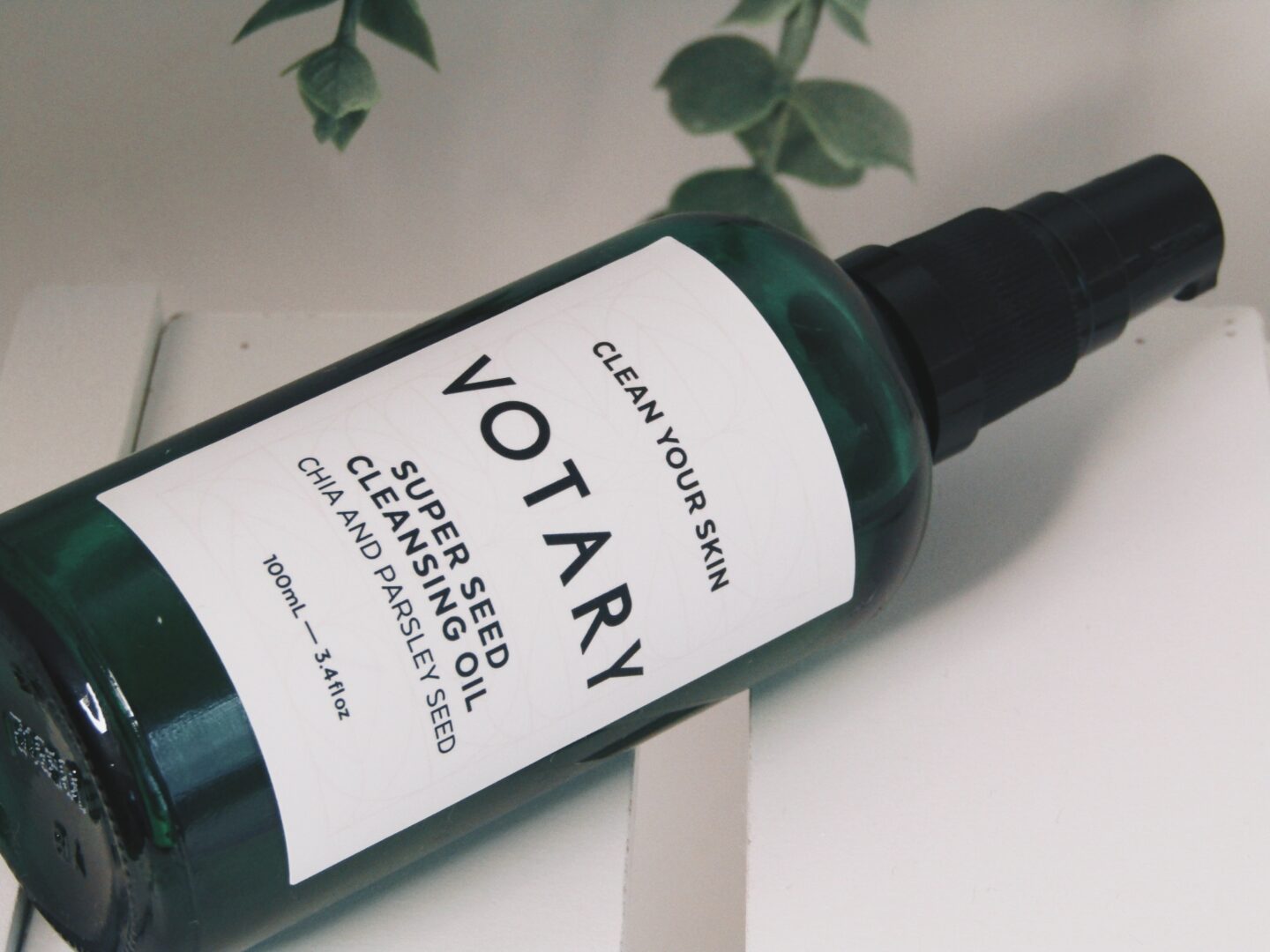 Votary Super Seed Cleansing Oil.
I couldn't list my favourite cleansers without kicking off my top 5 with this absolute beauty. Votary offer 3 different cleansing oils, to cover all skin types and skin concerns. The Super Seed Cleansing Oil is for anyone with dry, sensitive, irritated skin. With a slightly heavier consistency than the other two options.
The Super Seed cleansing oil is full of 100% natural plant oils and is vegan, and cruelty-free. There is Chia seed oil to help nourish dry skin, Raspberry seed oil to hydrate, and Broccoli seed oil to soothe. It claims to thoroughly cleanse the skin whilst, calming, hydrating and soothing.
Now, I am not exactly a 'natural skincare fan'. This is due to several disaster experiences with natural skincare products. I found they tended to make my skin worse, to be honest, and I certainly did not enjoy the experience. In addition, I am all about the science. I want cutting-edge ingredients that are going to perform. How on earth can a bit of broccoli give me the youthful glow of my dreams?
When I first used the Votary cleansing oil, I was a little bit confused. How is this oil going to cleanse my skin? It doesn't even emulsify!? I had almost written the product off before I had even finished cleansing. However, aside from the slightly earthy smell, it is an absolute joy to use. It does in fact thoroughly cleanse the skin without being at all stripping. I definitely find it nourishing, and since incorporating it into my routine, my skin has been more even, less reactive, and much more hydrated. I have repurchased and will continue to do so.
Priced at £55.00 for a 100ml decadent glass bottle, it ain't cheap, but a little really does go a long way, and you do get a free Votary cleansing cloth which genuinely feels like you are wiping a cloud across your face! Grab yours HERE.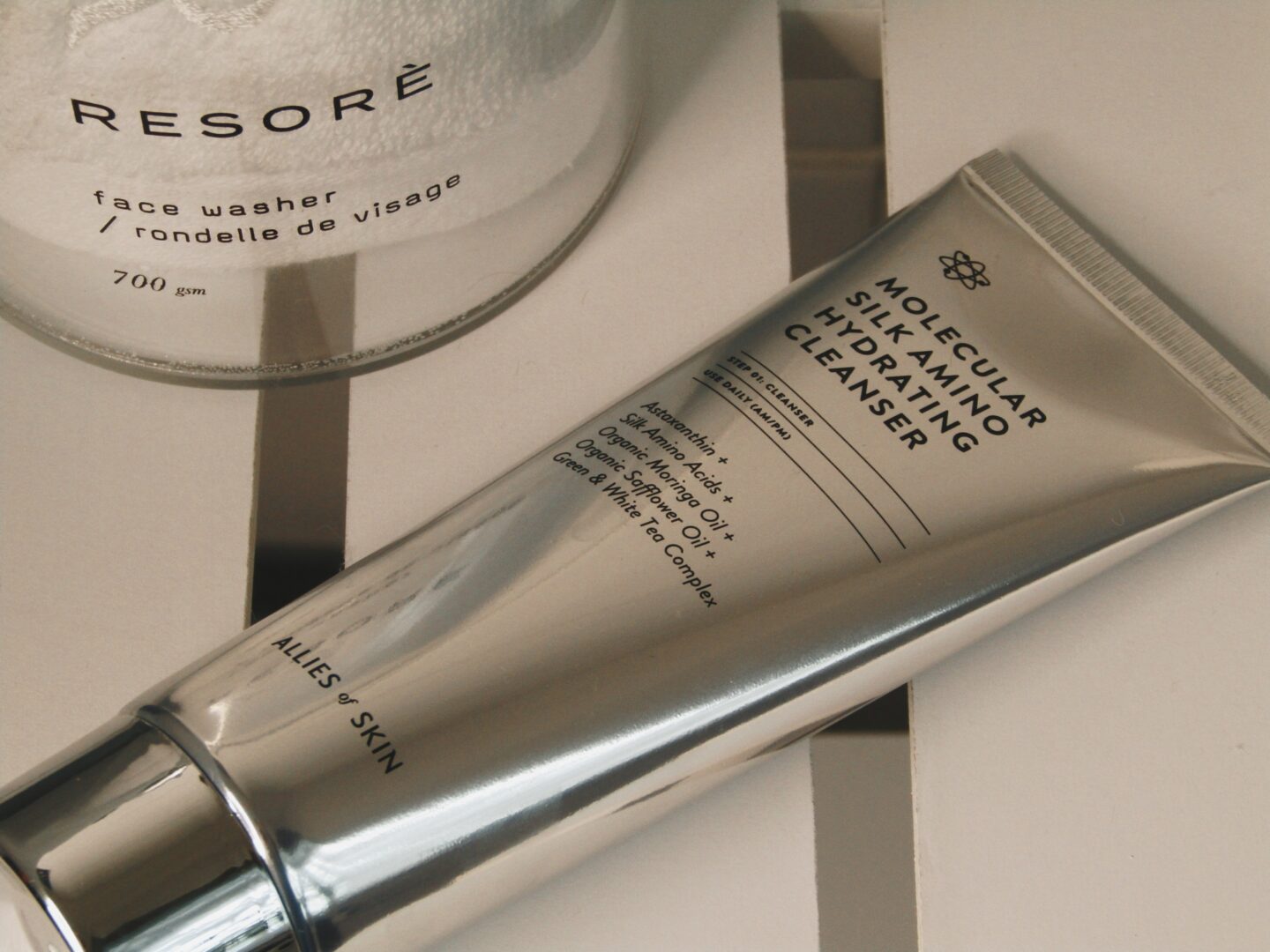 Allies Of Skin Amino Hydrating Cleanser.
I have been a fan of Allies for a while now. A fabulous brand that provides a variety of skincare products, that perform a variety of tasks. Who doesn't want a multi-tasker?
The Amino Hydrating cleanser has an extremely jam-packed ingredients list, as we have all come to expect from the brand. It contains a blend of antioxidants, plenty of hydrators such as silk Amino acids, and hyaluronic acid. Plus, Safflower, and Moringa oil.
With a creamy consistency that is a cross between a balm and a gel, it gently but effectively removes all makeup, SPF, and grime, again without stripping the skin. After use, my skin feels clean, without feeling tight, and super soft.
The Amino Hydrating cleanser is suitable for all skin types, however, I think anyone with combo or oily skin would really appreciate this one.
The Allies of Skin cleanser was actually the first product I purchased from the brand and the one product that got me hooked. Since then my love affair with Allies has grown considerably and they feature heavily in my favourites.
The Allies of Skin Molecular Silk Amino Hydrating Cleanser is priced at £37.00 for 100ml however I do have a discount code: NAT20, which will get you a whopping 20% off site-wide. (This is an affiliate code) You can grab yours HERE.
If you want to learn more about the brand I have a rather old review HERE.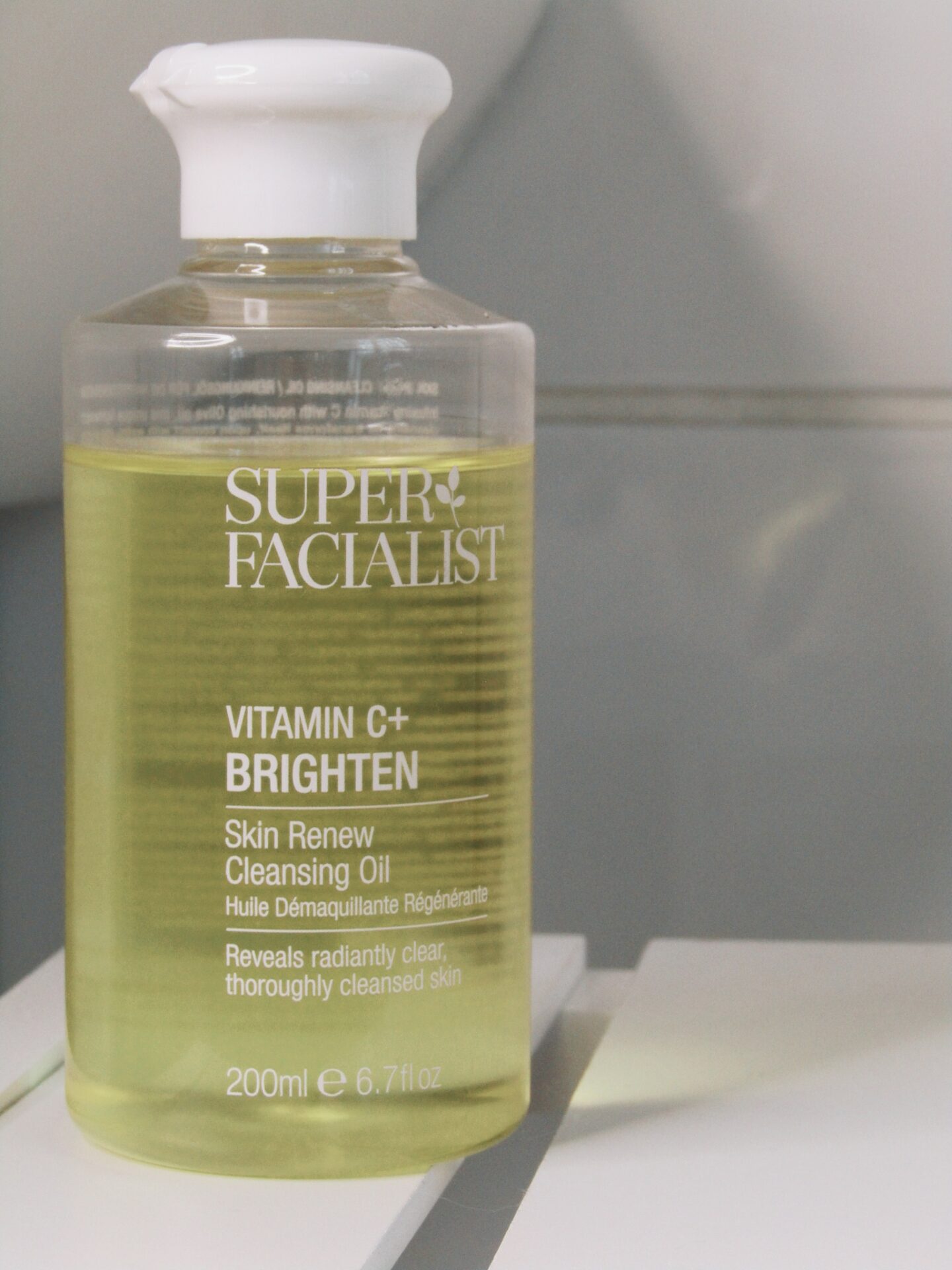 Super Facialist Vitamin C Cleansing Oil.
If the Votary cleansing oils are a little out of your budget then I highly recommend the Super Facialist Vitamin C Skin Renew Cleansing Oil.
I was actually sent this cleansing oil by the brand as I was working with them on a campaign, and this particular product was part of that campaign.
Now I am the first to admit I am a bit of a skincare snob so whilst I expected the brand to be good value for money (I have used a few products in the past), I did not expect this cleanser to be something I could not live without, and yet that is exactly what it has become.
A beautiful cleansing oil, suitable for ALL skin types, with a light feel and a citrus scent. I love using this one as my morning cleanse as not only does the scent lift my mood, but the brightening properties of the cleanser certainly lift my skin, imparting me with a lovely bright complexion.
This one does emulsify, is extremely easy and fuss free to use, and is now the cleanser I reach for most mornings.
If you are looking for a morning skin pick me up then look no further. You have found it with the Super Facialist Vitamin C Cleansing Oil.
Usually priced at £10.99 for 200ml, it is excellent value for money. However,
it is currently on offer on the Super Facialist website at £6.60. Run, don't walk! You can grab yours HERE.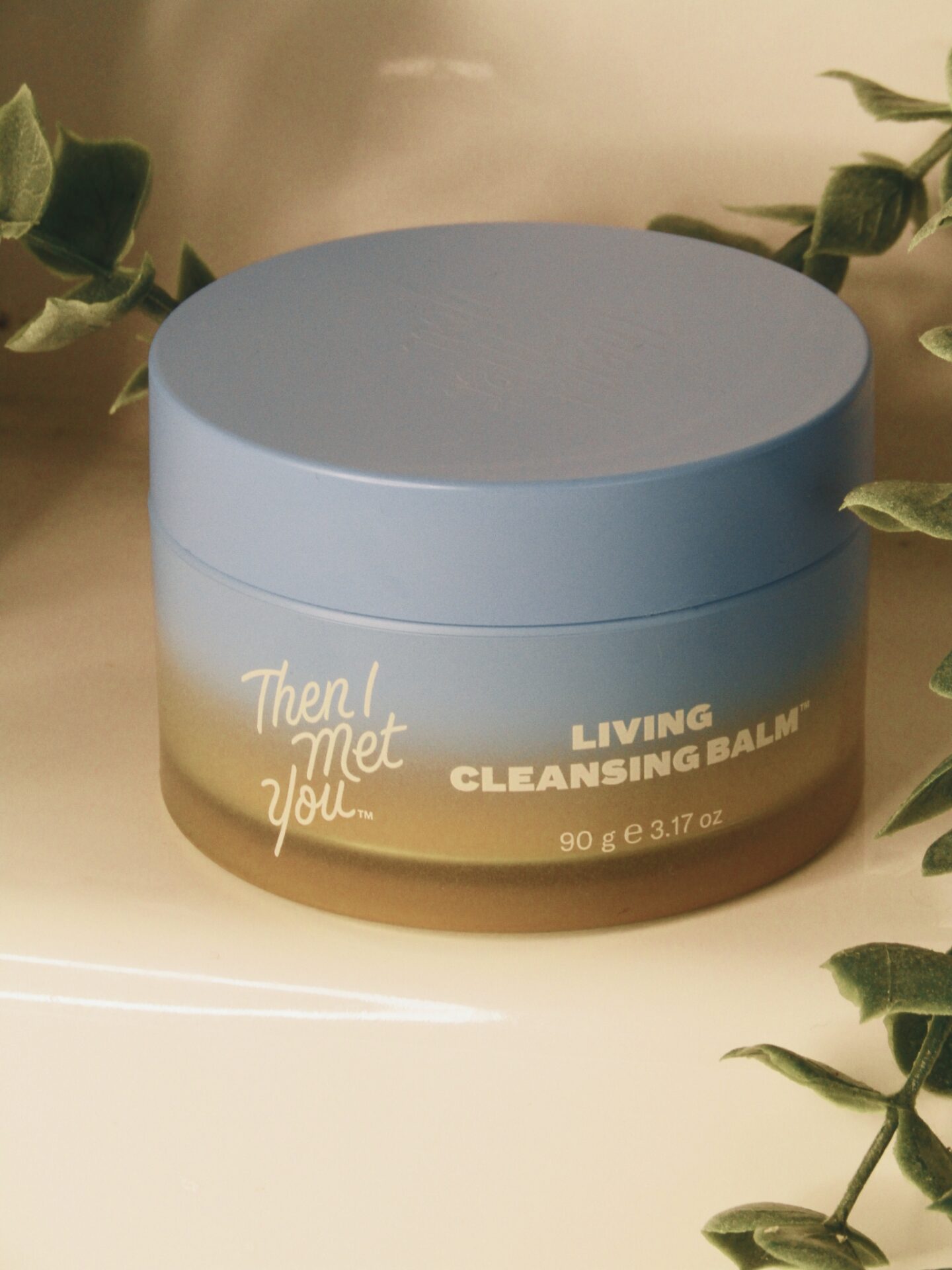 Then I Met You Living Cleansing Balm.
Now, this one is a new addition to my routine and therefore I cannot credit it with contributing to my skin transformation. However, It's been love at first, use and I just had to include it!
This has been very much a hyped product for quite some time, yet until recently, we couldn't get our hands on it in the UK. Lucky for us, Cult Beauty now finally stocks the brand, and the minute this cleansing balm launched, I chucked it straight into my basket.
Bright yellow in colour (which was an interesting surprise), again suitable for ALL skin types, full of antioxidants and fatty acids, with a glorious scent, this cleansing balm is what you would call a sensorial experience.
Making light work of makeup removal, without stripping the skin, it is an absolute joy to use. For anyone who is reluctant to ditch the face wipes, the living cleansing balm will change your mind with just one swipe.
After use my skin is left happy, hydrated, plump, and glowing! All that from just a cleanser.
Priced at £37.00 for 90g, you can grab yours HERE. (This product is currently out of stock on cult beauty, however it will be back in stock soon!)
Augustinus Bader The Cleansing Balm.
Whilst I do not currently have this one in my skincare stash (hence the lack of image) I have used pots of the stuff over the last year and it absolutely deserves a spot in the top 5.
Not the cheapest of cleansing balms but you really get what you pay for with this one.
Without a scent, suitable for all skin types, The Cleansing Balm has the most luxurious texture packed full of so many excellent ingredients, including Dr. Bader's special TFC8 formula.
The whole experience is pure luxury from start to finish. The decadent glass jar, the rich texture, the cleansing experience. Not to mention how healthy my skin looks after use.
I have repurchased this one several times now and will do so again (as soon as I have finished writing this blog post!)
Priced at £55.00 for 90g, you can grab yours HERE. I actually have a 10% discount code: KA10 (again this is affiliated.) Every little bit helps!
Summary.
There you have it. My top 5 cleansers that not only do what they say on the tin but seriously work at giving you your best skin. Mark my words, you will be glowing in no time!
I will see you again, same time tomorrow, to share my top 5 favourite facial mists. Believe me, you are not going to want to miss this one!