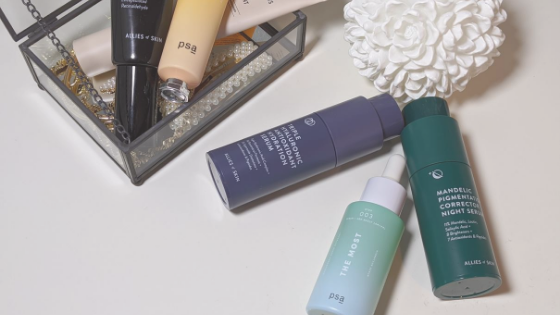 In our Brand Review section, we focus on Brands that should be on your radar. The Brands that put their money into products and not massive marketing campaigns. Brands that go above and beyond when it comes to ingredients and performance. Brands and products that definitely warrant our cash. Including my personal top picks from the range.
About The Brand.
It was the story behind the brand that caught my attention.
With a back-to-basics attitude, the brand was created by Nicolas Travis, who suffering from his own problematic skin, found it extremely difficult to decipher all the jargon within the skincare industry.
Therefore, Nicolas decided to create his own simple line of products that would suit all skin types and break through the 'noise' surrounding the beauty industry.
By Noise, Nicolas is referring to all the conflicting advice out there. What we should be using, what we should be avoiding. What ingredients are good, what ingredients are harmful. It's a frustrating minefield!
So Nicolas just decided not to include any ingredients that were common triggers or irritants. He focused on making sure that each product had a clean but effective formula.
Many brands have tried this approach by creating one ingredient formulas in a bid to break through confusion. However, I do not want just one ingredient formulas as I am not up for applying 26 layers of skincare to my face every day.
This is where AOS (Allies of Skin) get it absolutely right. Not only have they taken all the crap out, but they have put the seriously good stuff in.
In addition, this is a brand with integrity that vocalises equal rights and fights against Racism with real passion.
I could go on and on all day about the brand and why I love them but we don't have all day so let's get into the nitty-gritty.
What's To Like?
Everything!?
Firstly let's talk about the Inci list (list of ingredients). Each and every product Inci list is incredible. There are so many actives and skin-loving ingredients packed into each and every part of the range, that it makes my heart flutter.
I have never been this excited about an Inci list before. We are talking about ingredients such as:
Vitamin C
Niacinamide
Mandelic Acid
Hyaluronic Acid
Silk Amino Acids
Retinal
Reservatrol
AHA's
BHA's
Enzymes
Rosehip Oil
Manuka Honey
Moringa Oil
Green Tea
There are more antioxidants housed in the simple packaging than you can shake a stick at.
Now let's look at the texture and consistency. I hate it when you see amazing ingredients in a product but it pills or leaves a sticky residue. There is nothing worse!
Not something we need to worry about here though. The formulas are beautiful. All light consistencies that are easy to blend and sink into the skin without leaving behind any form of residue at all. You can literally feel the quality.
Every single product from the range is formulated without:
Silicones
Sulfates
Drying Alcohol
Chemical Screens
Mineral Oil
Synthetic Dyes
Synthetic Fragrance
What's Not to Like?
The price tag.
The Allies of Skin range is expensive and whilst a little goes a long way it is still quite a hefty outlay to begin with.
However, whilst I do not always agree that the higher the price, the better the quality, in this case I absolutely do.
They are quite literally worth every penny and then some.
My Must's.
I have five products from the Allies Of Skin range which comprises of ten products in total. I can only imagine the five products I am yet to try are equally as amazing however, below I am calling out my particular favorites:
Molecular Silk Amino Hydrating Cleanser.
This cleanser was the first product I purchased from the range and the cheapest at £37.00.
I always believed that I didn't really need to splash the cash on the cleanser stage as the product was literally getting rinsed down the plug hole.
I still believe this to a certain extent however, what I discovered with this cleanser is just how much a cleanser can transform your skin.
At a PH of 5.5, it will not strip or irritate. Gentle yet hard-working, this is a gel to cream cleanser that is so beautiful to use and feels unbelievably luxurious.
With an Inci list including:
Silk Amino Acids
Hyaluronic Acid
Organic Safflower Oil
Organic Moringa OIl
Green and White Tea Complex
To name a few!
This is the cleanser of dreams and I have already purchased a back up as I cannot be without it.
Triple Hyaluronic Antioxidant Hydration Serum.
Bit of a mouthful!
Priced at £72.00, as the name suggests, this serum is packed with three forms of Hyaluronic Acid in different molecular sizes to really penetrate the skin.
However, this is AOS so that's clearly not going to be the only useful ingredient in there.
In addition you have the following:
Reservatrol
Niacinamide
Licorice Extract
Vitamin E
Strawberry Fruit Extract
It just gets better and better.
It plumps and hydrates like nothing I have tried before. If you are in the market for a new Hyaluronic acid, make it this one. You will not be disappointed.
Peptides And Antioxidants Firming Daily Treatment.
If I had to go and live on a desert island and could only take one skincare product with me, this would be it. Hands down, no contest.
This treatment is priced at £105.00 and is basically magic.
To be used immediately after your cleanser and under any additional serums, it not only provides your skin with a multitude of actives, it also helps any additional serums penetrate the skin.
Some of the ingredients contained in this mystical tube of delight are:
Ceramides
Hyaluronic Acid
Caffine
Niacinamide
Vitamin C
It is an active powerhouse and I am here for it.
I do not know how this works, I just know that it does. Really, really well.
This one product has transformed my skin. It is plumper, brighter, more hydrated. Just buy it. Buy it right now!
Conclusion.
As a skincare fanatic and an Inci list obsessive, this brand spoke to me. Allies of Skin got me excited which doesn't happen that often anymore. If I didn't need to trial so much skincare I could happily just use this brand and only this brand for my whole skincare routine, for the rest of my days.
I do not believe I could make that statement about any other brand.
I have just received the retinol treatment which I cannot wait to try so keep an eye out for my review.
If I have got your skincare juices flowing I have a whole host of 2 minute read reviews which you can find from the main menu.
Specifically a full review on my Holy Grail AOS Molecular cleanser which you can find here.
Don't forget to sign up to my newsletter letter, come follow me on Instagram and have a great day.