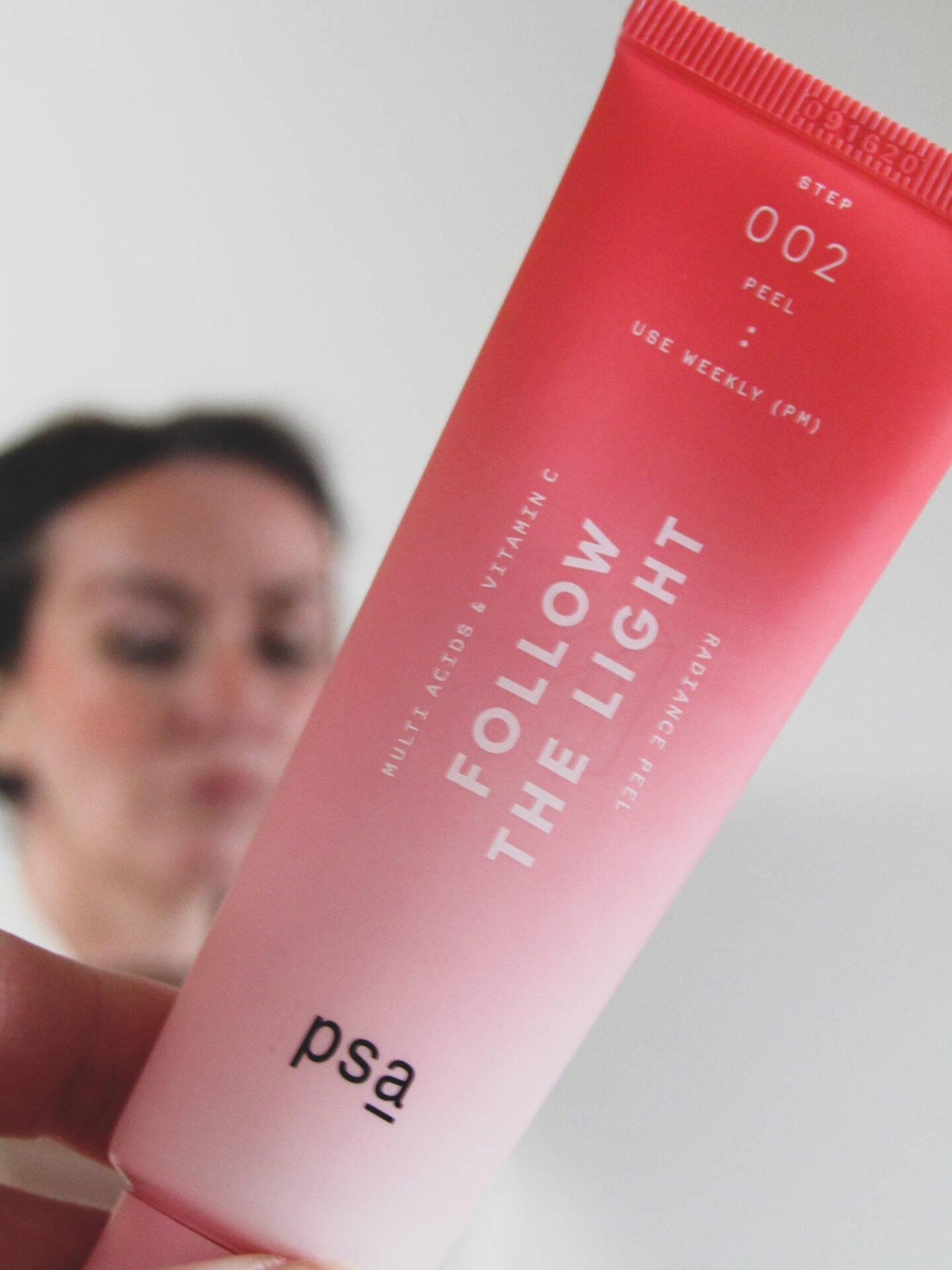 Radiant skin is the goal here right? Radiant skin for me means achieving that youthful glow as lets be honest, the older we get, the duller our complexion becomes. I don't want a dull complexion as much as I refuse to lead a dull life. I want to GLOW. Not that disco ball heavily glittered glow, but the ethereal, lit from within, glow. Surely that's not too much to ask?
PSA Skin is the little sister to the phenomenal Allies of skin. Both owned by the wonderful Nicolas Travis. Whenever anyone mentions PSA skin within the beauty world, they automatically also mention that it is part of the Allies group.
This is due to the fact that Allies of skin is providing the absolute best in skincare right now with sophisticated formulas, an ingredients list to die for, and products that perform. Therefore, if PSA Skin is part of this group then it must be good?
In addition, whilst Allies of Skin is phenomenal, it comes with a price tag to match. That stuff ain't cheap and we can go on and on about investing in your skin but if you do not physically have the funds to do so, it's a pointless conversation.
PSA Skin was launched to provide the same excellent formulations, but at a more agreeable price point.
I personally feel that we do PSA skin an Injustice by constantly referring to its very popular older sister Allies of Skin, as PSA is a fabulous brand, in its own right.
Anyone that has older siblings will understand this reference. The comparison can be annoying!
I have been a fan of both brands for quite some time now and have several specific favorites from PSA, including their fabulous hydrating serum 'The Most'. I have a review HERE for anyone interested.
However, that's not what we are here to talk about today, so enough excited waffling, let's get into the goods ………………..
PSA Follow The Light Radiance Peel.
I get extremely excited when my favourite brands launch new products. I am like a kid at christmas, and last month PSA skin launched not one, but three new products. What a time to be alive!!
Today we will be reviewing the pretty pink packaged, Radiance peel.
I mean, it's got radiance in the name guys!? Sold! But what actually is it?
This is a weekly treatment mask that contains a variety of Acids and Vitamin C. The perfect combo for glowing skin.
To be applied directly after cleansing, and left to marinate on our complexion for around 20 minutes (Use this time to relax and have a bit of me time whilst this mask does all the hard work for you!)
Claiming to address uneven skin tone, fine lines and blemishes, with an inci list we have come to expect from the brand:
A 10.5% cocktail of Glycolic and Lactic Acid with a dash of BHA for good measure
5% Ethylated L-Ascorbic acid (AKA Vitamin C) and Pomegranate Enzymes
Centella Asiatica and Licorice Root
Glutathione and Vitamin E
It looks and sounds extremely promising. We have acids to exfoliate and help shift those dead skin cells that are clinging on for dear life. Vitamin C to brighten and give our collagen a kick start. Centella Asiatica to help calm and Vitamin E to nourish. A recipe for success.
However, whilst it looks like my perfect type on paper, does it live up to my expectations in real life?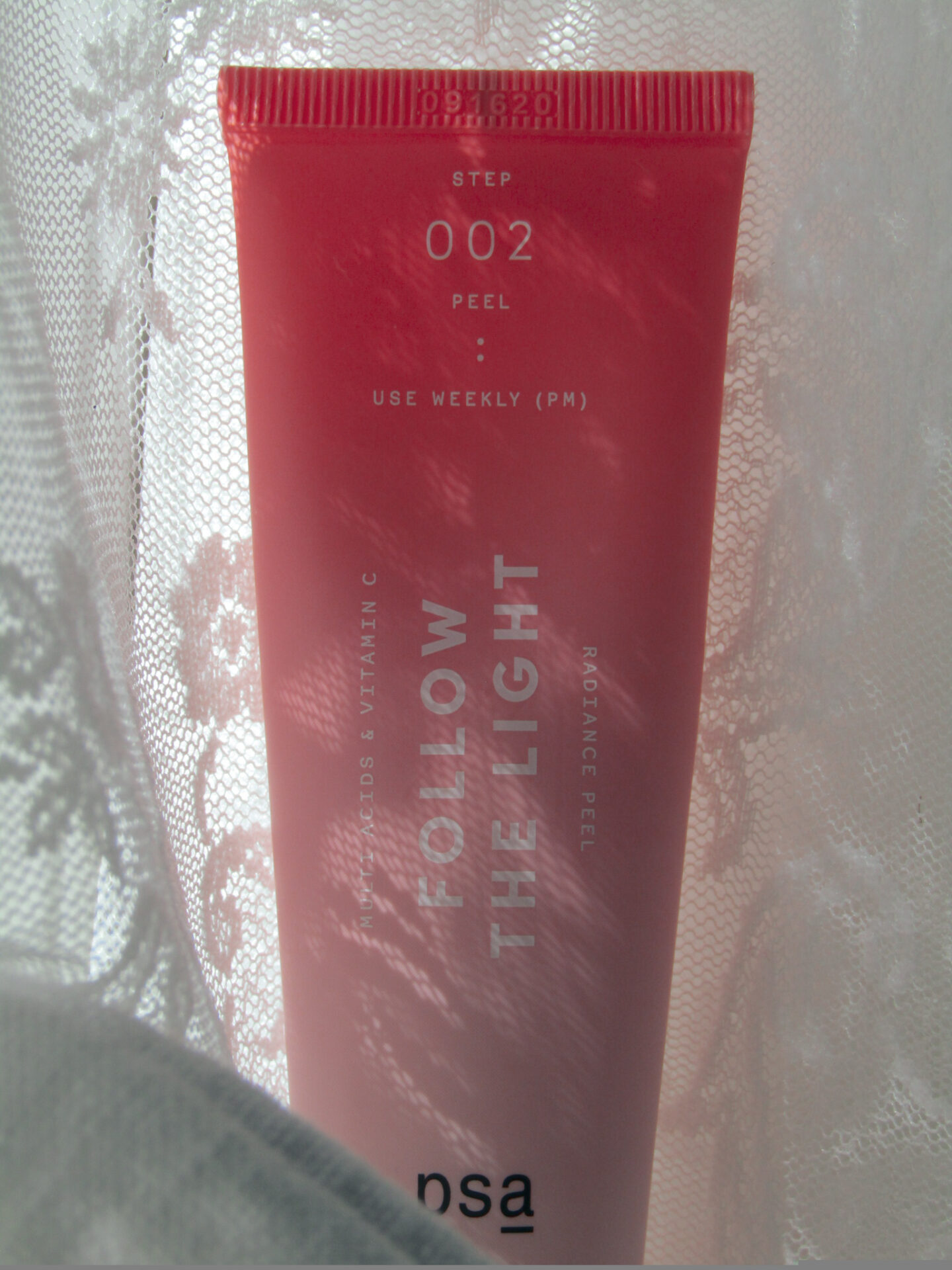 My Experience with Follow The Light Radiance Peel.
For those that have been around here for a while now, you will know just how much I love an acid. They just work phenomenally well at bringing my skin back to life and giving me an overall youthful appearance to my complexion.
In addition, acids are one of the few skincare ingredients that provide us with immediate results. Being a rather impatient person by nature, this appeals to me greatly. I want great skin, and I want it now!
Therefore, when the lovely PSA Skin team sent over their new launches, I was immediately drawn to the Radiance peel.
It couldn't have come at a more perfect time as my skin looked like it had pretty much given up on life, and was indeed in need of a radiant boost.
Now, as with all acids, they are an active ingredient and therefore need to be approached with caution. Having been an acid user for quite some time I felt confident that I would not experience any irritation. However, if you are new to the world of acids, I recommend that you patch test first.
Ok, now we have the sensible stuff out of the way, how did I get on?
Some exfoliating peels can cause a slight tingling when applied but I did not experience such a sensation with this one. The texture is quite thick and creamy and it actually felt quite nourishing once I applied it.
I spent my 20 minutes in an enjoyably relaxed state, hiding in my bathroom from the kids. Throughout the recommended time of 20 minutes, I did not experience any irritation to the point where I actually questioned if it was even doing anything.
When it was time to remove, the mask rinsed away easily and when I took that first apprehensive glance in the mirror, I was shocked. My skin wasn't just glowing, it was bloody beaming! Yet, in the most beautifully natural way.
The Radiance peel did not leave me with any redness, just even, bright, and truly radiant skin.
And did I mention how smooth my complexion was? So smooth! In fact, I wondered if my makeup would just slide off my face due to how incredibly smooth it was (It didn't obviously, but you get my point).
Another absolute win from the PSA Skin team.
To Summarise.
The PSA Skin Follow The Light Radiance Peel is a fantastic brightening and exfoliating product that would be the perfect product to use before a big night out or an important event. Providing immediate radiant results with absolutely no downtime.
In addition, I found the results lasted for a few days after application and I just could not stop stroking my baby bum smooth complexion. (I did get a few odd looks from my hubby)
If you are on the market for a radiance boost then I highly recommend this one. Priced at a very reasonable £38.00 you can grab yours HERE. For an additional 20% off you can use my code: NAT20 (this is an affiliate code and I will receive a small amount of compensation)
**PSA Skin is currently unavailable in the UK due to new Brexit guidelines. I have every faith that the team will overcome this hurdle and be available here again soon **