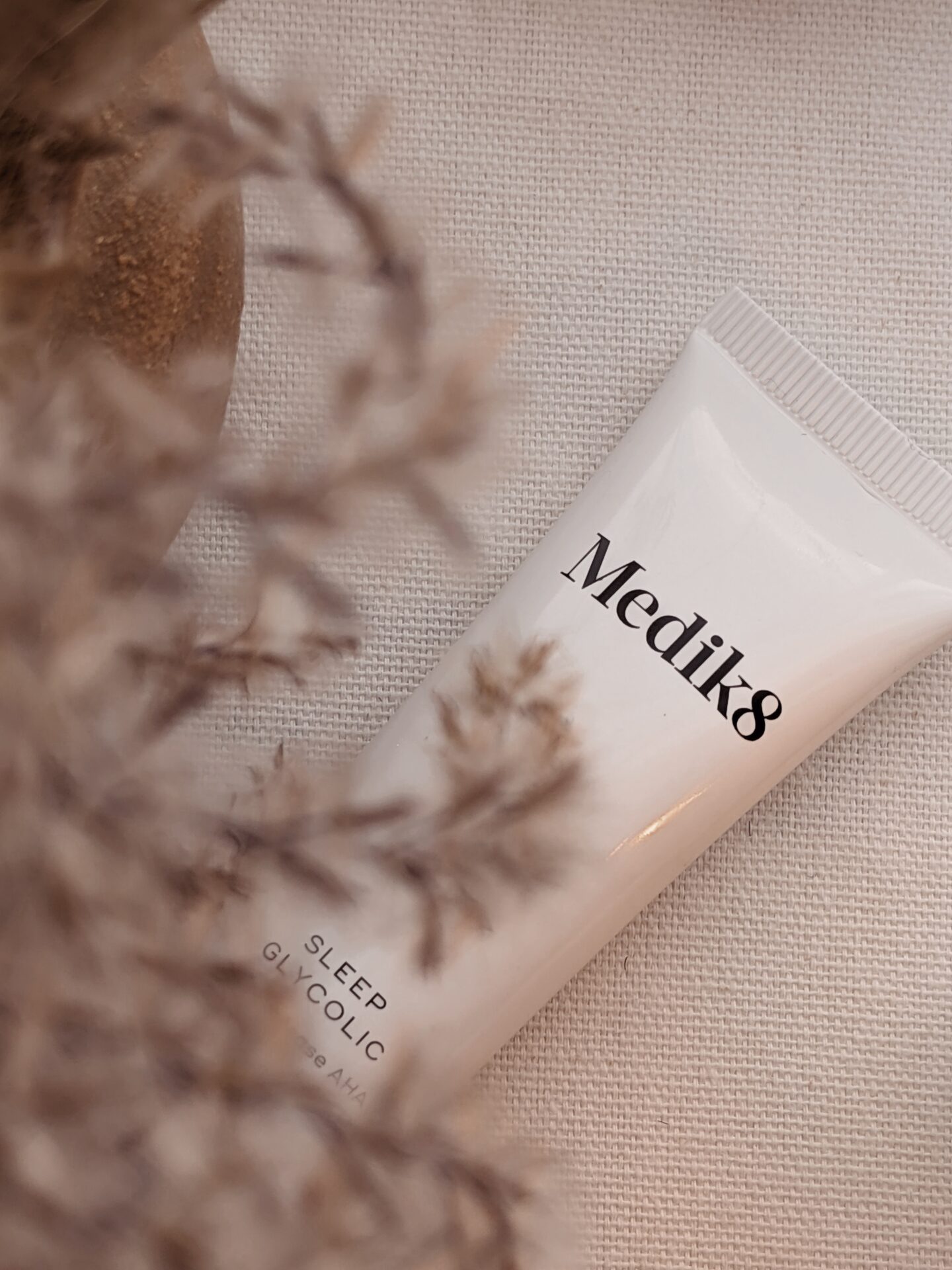 Ever wondered if a skincare product could provide you with the ultimate glow? Yeah me too. I thought there was more chance of seeing pigs fly. That was until I tried the Medik8 Sleep Glycolic and all my dreams came true. Read on to find out just what Sleep Glycolic is, and why it has become an absolute staple in my skincare routine.
It is no secret that Medik8 is a favourite of mine. I have used their products for YEARS (well before this blog was even a tiny thought in my mind). I love the science you see. The innovative and cutting edge science used to develop each and every product, to create formulas that just work. It is a brand that I trust with my extremely tempremental skin.
In addition, Medik8 has managed to, against all odds, whilst in the middle of a bloody pandemic, launch 7 new products! That is an achievement in itself!
Whilst I always experience a little fizz of excitement whenever I get wind of a new launch from the brand, this time around it was more of an explosion than a mere fizz of anticipation.
What caused this explosive excitement, you may be wondering (let's at least pretend you are), why, the Sleep Glycolic Time Release Overnight At-Home Peel, of course.
Medik8 Sleep Glycolic Overnight Peel.
The Sleep Glycolic peel claims to transform your skin overnight, an unparalleled resurfacing product, but with zero downtime!? (My personal thoughts on this claim are below).
With a 10% Glycolic Acid content, this is a powerful exfoliation product, so how on earth can it provide us with zero downtime?
Well, that is due to the clever Medik8 peeps, and their super science. Like their gold standard crystal retinol, the Sleep Glycolic also uses the encapsulated approach. Meaning, the Glycolic acid is released into the skin slowly, and in a more gentle way, giving a significantly reduced likelihood of experiencing any redness or irritation.
In addition, to the Glycolic and the super science, you will also find Glycerin, a hydration hero, and Korean Clover Extract which helps to support the skin's natural overnight repair and hydration process.
Here is what Dan Isaacs, Director of research at Medik8, has to say:
" Developing Sleep Glycolic was no mean feat as the effectiveness of exfoliating acid products depends heavily on two factors; acid concentration and the PH of the formula. A low PH is crucial to activate acids within a cosmetic formula"
"In Sleep Glycolic we have optimised our free, active acid content by lowering our PH to 3.5 to achieve a free active acid value of 10%. This gives us a truly powerful Glycolic acid formula. Crystal encapsulation and bi-weekly usage help us to control this power, reducing irritation from the formula to maintain a healthy skin barrier".
What does this mean in normal speak? It means that Medik8, with Sleep Glycolic, are providing us with similar results to an in-clinic peel, without the downtime, AND in the comfort of our own home. It's a win, win.
My Experience.
I am sure that you have gathered that my experience is good. I am not the most subtle of people!
When I received the Medik8 Sleep Glycolic last week (a week before launch), I felt like all my Christmases had come at once. Not only was this another exciting new launch, but it was based around one of my favourite ingredients, Glycolic.
I bloody love Glycolic acid.
Glycolic acid is a member of the AHA family, with the smallest molecules, it helps to shed dead skin cells, to reveal the fresh bright layers underneath. An excellent exfoliator that also helps with hyper-pigmentation and acne-prone skin.
However, Glycolic is more than just an exfoliating acid. Due to the tiny-sized molecules, Glycolic can penetrate the skin at a much deeper level, stimulating the dermis to produce more collagen! Erm, hello anti-aging hero! (From the age of 24, our collagen production decreases rapidly, we need all the help we can get.)
Needless to say, I used it the very same night I received it.
The Sleep Glycolic has a milky serum consistency that is to be applied after cleansing and toning. You can follow up with additional serums if you would like, and then your moisturiser of choice.
Since I have extremely sensitive skin, even though Medik8 'claimed' it was gentle, I still expected to experience at least a little tingling, or a tad of redness. Nothing. Not a tiny bit of irritation in sight.
In fact, it felt beautiful as I applied, with no fragrance, no sticky or greasy residue. Just a beautifully formulated serum. At this point, I became even more excited.
I carried out the rest of my skincare routine and fell into bed feeling hopeful.
The following morning I awoke to the most beautiful skin. So long Haggard Natalie, Hello surprisingly glowing Natalie! That glow. It was wonderful.
In addition to the glow that I do believe could be seen from outer space, my skin was so plump, and oh so smooth. I could not stop stroking my skin.
With only one use, the Sleep Glycolic had transformed my dull complexion. Just imagine the results from continued use!? What a time to be alive.
In Conclusion.
The Medik8 Sleep Glycolic, for me, is an absolute staple in my skincare routine. Providing me with immediate results, my complexion has not looked this good for quite some time.
With sensitive skin, I have to be so careful with using actives, especially strong ones. Therefore to have a glycolic treatment, that gives me the results I have always craved, without any irritation, is just phenomenal.
Medik8, know what they are doing when it comes to product formulation. Due to the potency of the product, they advise two-three times a week use only. This is not a product you should be using every day. Acid overuse is one of the main contributors to a compromised skin barrier.
In addition, the results from the Sleep Glycolic last. Three days after use, my skin was still noticeably smooth and radiant. You do not need to use the Sleep Glycolic anymore than is recommended to reap the rewards.
If you have been searching for an effective, results-driven formula, look no further. It has been provided by the wonderful team at Medik8, in the form of the Sleep Glycolic.
Priced at an extremely reasonable £35.00 for 30ml, you can grab yours HERE.
** This is a PR product. The above opinions are my own.**
You can view more product reviews from me HERE.