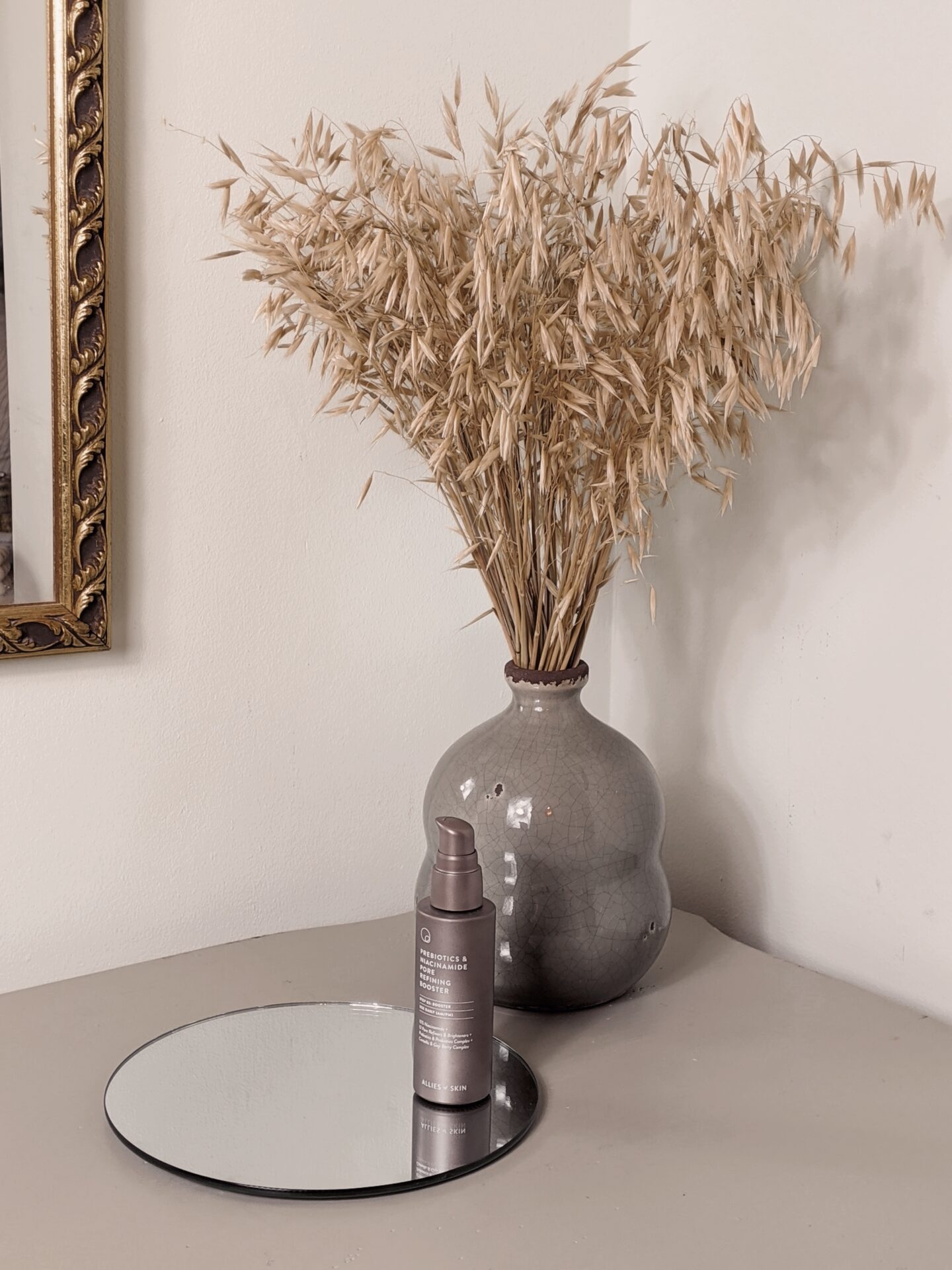 AD – Affiliate – Discount code at the end of the review.
I know, I know, I sound like a broken record. Constantly raving about Allies of Skin, its getting a little boring!
Yet, I just can't help myself. Every single product the brand creates is phenomenal. Allies of Skin is a true, one of a kind, and the latest launch, the prebiotics, and Niacinamide pore-refining booster, just cements the brand's holy-grail status more so.
Priced at £65 for 50ml, it is actually one of the cheapest products from Allies, however, this formula is anything but cheap!
About the brand.
"Allies keep their promises"
It was the story behind the brand that caught my attention.
With a back-to-basics attitude, the brand was created by Nicolas Travis, who suffering with his own problematic skin, found it extremely difficult to desipher all the jargon within the skincare industry.
Therefore, Nicolas decided to create his own simple line of products that would suit all skin types and break through the 'noise' surrounding the beauty industry.
I may have mentioned the words basic and simple to describe this brand, however the products are anything but basic.
What does the brand have to say?
"An ultimate daily booster that is supercharged with 10% Niacinamide, Prebiotics, Probiotics, 12 Pore Refiners & Brighteners to refine the appearance of pores and dullness for healthier, radiant, and more resilient skin. This antioxidant-rich formula is designed to get to the root cause of imperfections and dull skin. It can be used on its own before any serums or moisturisers, or added to any serum, moisturiser or facial oil for a boost of reparative nutrients."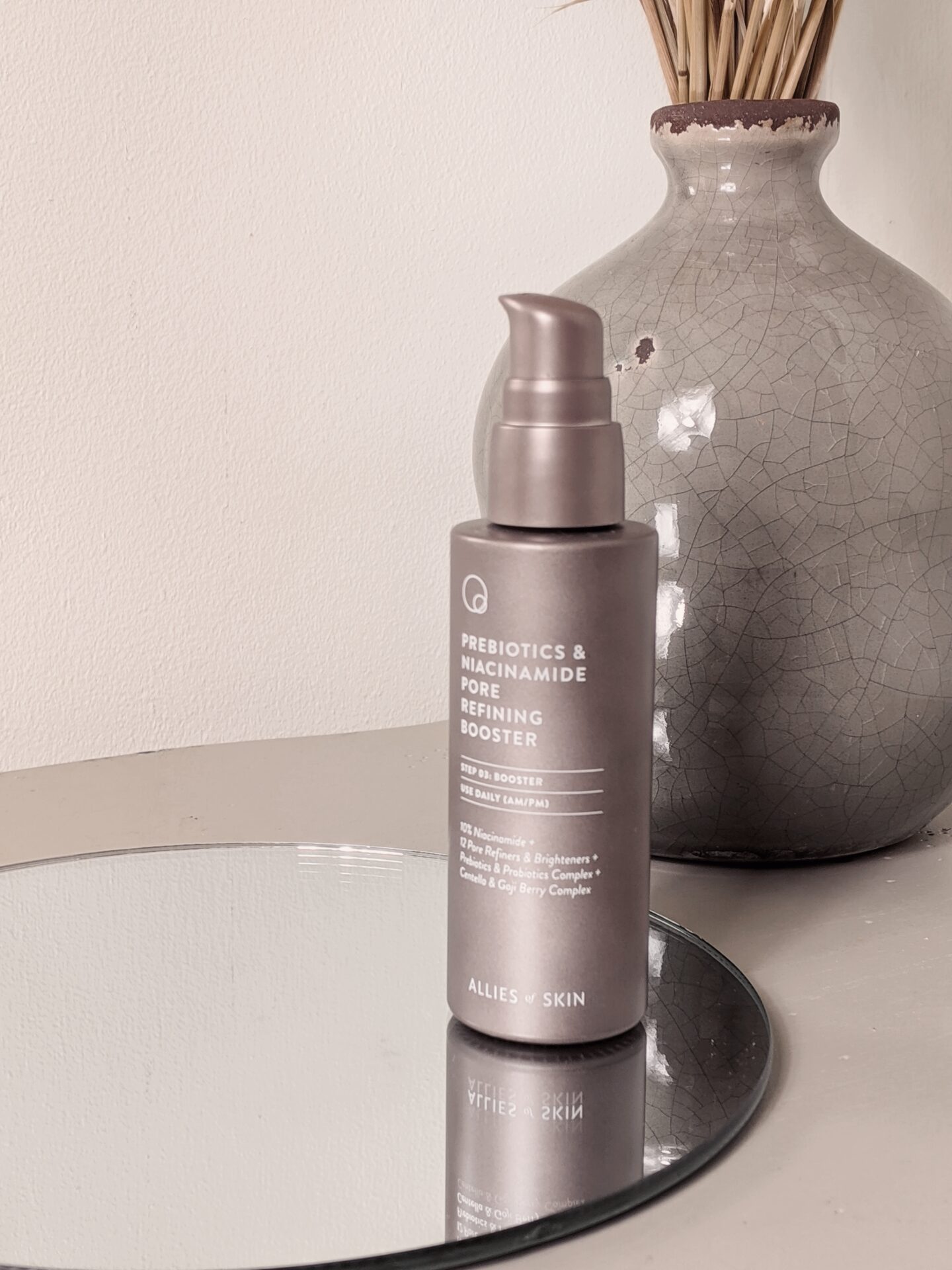 What do you need to know?
What is it used for: A strengthening supplement for your skin. Used to protect that delicate skin barrier whilst shrinking those pores simultaneously. Even skin tone, brighten and refine.
Key ingredients: Niacinamide, Centella Asiatica, CoQ10, Licorice root, and so many more excellent ingredients.
Consistency and Texture: A very lightweight, water type consistency. Very similar to an essence.
Does it play nice with other products: Yes! It plays nice with all!
Smelly?: Nope.
Any Irritation?: Not a drop.
Packaging: Sleek, functional, and hygienic.
Who is it for?
Absolutely everyone will benefit from using this booster. If you have skin, you need it.
Is there a cheaper alternative?
There are many cheaper products on the market, however (and this is a big HOWEVER) you will not find a product with an ingredients list as jam-packed as this. A formula that performs or a consistency that melts into the skin, anywhere near as good as this. It truly is one of a kind.
Is it worth the money?
Absolutely. All the money in the world! I literally want to bathe in the stuff.
What do we think?
Well. Just when I think I have finally chosen my favourite product from the Allies of Skin range, they release another incredible product.
If I am being completely honest, I didn't need this serum. Didn't even know how I would slot it into my routine. I just wanted it because it was new, and it was Allies of Skin.
Now whilst I do not suggest you use this process to purchase your own skincare, my luck paid off this time.
The packaging is so sleek, functional and easy to use. 50ml for a serum/booster is also pretty good as they usually come in a 30ml bottle.
This booster can either be used on its own (straight after cleansing), or mixed in with other serums to give them an added boost.
I personally use this on its own, after cleansing, as an essence. With a slightly viscous, liquid consistency it soaks into the skin almost immediately. I then apply my additional serums and moisturiser.
Now here is where it gets really interesting. When I wake it is like my skin has been airbrushed. Like I am walking around with a filter on my face. This does not refine pores, it makes them disappear!
In addition, with dry and dehydrated skin, I can often wake with parched, dull skin. Not anymore!
My skin looks healthy, hydrated, smooth, and bright. The Prebiotics and Niacinamide booster is an absolute revelation and you need it immediately. Do not walk, run! You can grab yours HERE.
Why I am so surprised that it is in fact phenomenal, I have no idea. I have come to expect only excellent skin care from Allies of Skin, and they have yet to disappoint.
I am super happy to announce I am now working with this wonderful brand and have a 20% discount code for you all – NAT20 *You must create an account for this code to work. This is an affiliate code and I will receive a very small sum in commission. Regardless, my love for this brand is all real!*
For more two minute read reviews, take a look HERE.