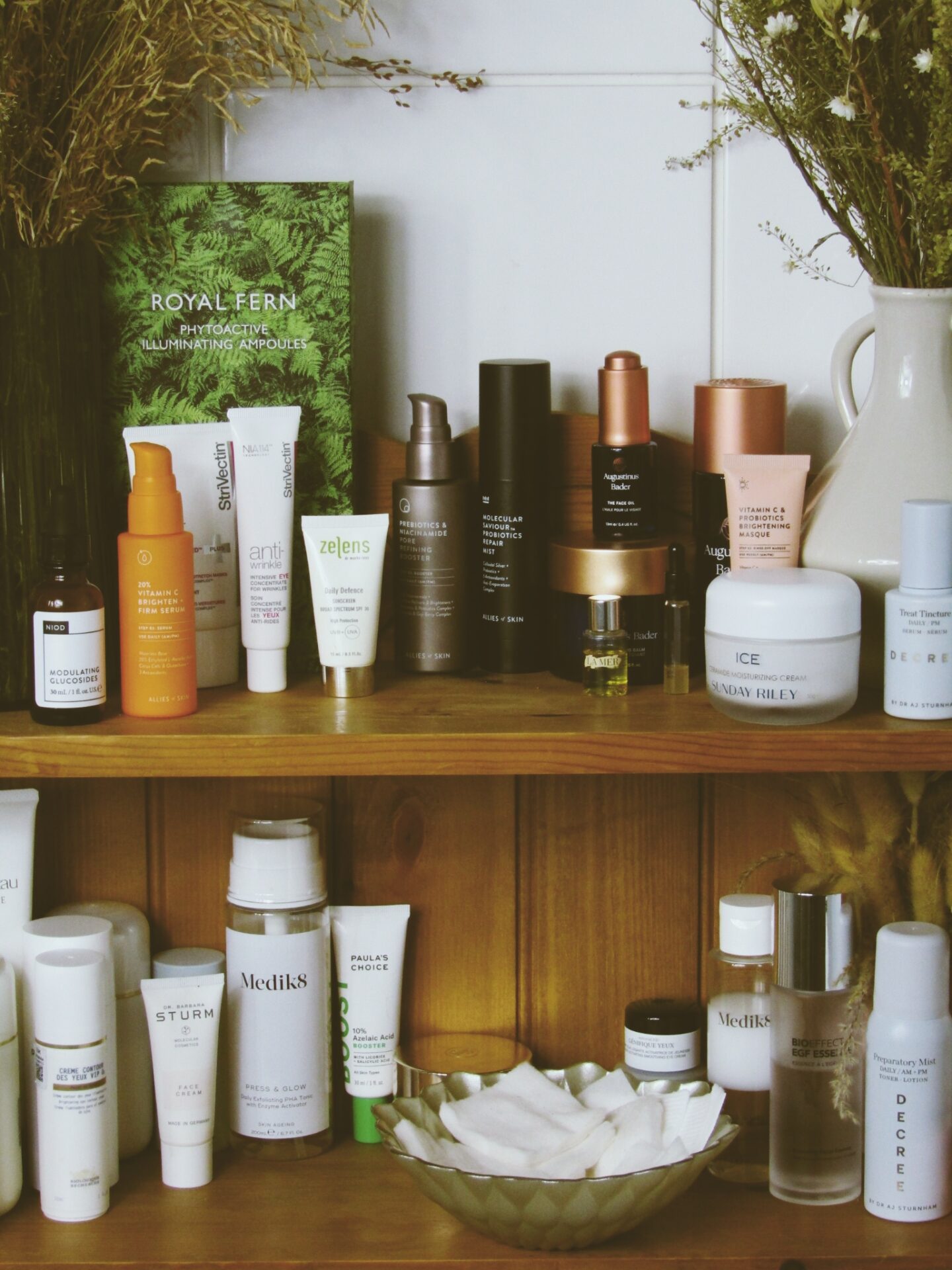 Have you ever played the desert island game? You know the one where someone says "If you were stranded on a desert island, what 3 things would you take"? Yes, that one. Well, my answer to that question has changed quite frequently over the years but has always included some form of skincare, because I literally could not live without it. (Now I am sure if I did get stranded on a desert island, skincare would be the last of my worries, but let's go with this.)
So, it got me thinking. If push came to shove, and I could only use a handful of skincare products for the rest of my life, what would they be? Now I am not a bloody magician and cannot only pick 3. That's just literally impossible. Therefore, for the purpose of this experiment, I chose 5. Still a very difficult decision, but much more realistic!
I have had the privilege of using hundreds of products (this is not me exaggerating again), I really have. So for a product to make it into my top 5, it would need to be phenomenal. The Inci list would need to be exceptional. The formula, exquisite. The texture and consistency, luxurious. I am talking about the creme de la creme people!
So what gorgeousness would be included I hear you cry? Read on for my top 5 ……………..
Augustinus Bader The Cleansing Balm.
A cleanser is obviously a necessity. It is absolutely imperative that we cleanse our skin. I have so many cleansers in rotation, that picking only one was a real struggle.
I was actually torn between this one and the Biologique Recherche Lait U, however, my beloved Augustinus Bader won due to its phenomenal ingredients list (and texture, effectiveness, and results). Oh and just look at that packaging.
This cleanser does everything I need it to, and then some. It makes removing makeup a doddle, does not strip my dry parched skin, and just leaves it looking glowing. It's like I have had a treatment or something. It's just wonderful.
Priced at £55.00, it's not cheap, but my God it is worth every penny. Grab yours HERE.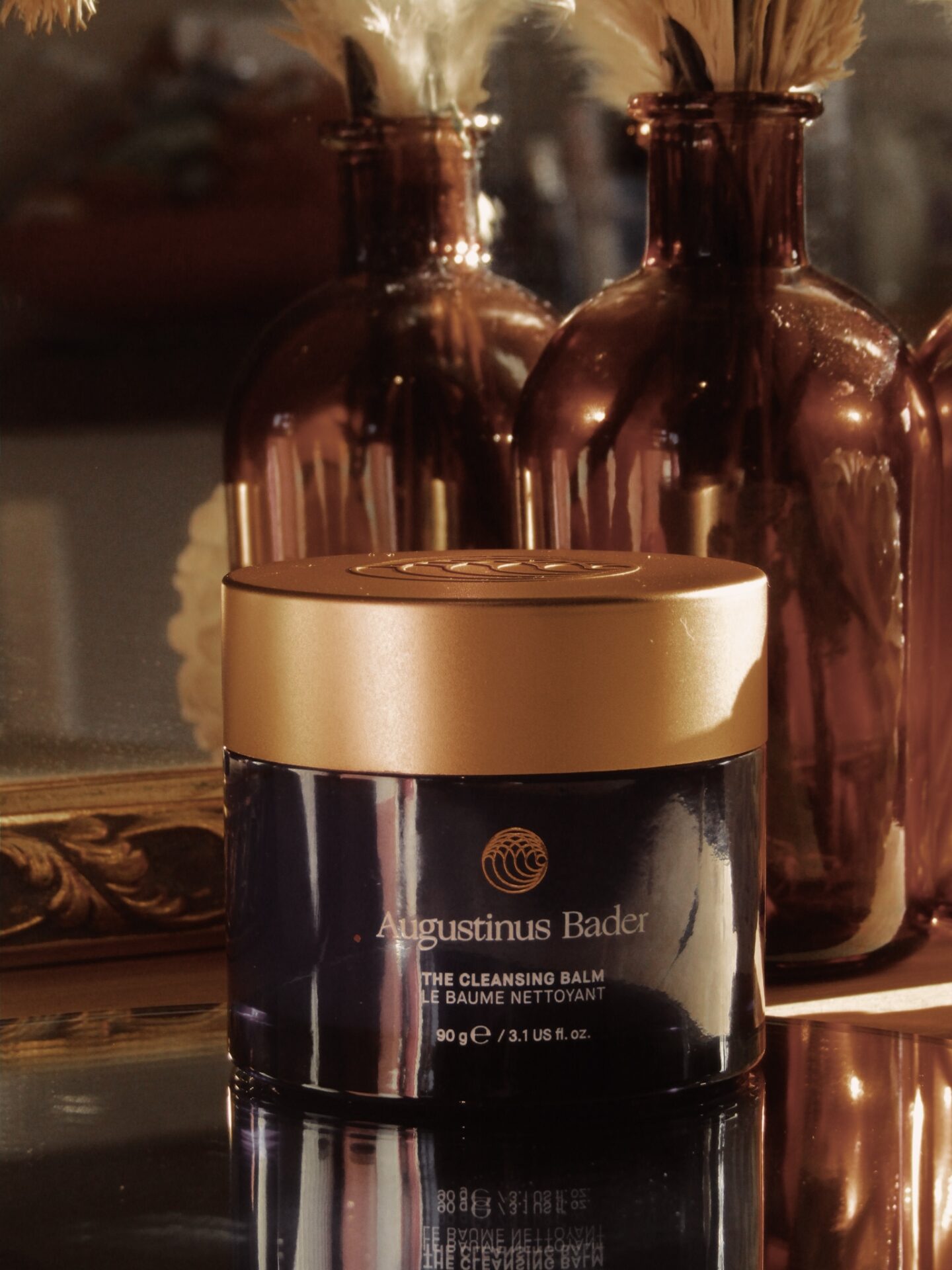 Estee Lauder Advanced Night Repair.
This serum has been a staple product for me, for YEARS! There is a reason why every man and his dog loves it, it's just that good.
Why? Because it does it all. Firms, plumps, hydrates. It's a one man band, and I cannot live without it.
I could rave about it all day, but we have another three products to list so I had better get cracking.
If you don't already own this magic in a bottle, you can purchase yours HERE.
Allies of Skin Molecular Saviour Probiotics Treatment Mist.
This mist single-handedly transformed my skin. This is not your run of the mill mist. You know like an ordinary rose water mist that you spritz here and there for a boost of hydration? That's not what this mist is about.
You would use this mist as your toner (directly after cleansing, and before serums). It contains the most beautiful cocktail of ingredients including, but not limited to, 5% Niacinamide, 6 Antioxidants, Silk Amino Acids, and so much more.
It gives you the most bright and even complexion, whilst also giving you a boost of hydration. In addition, you will notice a significant reduction in pore size. Think smooth, healthy, glowing AND dewy skin. An absolute game-changer and a necessity in my skincare arsenal.
I have a 20% discount code for Allies of Skin when you create a new account, use code NAT20 ** This is an affiliate code**
You can grab your mist here.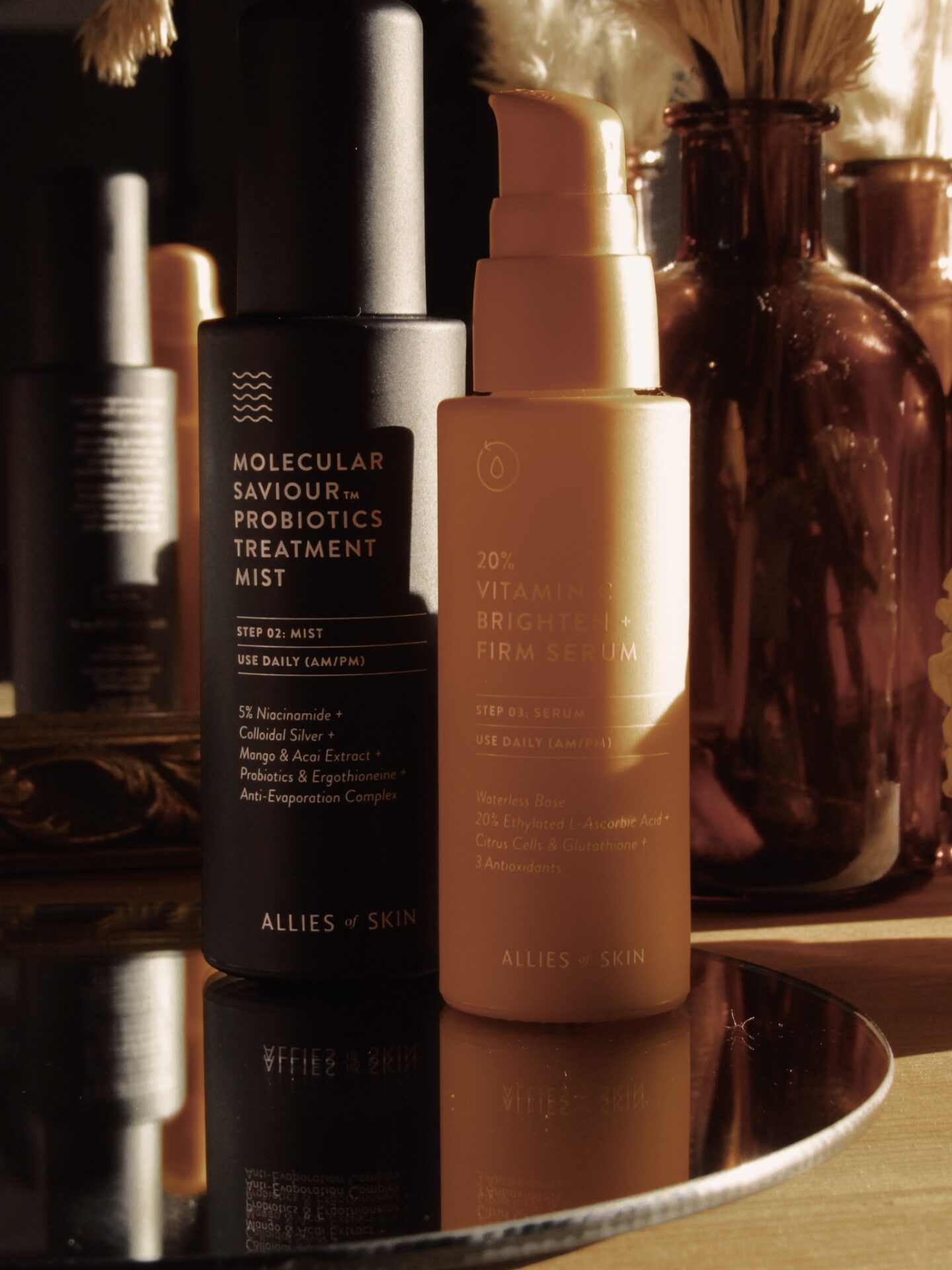 Allies of Skin 20% Vitamin C Brighten and Firm Serum.
Whilst I have used Vitamin C in skincare for years, the Allies of Skin vitamin C serum is quite new to me. However, it has very quickly shot straight up to my ultimate, all-time favorite, Vitamin C serum. I literally get instantaneous results when I use this. It brightens and evens my skin tone beautifully and just makes me glow. You know that 'lit from within' look we all covet? Yep, this gives you that instantly!
It has a unique, balm consistency (due to the fact that it is a waterless serum, which means every single ingredient included in this formula is working hard for you). Apply to damp skin, and feel it melt as you massage.
A vitamin C serum is a vital part of any routine. Not only is it an excellent antioxidant, but over time, it gives our decreasing collagen a helping hand. Did I mention the instant glow?
If you want in on the glow action, you can grab yours HERE. (Again 20% discount with code NAT20)
SPF.
SPF is an absolute non-negotiable. Not only does it protect our skin from the sun's harmful rays, but it SIGNIFICANTLY helps hold off those pesky signs of aging.
We need to be wearing SPF every single day regardless of whether it is sunny or not. I know we are all sick of hearing this, but please, believe me, I have learnt this the hard way. All those years of baking in the sun without a care in the world has caught up with me. Whilst the tan looked great back then, my skin is paying the price now.
There are so many fantastic options on the market, at a price point to suit all budgets. Find one you like and use it! Your skin can thank me later.
That's all from me today folks. If you fancy reading more ramblings from me you can take a look here or come follow me over on instagram.