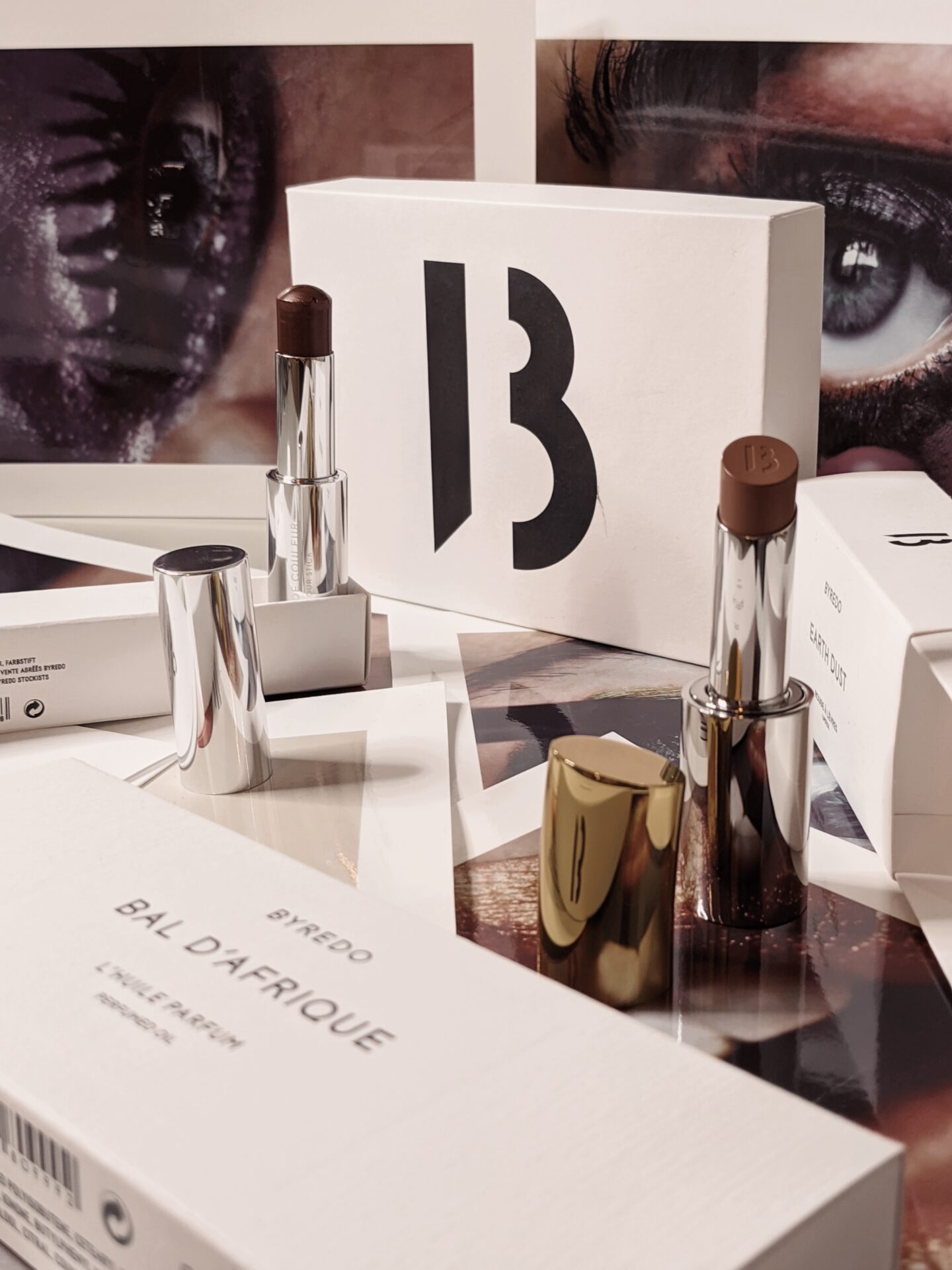 Byredo is a brand I only discovered this year. I know, have I been hiding under a rock!?
I have obviously heard of them. How can you not? Byredo always Garner's the best reviews, and don't get me started on the sleek and minimal packaging. It is right up my street.
However, I do not have a stockist anywhere near me (I live in the middle of nowhere), so the only place I can purchase is online.
Here lies my problem. All these fancy fragrances and their descriptions just confuse the hell out of me.
For example, 'with top notes of sandalwood and eggs, heart notes of soil and Haribo, base notes of cedarwood and grass.' What do these notes even mean!?
Yet, on a lockdown 'down day', I just went a little mental and ordered a selection of Byredo fragrances. Why not hey? I may be stuck in my house but I can at least smell nice and quite frankly, it just gave me something to look forward to.
And that my friends, is where my love affair started, with Bal D'Afrique featuring in the top spot.
So imagine my excitement when I discovered that my new favorite brand was about to launch a makeup line!? Almost pee in my pants excited, thats what.
The Makeup.
Byredo Makeup launched in collaboration with Isamaya FFrench, the innovative makeup artist.
What struck me immediately was, of course, the unique packaging with its sleek lines and unconventional symmetry. The collection just looked stunning.
The formulas, I had no doubt, would also be beautiful and of excellent quality. Ben Gorham (Byredo founder) clearly only pops his name on something that is exemplary.
However, the colour selection had me a little nervous. Now I am not your 'full face', Bold colour type of girl. Natural and neutrals are my happy place and the colour selection looked predominantly BOLD!
So when the line launched, I didn't purchase immediately. Yet eventually, intrigue got the better of me when I stumbled upon the Byredo site, late one evening, very much in need of some retail therapy.
A few days later my beautiful Byredo package arrived, and the rest is history.
I didn't go wild. I ordered only two products from the range, but boy did I make excellent purchasing decisions.
Earth Dust.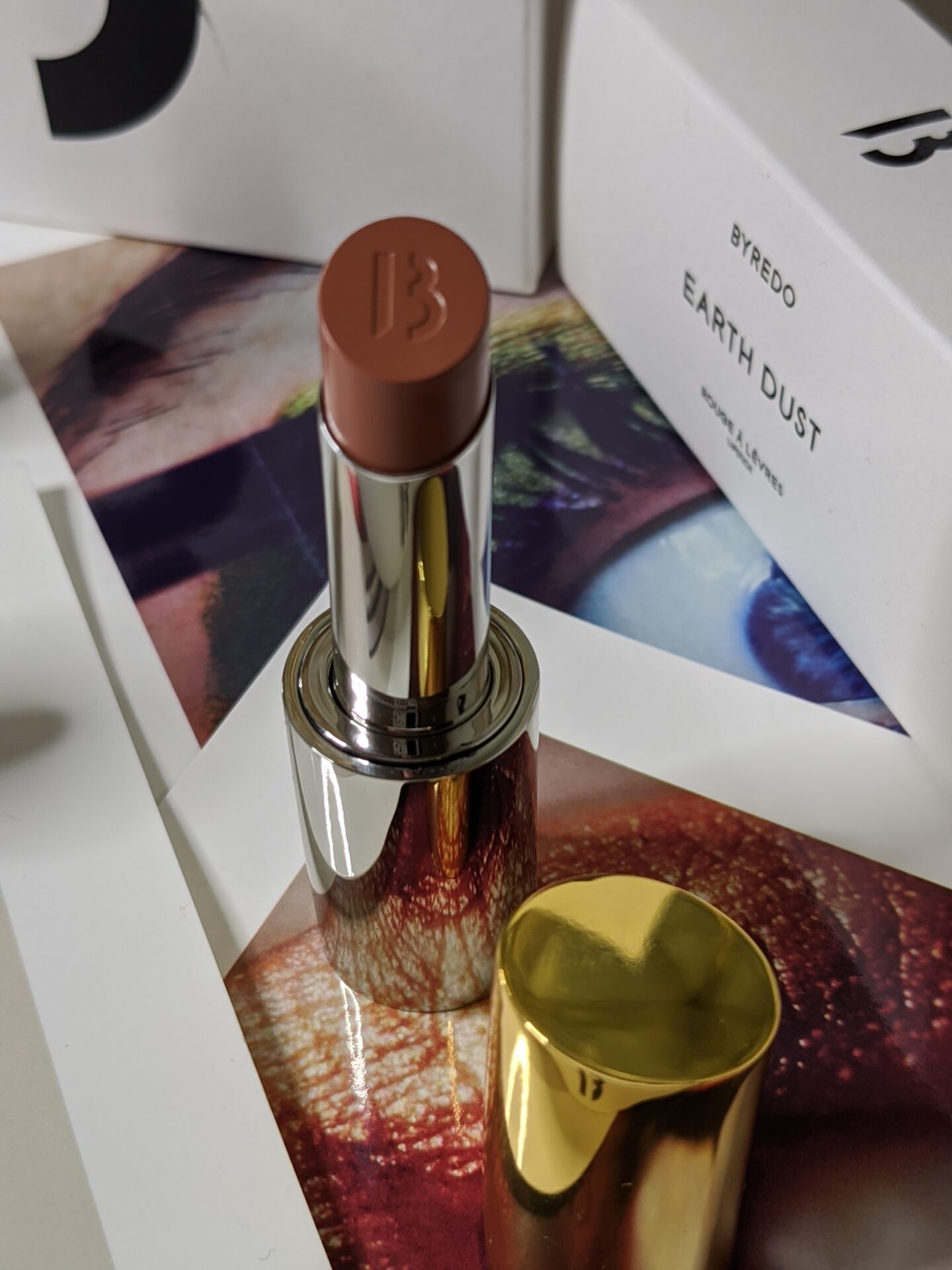 Earth dust is the nudest nude lipstick I have ever found.
Often nudes will have a pink undertone, which is a personal pet peeve for me. I do not want a nude/pink, I want a nude/nude!
Earth dust is just that.
Here's what the website has to say:
"A pale nude with a yellow undertone. A satin finish to reflect light and expand the colour. Vegan formula."
"Colour rich with an exceptional formulation that is both comfortable and impeccable. BYREDO LIPSTICK has sumptuous levels of colour saturation and does not dry the lips."
"In its silver-gold, bi-colour metal curvilinear casing, the form of BYREDO LIPSTICK echoes bamboo. Here, the organic shape and distinct weight also play on the precious quality of cosmetics casings past, today brought into the future. Within, a precision slim-line stick is protected by a satisfying magnetic click."
Sounds Divine doesn't it? It really, really is.
The formula is so nourishing and moisturising. An absolute joy to wear. My lips felt comfortable and plump. The staying power surprised me too. For a satin formula, this stuff lasts.
In addition, the packaging is pure luxury. It is a work of art and looks beautiful displayed on my vanity. I will absolutely be purchasing more lipsticks from the range (In my neutral comfort zone though, obviously!)
Priced at £35.00, you can get yours here.
Ancient.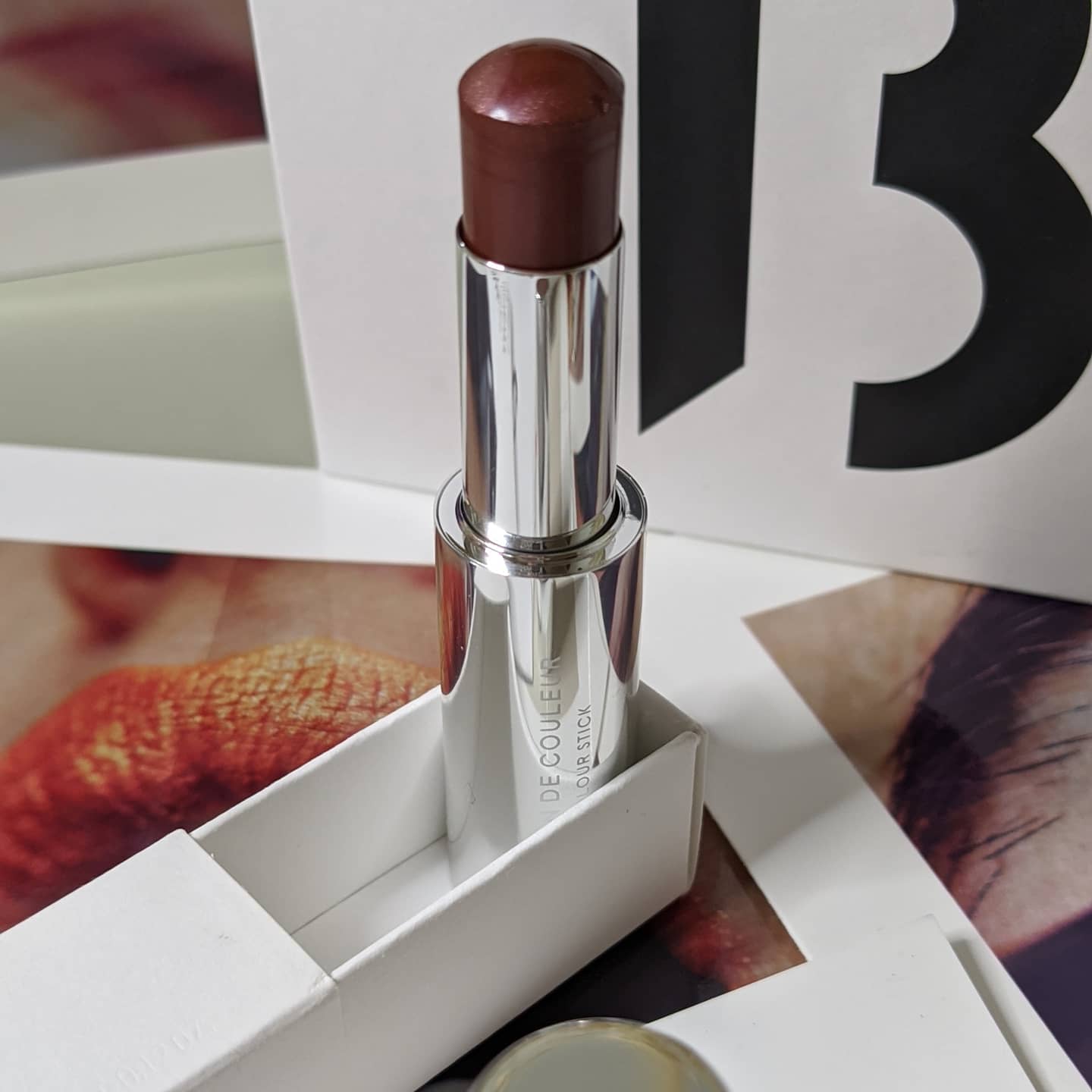 I mean, it was fate that I would pick this particular shade of colour stick as I truly feel ancient.
A deep bronze tone that can be used on eyes, lips and cheeks. Who doesn't love a multi-tasker?
Here's what Byredo has to say:
"A shimmery warm dark brown. A dry-cream stick to deepen the tones on eyes and lips or bronze the cheeks. Vegan formula."
"The universal product. A multi-use stick to be used all over the face. Buildable coverage that is easy to apply and combine with other BYREDO COLOUR STICKS to contrast or enhance. Housed in silver metal, the slim stick with curved bullet tip is designed to be used easily, quickly and instinctively while eschewing ultra-perfection; the intense colour is blendable with fingers or brush. The Colour Stick comes in finishes aligned to corresponding shades, encompassing lightweight dewy, matte and creamy textures suitable for cheeks, eyes and lips."
Now my review is a bit more mixed with this one. The formula and colour is indeed beautiful, and of the quality, I would expect from Byredo. It blends perfectly, starting subtle, but is absolutely buildable if that's your bag.
However, I have to say, I was a little disappointed with the packaging. Whilst it looks sleek and stylish, it is nowhere near the same quality as the lipsticks. There is no weight to it. It feels a little cheap. Whilst the magnetic click also features, I must admit, I expected more.
That being said, due to the formula, I will more than likely purchase additional colour ways, as I do enjoy using it.
Priced at £26.00, you can grab yours here.
In addition to the products mentioned, the Byredo makeup line also includes a lip balm, eyeliner, mascara, and I have heard an eyeshadow palette could be on the way.
Therefore, to conclude, Byredo makeup is not just a pretty face. Whilst the packaging is stunning, the contents have substance. They perform. If you were considering making a purchase, I can guarantee you will not be disappointed.
For more of my general ramblings, see here.
**I am not a professional. I am your own personal advisor who has spent the last two decades dedicating far too much time and money to all things beauty**