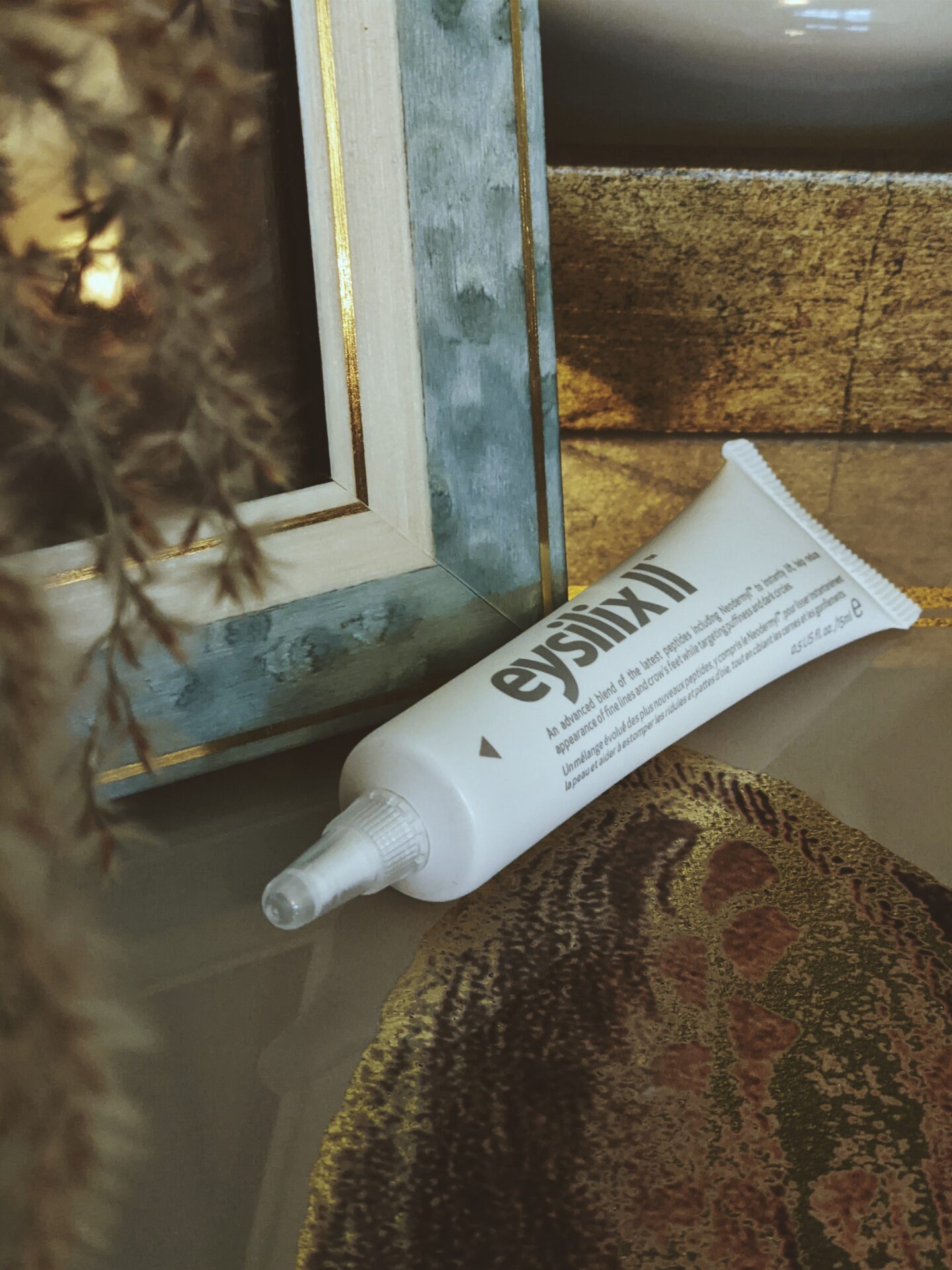 Our eye area is often the first to go, and can quite literally show our age. In addition, our eye area is the most sensitive and has the thinnest layer of skin on our face, which means it can be difficult to care for, without irritating the crap out of it. Whilst Retinol is arguably the best ingredient for anti-aging, I am definitely not brave enough to smear the chuffing stuff around my delicate eye area. Therefore, a peptide eye cream has been my go-to. Like with anything though, it is difficult to find an effective, affordable option. Until now that is……
Our eyes can literally show exactly how we are feeling, and my eyes have been doing a great job of showing just how knackered I am. I have tried a whole host of eye creams to hopefully hide the signs of my stress, age, and lack of sleep, and I was often left underwhelmed. (It would probably be much more cost-effective to just sell the kids.)
There were Some that were pretty good at hydrating, some were pretty good at brightening, and a couple were ok at plumping and reducing fine lines and wrinkles, but not one of them did it all for me.
Now I love a good in-depth skincare routine, but even I am not willing to use three different eye products every morning and evening. That's just ridiculous!
I Think I Have Found The One.
One day I won a giveaway over on Instagram (I never win anything!) which included a few Strivectin products, one of them being the anti-wrinkle intensive eye concentrate. Said to address the signs of aging and fatigue, it sounded right up my street.
Packed full of peptides, natural moisturising factors, squalane, Niacinamide, caffeine, and ceramides, it's an absolute powerhouse. I noticed results almost immediately. My eye area was more plump, bright, smooth, and hydrated. Even my hooded eyes looked less pronounced. My whole eye area looked more youthful.
Hallelujah!!! I have found the one! However, my excitement diminished once I checked the price. It would cost me £58.00 to repurchase.
Now whilst there are many eye products way more expensive (I have tried a lot of them and they are nowhere near as good), this is still rather pricey.
I am more than happy to pay for results, and whilst I believe the Strivectin eye concentrate is worth every penny, not all of us can afford to fork out £58.00 a pop on an eye cream.
Surely there was a more affordable offering?
The Affordable Alternative.
I spent a lot of time scouring the internet in search of a peptide-rich eye cream that could offer me similar results, at a more amenable price point.
It took some time let me tell you. The Strivectin offering was a hard one to match.
Whilst I wholeheartedly disagree with dupes, I am all for affordable alternatives, and if you look hard enough, you will find some great options (Some diabolical ones too!)
I read endless reviews and debated over several options before finally deciding on the Indeed Labs Eyesilix II, the total eye rescuer. I mean, my eyes certainly did need a total rescue! (I wonder if they do it for the whole body!?)
A Peptide rich formula that also features cell-stimulating ingredients, green tea, and caffeine! Whilst the ingredient list wasn't as impressive as the Strivectin, it was still enough to make me swoon. I immediately popped it in my basket for a very reasonable £20.00.
Claiming to instantly reduce the appearance of wrinkles, puffiness and dark circles, I slapped it straight on as soon as it arrived.
The Results.
Impressive.
I am the first to say I am a skincare snob. (well I am an everything snob really, but don't let my husband know that I admitted to this).
Now I am not saying that you can't get 'nice' skincare products at a more affordable price point, but are they really going to provide you with any actual results? I didn't think so.
In addition, I am also not saying that you get results every time with expensive skincare. My poor bank balance learned this the hard way.
However, I expect to pay for those real differences, the visible results. After all, we get what we pay for don't we?
Yet after testing the Indeed Labs total eye rescuer, I had to eat my words. A lovely nourishing eye cream, that feels hydrating but never heavy? They nailed the consistency and texture, so that was a nice surprise.
In fact, the more I used it, the more I started to enjoy it. Working well under makeup too. Another excellent surprise.
After a few weeks of use my eye area looked smooth, bright, and hydrated. Dare I say it? More youthful?
Well knock me down with a bloody feather, by jove I think Ive cracked it!
To Summarise.
I love the Strivectin Intensive Eye Concentrate, but the Indeed Labs Total Eye Rescuer is an excellent option.
Not a dupe, but a fantastic affordable eye product, in it's own right.
Planning this affordable alternatives series has been a real eye-opener for me. Whilst I still believe that if you want the full package, you genuinely have to pay for it, I have discovered that you can get some gems at a more reasonable price point.
A budget eye product that costs a fiver is not going to give you noticeable results, that much I am sure of, but paying that little bit more, you really can have the best of both worlds. An effective product, at a reasonable price point.
Often we can buy so many alternatives that all end up getting shoved to the back of the cupboard, and it turns out it would have been more cost-effective to just purchase the real deal. Always do your research. Read plenty of reviews, and look into the ingredients list before committing.
I have got another affordable product coming your way every day this week so be sure to check back as I have managed to unearth some corkers!
Have a great day!